5 Easy, (mostly) Recyclable Halloween Decorating Ideas
My interest in holiday decorating comes and goes.
I'm not sure why. Different seasons of life, perhaps?
My interest or lack thereof in storing A TON of holiday decor is more steady. I like to keep some Christmas and autumn decor, but I don't have space or the desire to store items for all the other holidays.
If I can make it and recycle the decor when I'm finished, I consider that a holiday decorating win. 
Here are 5 easy Halloween decorating projects that are low-on-cost, high-on-impact and (mostly) recyclable.
I should note that after I wrote this post, I was doing a little fact checking. Yes, I do aim for accuracy over here. Crazy, I know. Anyway, not all municipalities consider heavily colored or dyed paper recyclable. A few of these decor ideas do involve colored paper. In the event colored paper is not considered recyclable in your area, I've tried to offer an alternative. Please craft responsibly. The fate of the planet may depend on it! Or something slightly less dramatic…I didn't fact check that part. 
---
PAPER BATS
My kids LOVED coming home to a wall full of bats last year! It was fun to surprise them.
All you need for this craft is construction paper/card stock, scissors and tape. If you don't have black construction paper or card stock, you could print out bats on regular computer paper too. It will just take a lot of ink.
I printed off a bat outline I found on the internet, traced it onto a bunch of black card stock I had in my stash and then started cutting. Trace, cut, repeat.
The bats are simply taped to the wall.
If you bend the wings on the paper bats slightly it gives a nice 3-D effect.
---
DIY BOOK COVERS
More construction paper for the win! Use black or brown colored paper to cover books on your shelves.
Then you get to be creative. Use a white colored pencil or crayon to make up faux book titles.
Your book titles can be as chilling or as benign as you want them to be.
---
PRINTABLE LUNCHBOX NOTES
Alright, this one isn't home decor, exactly. But it is fun, recyclable and adds some flare to a child's lunchbox.
You can print out free Halloween lunch box countdown notes here.
Or you could just use this idea and make it your own! A handwritten countdown on a sticky note will be just as memorable for your little ghouls and goblins.
---
GARDEN MATERIALS BROOMSTICK
Scour your yard or garden for anything you could use to make a broomstick!
I used a long branch and a bunch of palm leaves, but small twigs would work too. Secure the "broom" to the "stick" with hot glue and twine. Tutorial here.
When you are finished with the broom, dismantle it and dispose of it in your yard debris or compost container.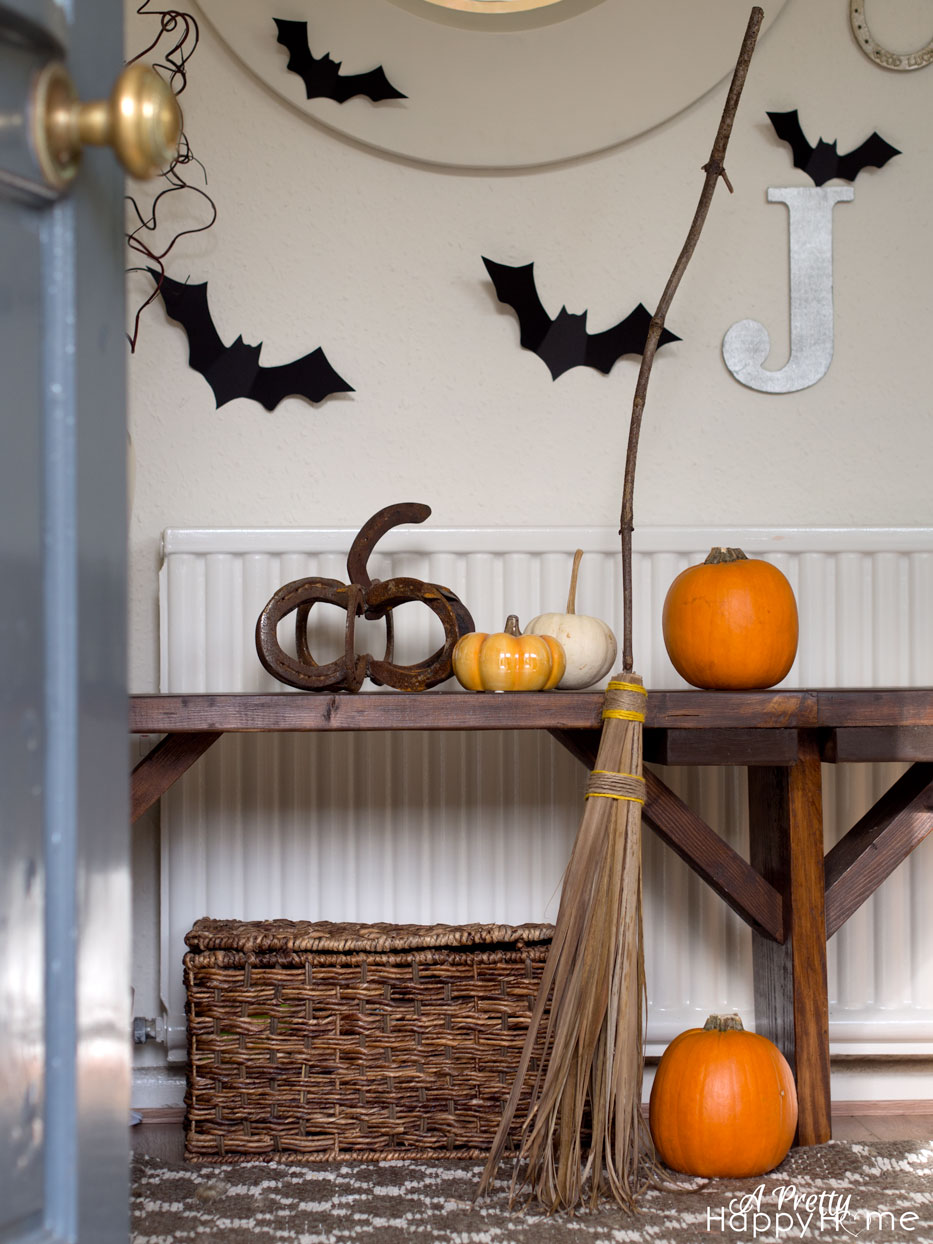 ---
PAPER PUMPKINS
Paper pumpkins are probably my favorite Halloween craft because they can be used through the entire fall season.
Plus, these pumpkins are just so stinking cute!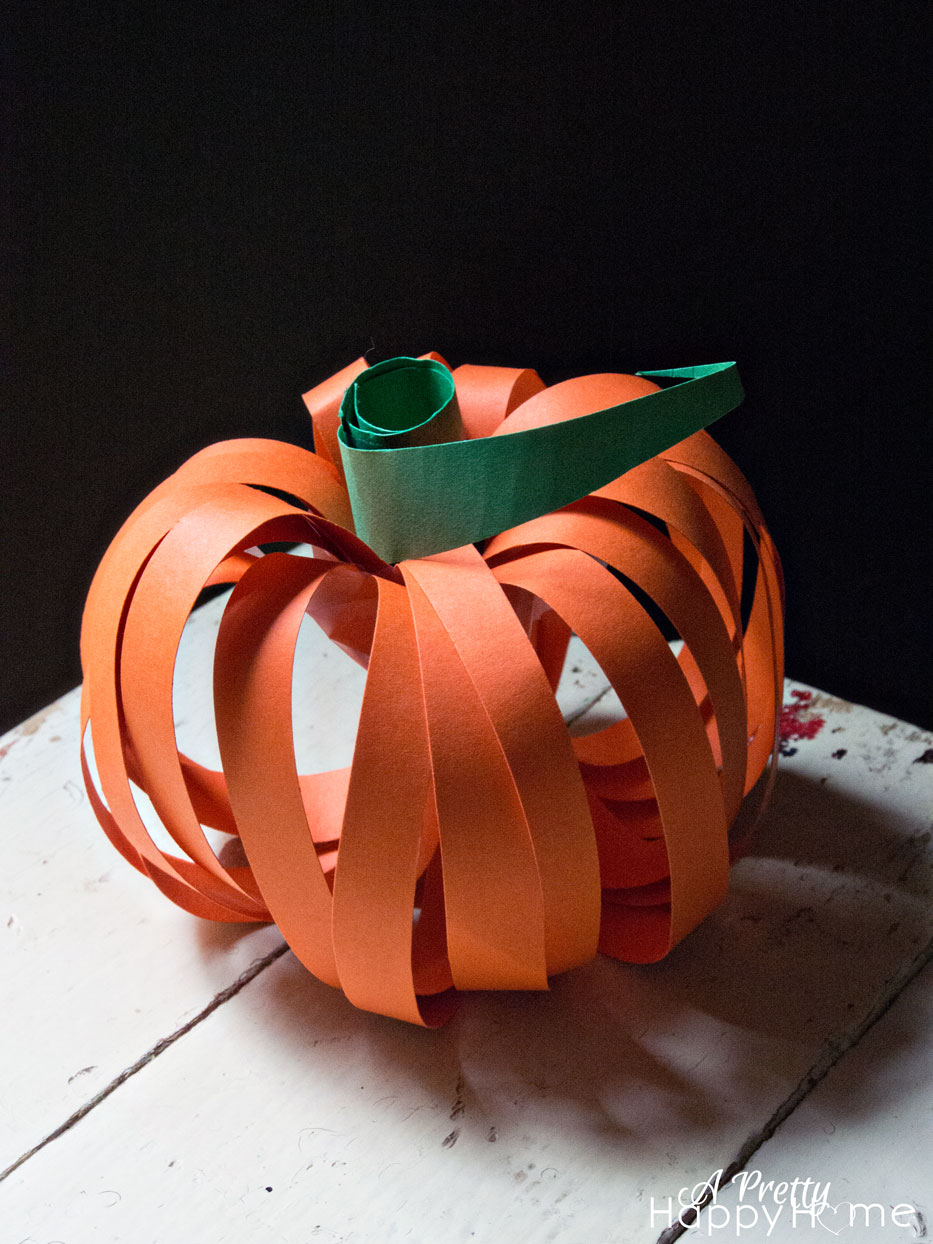 Also, you don't have to stick with the classic orange pumpkin!
I'm a big fan of white pumpkins and computer paper works great for this project.
All you need for this project is paper, scissors and tape – lots of tape. Every time you roll up the paper or fold up one of the strips, it will be secured with clear tape. If you don't have green paper for the stem, you could just color it in with a marker.
---
I have not gone crazy on Halloween decor (so far) this year. I'm happy to stick with pumpkins this go-around.
In case anyone is wondering, today was the first day I've seen real pumpkins for sale in Ireland. This drove me nuts last year, but I'm adjusting my expectations and 'trying' to live like a local! Thank goodness for my stash of faux pumpkins. Who knew those would be a necessary item when I was packing up all our earthly possessions for our overseas move. Got rid of the couch, but I kept the faux pumpkins. Clearly, I have my priorities.
---
Thanks for hanging out with me today! Here are some other Halloween/Fall ideas you might enjoy too.
Giant Tic Tac Toe using mini pumpkins