It's almost February! We're so close to making it through what feels like the LONGEST month of the year. Go us!
If you need a pick-me-up this weekend, go to the grocery store and treat yourself to a bouquet of flowers. It doesn't need to be the expensive bunch – just something bright and colorful. You need it for slogging through January! I bought myself some flowers this week and it was my favorite purchase in awhile. It sure did brighten up my house and my mood!
This week on the ol' blog I shared the reveal of our built-in computer desk space. I haven't mentioned this yet, but eventually, we will build another desk up there for Handy Husband to use.
I also wrote about how your home could be the setting for a movie or tv show. In other words, how to become a potential filming location. Still no calls for my home to be famous, FYI. I've been waiting ten minutes already.
Last, if you enjoy reading this blog and feel so inclined to tell others about it, I would so appreciate it! My favorite part of blogging is laughing and chatting with you all. So, thank you for brightening my day.
Here's the Happy List!
---
FONDUE
I'm thinking about making fondue for Valentine's Day because, let's face it, I'm not going to join the hordes at a restaurant.
I'm looking at this recipe (pictured below) from Pinch of Yum that uses a regular pot, not a fondue pot or this recipe from The Pioneer Woman that uses a crockpot.
(image: Pinch of Yum)
---
KITCHEN WINNER
This space is a 2020 Kitchen of the Year Winner from Atlanta Homes and Lifestyles.
That vent hood sure is pretty and I wish I had ceilings tall enough for something like that.
(image: Emily Followill for Atlanta Homes and Lifestyles / Contractor whiteoakfinehomes.com / Cabinetry Designer kingdomwoodworks.com / Architect harrisondesign.com / Interior Designer thedesignatelier.com)
---
36TH NATIONAL COWBOY POETRY GATHERING
We all missed the National Cowboy Poetry Gathering in Elko, Nevada! It happened this week.
The poem that me laugh out loud and reminded me of my dad was Good Clean Fun by Rodney Nelson from Almont, ND. (If you click on that link, scroll down the page to his poem and you can hear him read it aloud. His delivery is THE BEST. I also like Denial by Patricia Frolander.)
Here's one of the musical performances from the gathering from a few years ago and it made me laugh too!
---
DRIED MANGOES
I don't want to brag, but I'm kind of a dried mango connoisseur. Also, I had to look up how to spell connoisseur.
I spend a ridiculous amount of money on dried mangoes all in the name of trying not to eat cookies, candy and ice cream. It's working. I can't quit these things.
The best brand I've found so far (and I've tried a lot of brands) is Anna and Sarah
. I don't know who Anna and Sarah are, but I'd like to be their friends.
P.S. I know you've missed my hand modeling, so this picture is for you.
---
PEDIATRIC SURGEON MAKES UNIQUE DRESSINGS FOR PATIENTS
Dr. Robert Parry of Akron Children's Hospital draws a custom surgical dressing for each of his pediatric patients. He estimates he's drawn 10,000 drawings over the years from SpongeBob to Elsa and everything in-between.
It seems like a bright spot for these kiddos in an otherwise scary situation.
---
BOBBY FLAY'S SECRET INGREDIENT
I am SO going to try this.
According to this article on The Kitchn, Bobby Flay adds toasted panko-style breadcrumbs to his pasta dishes and salads to give them more pizazz.
(image: Bobby Flay)
---
6-YEAR-OLD WISDOM
This is an excerpt from a past blog post because if felt particularly appropriate this week.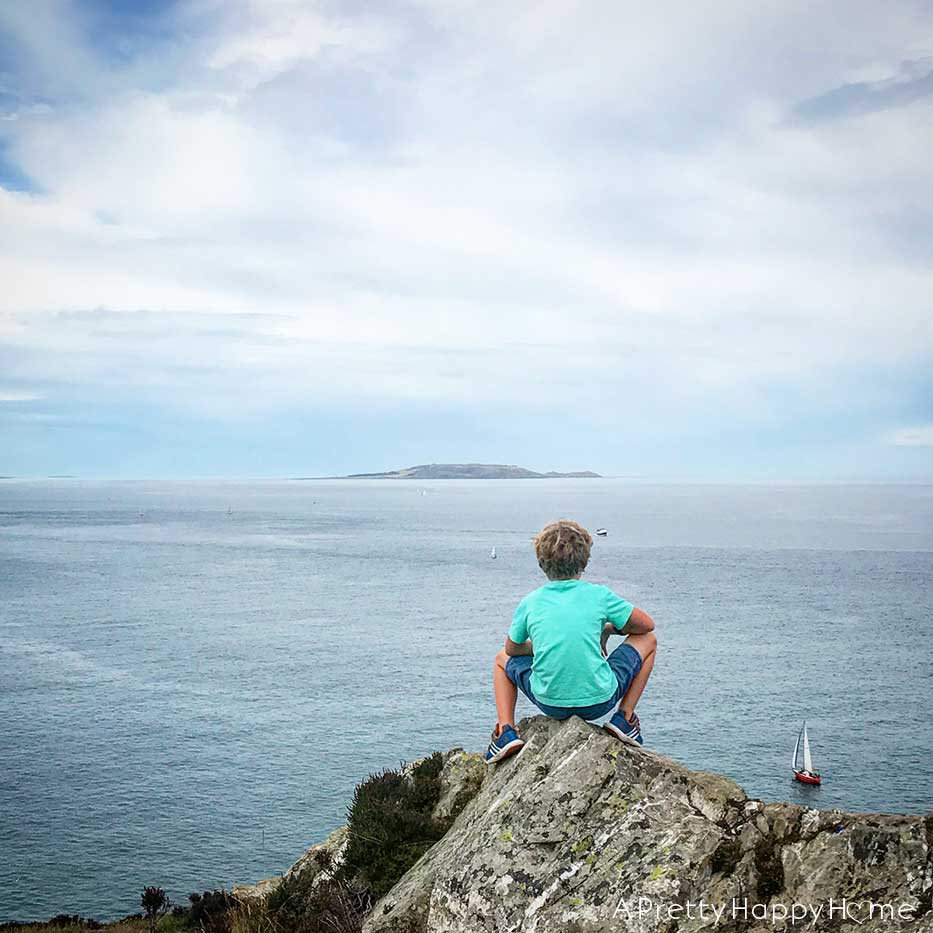 Here's what my son tells me. In all of his 6-year-old wisdom.
Son: The sun is so bright mom, because it takes in all of our joy and shines it out for everyone to see.
Me: I like that idea.
Son: And do you know what Heaven is like?
Me: No, what's it like?
Son: It's like the airport. You know when you have to give them your suitcase and then when you get someplace new your suitcase comes out on that belt?
Me: The conveyer belt in baggage claim?
Son: Yes! Heaven is like that. You give them your suitcase full of sadness. Then when you get there you get a new suitcase filled with joy and happiness and you get to see your mom again.
Me: I think that's the best description of Heaven I've ever heard.
Son: I know.
Isn't kid wisdom the best?
---
Alright, that's it for me! Thanks for reading the Happy List! I hope you have a fabulous weekend.
I'm sure I'll be posting stories in Instagram and Facebook this weekend, so I hope to see you there.
Happy Friday!
*affiliate links in this blog post*