I own a whole stack of vintage handkerchiefs.
These handkerchiefs belonged to my grandpa, my aunt, my grandma and my mom.
Have I ever used these handkerchiefs?
Nope.
Snot going to happen. I mean NOT. Not going to happen.
Not because it's not a good idea. It is. It's more that some of these handkerchiefs are no longer practical for everyday use due to how delicate they've become.
But back in the day, did my relatives use these gorgeous handkerchiefs?
You bet they did!
Handkerchiefs were meant to be used before Kleenex took over the world.
No shade to Kleenex or Puffs. I love those ones with lotion. How DO they add that?
Now, in fairness, some of these handkerchiefs were only used for special occasions like weddings and funerals.
However, my grandpa's handkerchiefs are monogrammed and I can distinctly remember him pulling one of them out of his pocket to use. His are also larger than the ones owned by my female relatives. If I ever do decide to use one of these handkerchiefs for their intended purpose, his handkerchiefs are the ones I'm going to grab first.
My nose is snot very ladylike. Oops, I did it again. NOT very ladylike. My apologies.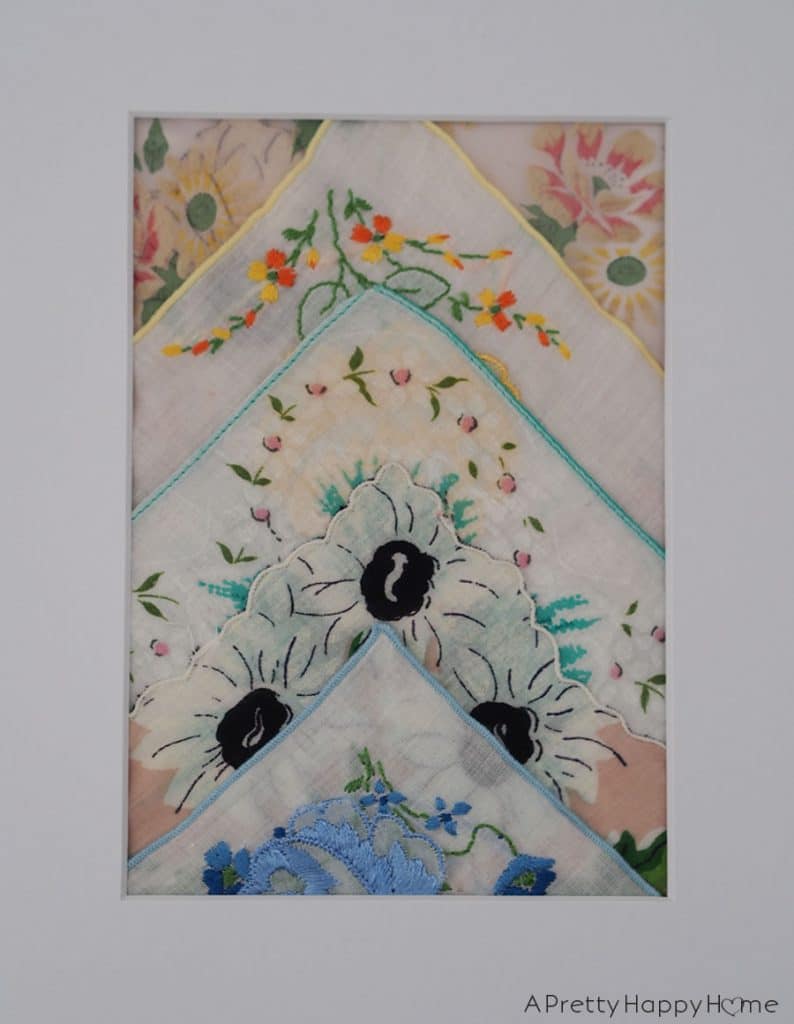 It bothered me that I had these beautiful vintage handkerchiefs that I was not using. They were tucked away in a box. I hadn't even given them a place of prominence in the back recesses of my linen closet.
I asked some of you on Instagram for ideas on what to do with these handkerchiefs and, boy, did my direct messages light up. Thank you for your suggestions.
Ultimately, I decided to create vintage handkerchief art by framing a handful of the most colorful handkerchiefs. I trend more minimalist and not overly feminine in my decorating style, so turning them into art instead of curtains was not a surprising choice.
My problem was in trying to figure out what sort of frame to use for this art project. I wanted a more modern look to juxtapose with the vintage feel of the handkerchiefs, so that meant I had to choose a frame with a clean profile.
This gold frame from Target fit the bill. Honestly, it fit the bill a lot better when I thought it was on clearance, but that's okay. I'm not bitter or anything.
I ended up using five handkerchiefs to make this vintage handkerchief art.
By my calculations, I have reduced my guilt for keeping something that I don't use by approximately 25%.
However, I still have fifteen more handkerchiefs that are not being used. I did move them out of the box and to a place of prominence in the very, very, very back of my linen closet.
That's definitely progress I can be happy about!
---
Do you use handkerchiefs or are you Team Tissue Box? While you're mulling that over, here are some other posts you might enjoy.
11 Things to Know Before Hiring a Piano Moving and Storage Company
*affiliate links in this blog post*