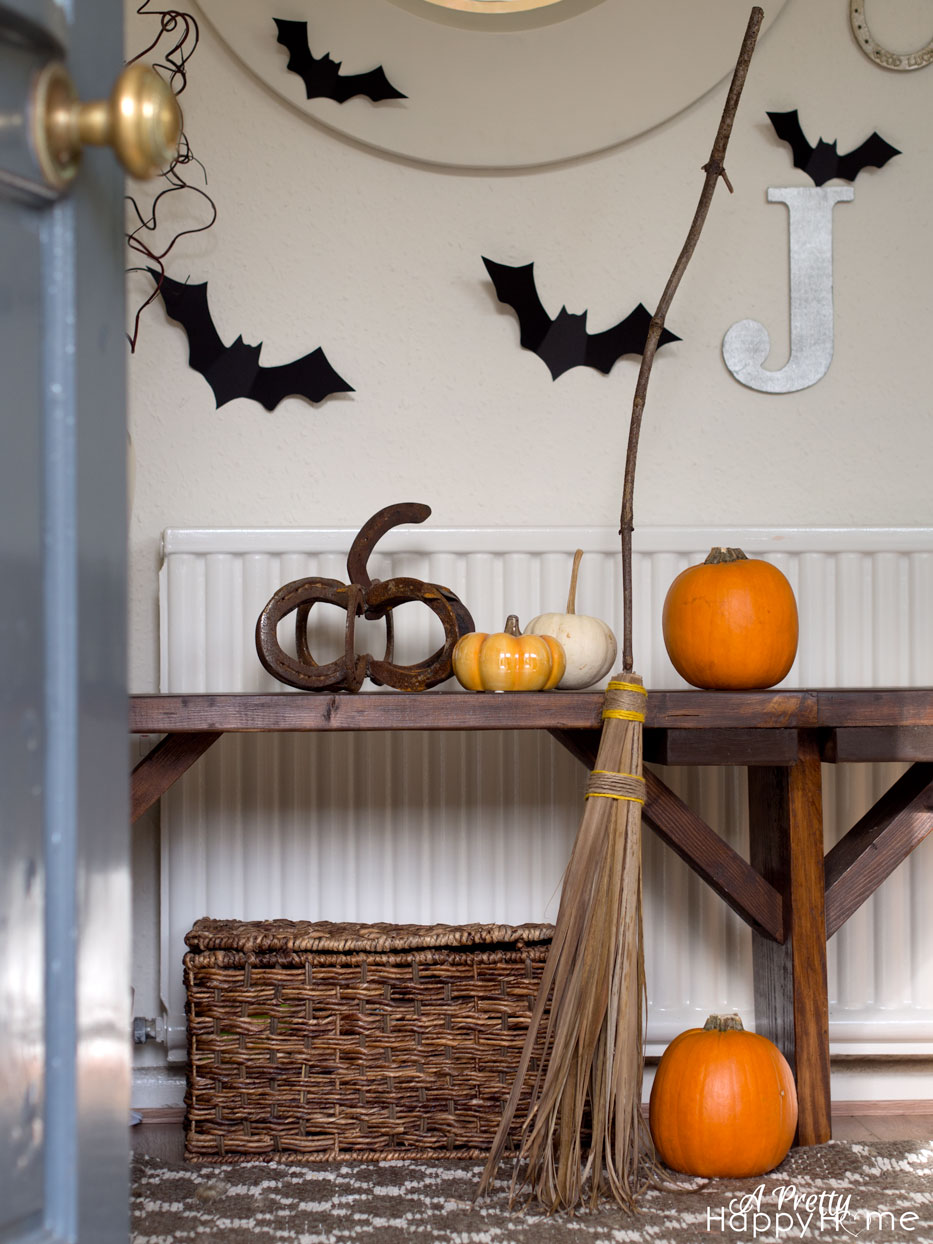 Happy Halloween!
Do you have big plans or no plans for Halloween? Somewhere in-between? I'm not sure what our plans are yet…still overthinking it! Ha! 
This week on the blog I shared the centerpiece I made for Halloween from a cast iron cauldron. It's simple, fun and perfect for a not-so-spooky Halloween.
I also wrote a blog post about the new chairs in our living room. Almost every night after dinner my 10-year-old son and I sit in these new chairs to read books. Hot chocolate may be involved too. The amusing part of this story is he always puts on "chill" music to listen to, which is basically elevator music. It's such a funny choice for a 10-year-old to make, but it does help us wind down our day! 
Here's the Happy List!
---
SIMPLE HOOKS
I'm digging these simple towel hooks in Camille Lai's bathroom.  
You need to check out the midcentury vanity in this space. It's really cool.
(image: Camille Lai via Domino)
---
HEADBOARD STORAGE
If you're looking for ways to eek out extra storage, this headboard idea from IKEA is pretty smart. If you have curtains on either side of your bed, this storage solution would almost be hidden.
This is something that could easily be DIYed with an existing headboard.
(image: IKEA)
---
PECAN PIE MARTINI
I'd much rather drink my pecan pie than eat it. NO JUDGING.
Hahahahaha.
You can judge, but better yet, just join me for a drink! 
The recipe for this delicious looking Pecan Pie Martini can be found at Delish.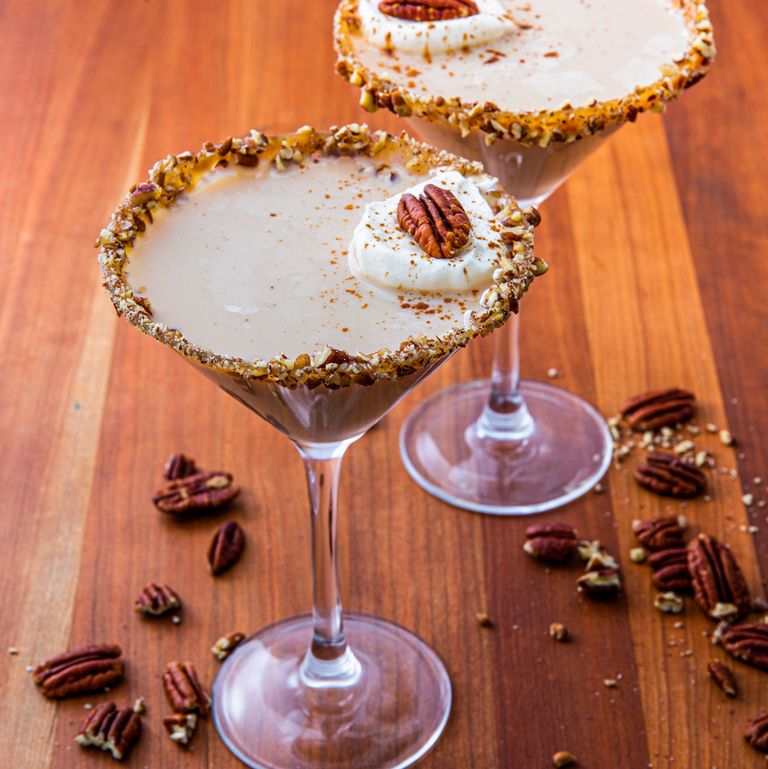 (image: Emily Hlavac Green for Delish)
P.S. A million years ago (2014) before we knew the value of good photography, we wrote a blog post about the Lemon Meringue Pie Martini that Handy Husband spent years perfecting. This drink is not to be confused with a regular Lemon Drop. It tastes JUST LIKE a lemon meringue pie. One of these days I'll update that blog post. 
---
CORNCOB CENTERPIECE
I've never spray painted dried corn and now I'm intrigued.
Isn't this a pretty centerpiece? 
Directions can be found at Country Living.
(image: Brian Woodcock for Country Living)
---
REUNITED
I watched the video (multiple times) of this emotional reunion of a couple, married for 60 years, who had been separated for 215 days due to Covid. 
I'm so happy they are back together.
Imagining how hard that must have been for them on so many different levels made me go rushing to give Handy Husband a hug.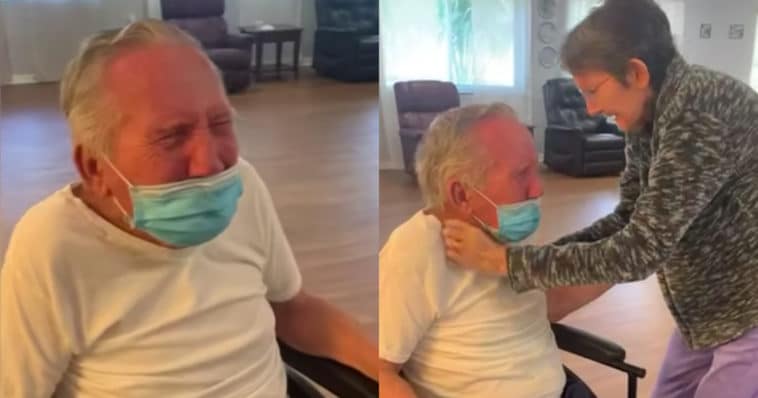 (image: via Tanks Good News)
Go hug your better half! 
---
CERAMIC SHOP
This Etsy shop makes the most interesting, unique ceramic plates, bowls, and cups.
(image: Via Etsy)
---
STATEMENT CHANDELIER
I thought my ruby glass chandelier made a statement. (It does, but I'm not going to show it this picture because it might get jealous.)
Look at this purple Venetian glass chandelier. That's a bold, statement-making light fixture if there ever was one.
(image: Mikkel Vang for Elle Decor/Kelly Wearstler Design)
---
FOOD FOR THOUGHT
I read an interview with a death doula this week. That's a thing, apparently. It was fascinating and very thought provoking.
I was really impacted (definitely got teary-eyed) by how she wants to leave this earth because the emphasis is on celebration, which I find incredibly hard to do when you are grieving.
"I would love to be outside or by windows. I want to watch the sunset for the last time, and I want to have the people I love around, quietly talking, so that I know they've got each other after I leave. I want to have a soft blanket and a pair of socks because I hate it when my feet are cold. I want to smell nag champa incense and amber. And I want to hear the sound of running water, like a creek. I'd love to enjoy all those senses for the last time. And when I die, I want everybody to clap. Like, "Good job. You did it."
The whole interview can be read in this article in The Cut.
---
NOW LET'S LAUGH
I can't end things on a somber note, so how about a corny joke before you go?
What's it called when a vampire has trouble with his house?
A grave problem!
---
Thanks for spending part of your day with me! I hope you have a fantastic weekend.
Take care, stay safe, and I will see you back here on Monday!
*affiliate links in this blog post*