Welcome to the Happy List!
It's the middle of September already! Wow! Time flies when we are having…something. Is it fun? Not sure! Hahahahahaha!
How about time flies when we are busy living our lives? That works.
This week on the blog I shared our DIY Kitchen Cabinet Feet that we made from scrap wood. I also wrote a blog post rounding up fresh ways you can repurpose a piano if you aren't going to play the darn thing. Please just play the piano!
If you aren't following along with us on Instagram or Facebook stories, I invite you to hang out with us there. There's usually something going on around these parts! Also, if you create something I should see, please tag me! Seriously, I love to see what you are making.
Here's the Happy List!
---
HIDDEN SOLAR PANELS
I have been harsh on flat roofs in the past, particularly the two flat roofs that we currently live with.
However, the architect of this house used a flat roof to conceal solar panels. That's pretty cool. I'd love to switch our house to solar, but I don't like seeing the panels on roofs and this seems like a clever solution.
More pictures of this modern New Hampshire home can be found here.
(image: Marcus Gleysteen Architects via New England Home Magazine)
---
FREE PRINT
Jen at Rambling Renovators has the cutest FREE print for fall that you can download and print up for your home.
(image: Rambling Renovators)
---
RAIN BOOTS
I just got these waterproof Sorel boots and I AM DYING to have an excuse to wear them. Don't they look awesome?
This is my 4th pair of Sorel boots, so I guess you could say I'm a fan. You can't beat the quality and I always like their style. This particular rain boot comes in different colors.
(image: Sorel)
The sizing is always consistent for me with Sorel, but I would say if you want to wear thick socks with these boots you need to size up half a size.
---
STUNNING
This barn situation with the rock fence is stunning.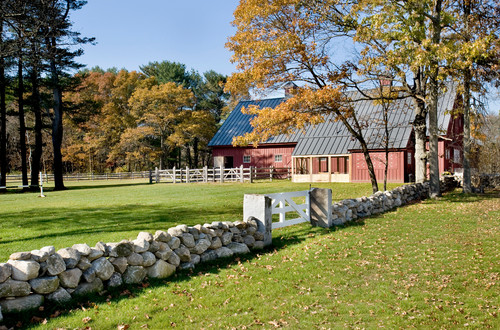 ---
ANOTHER STUNNER
I'm on a barn kick, so here's another one that your eyes needed to see.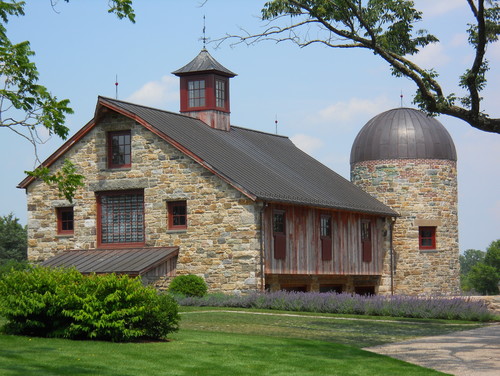 I'm stopping now, but don't be surprised if I write a whole post about barns at some point. I really went down a rabbit hole this week.
---
MEDITTERANEAN CHICKPEA SALAD 
This salad recipe from The Suburban Soapbox is on my list of recipes to try!
I'm in a cooking rut, so I need all the delicious, easy recipes I can find.
(image: The Suburban Soapbox)
---
GOOD NEWS
Did you hear about the factory in Iceland that is now pulling CO2 out of the air and storing it underground where it will mineralize?
One magic bullet isn't going to improve the planet's climate crisis, but a lot of solutions, including this one, working together makes me feel hopeful!
(image: Carbfix via Good News Network)
---
PUMPKIN VARIETIES
Thank goodness for Martha! If you want to know the names and backstories of all the pumpkin varieties sold at your farmer's market, Martha Stewart has got you covered with a quick primer.
You can bet I'll be waiting for an opportunity for the words 'Rouge Vif D'Etampes' to just roll off my tongue in conversation.
Although, Jack Be Little might be easier for me to pronounce.
Both of these are pumpkin varieties.
(image: Kate Mathis for Martha Stewart)
---
POETRY MOMENT
The below poem hit me this week because I've just been hit by the need to be extraordinarily grateful for this life that Handy Husband and I have built together and for the people who love me.
Gravy by Raymond Carver
No other word will do. For that's what it was. Gravy.
Gravy, these past ten years.
Alive, sober, working, loving and
being loved by a good woman. Eleven years
ago he was told he had six months to live
at the rate he was going. And he was going
nowhere but down. So he changed his ways
somehow. He quit drinking! And the rest?
After that it was all gravy, every minute
of it, up to and including when he was told about,
well, some things that were breaking down and
building up inside his head. "Don't weep for me,"
he said to his friends. "I'm a lucky man.
I've had ten years longer than I or anyone
expected. Pure gravy. And don't forget it."
"Gravy" from All of Us: the Collected Poems by Raymond Carver
---
Thank you for reading today's Happy List!
Be good to yourself and others this weekend.
I'll see you back here on Monday.
*affiliate links in this blog post*