Happy List: #283 Merry Christmas
Hi! Welcome to today's Happy List!
If you're reading this then I presume you're all set for Christmas or you're procrastinating. Either way, I'm glad you're here.
This week on the blog I shared one last tutorial for the year – a wood bead snowflake ornament. I added some of my wood bead snowflake ornaments to a garland on our bedroom fireplace. The garland gives off more winter vibes than Christmas vibes so I might keep it up for a while!
I also wrote a blog post giving us a grade of sorts for how well we did with tackling our house projects this year. Was this a little bit like the teacher letting you grade your own test in school? Yes, yes it was. Haha! A's for everyone!
Thank you for reading our blog this year! It's our pleasure to share projects, inspiration, and maybe a laugh or two with you. If you like what you read here, it would make us so happy if you would please leave a quick comment, like, or a share either here on the blog or on our social media accounts on Instagram or Facebook. Thank you!
Now, here's the Happy List!
---
DIY CHRISTMAS ORNAMENT
This Die Hard movie ornament made me smile. I know there's a debate about whether or not Die Hard is a Christmas movie or an action movie that just happens to take place over Christmas.
Either way, there's probably someone in your life who would get a kick out of this DIY ornament. If you have a toilet paper roll, aluminum foil, and a printer, you can make one!
Direction here at Unlikely Words.
(image: Unlikely Words)
---
2022 BULWER LYTTON FICTION CONTEST WINNER
Have you heard of the Bulwer Lytton Fiction Contest?
"Since 1982 the Bulwer Lytton Fiction Contest has challenged participants to write an atrocious opening sentence to the worst novel never written. Our whimsical literary competition honors Sir Edward George Bulwer-Lytton, whose 1830 novel Paul Clifford begins with "It was a dark and stormy night."
John Farmer from Aurora, Colorado, won this year's contest with the following sentence.
"I knew she was trouble the second she walked into my 24-hour deli, laundromat, and detective agency, and after dropping a load of unmentionables in one of the heavy-duty machines (a mistake that would soon turn deadly) she turned to me, asking for two things: find her missing husband and make her a salami on rye with spicy mustard, breaking into tears when I told her I couldn't help—I was fresh out of salami."
Haha! It might be fun to submit a terrible sentence to this contest!
To read all the other terrible sentences that won awards, click
here
.
---
12 DAYS OF CHRISTMAS
I'm not sure if this chart by Reddit user neilraye is satisfying or conspiracy theory-inducing. Ha!
(image: neilrkaye via Flowing Data)
---
PARMESAN PESTO ROASTED POTATOES
I made these Parmesan Pesto Roasted Potatoes from Recipe Runner this week.
I've seasoned roasted potatoes with all sorts of dried herbs but I'm not sure why I never thought to just toss them with pesto!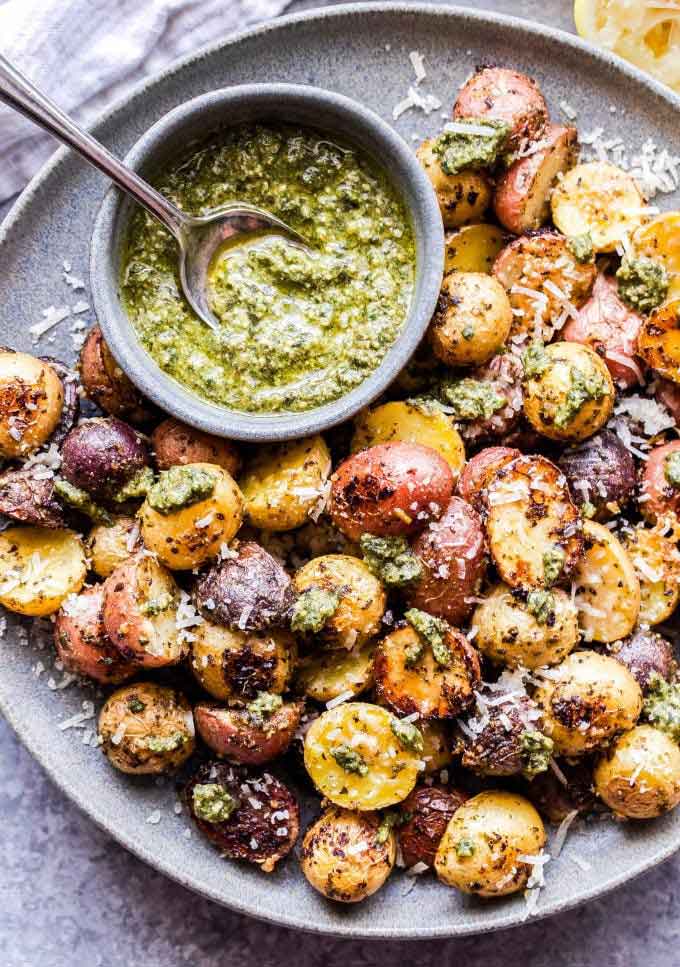 (image: Recipe Runner)
---
PRETTY WRAPPING IDEA
I love this pretty idea for a present bow from Niki at My Scandinavian Home.
(image: My Scandinavian Home)
More Scandinavian Christmas gift-wrapping ideas can be found here.
P.S. If any of those gifts you are wrapping require batteries, once again, I'm here to tell you that we love rechargeable AA and AA batteries. I don't ever worry about the kids leaving on a toy and running the battery down because we can recharge those suckers!
---
INSPIRING
Watch Hansel Emmanuel, a 6-foot-6 guard for Northwestern University, scoring the first points of his college basketball career in the below clip.
Emmanuel lost an arm in a childhood accident but he hasn't let that stop him. His story puts our obstacles in perspective, doesn't it?
If the video doesn't load, you can watch it here.
Drop the 🔨, Hansel!

NSU 89, ULM 70 | :37.4 2H#ForkEm pic.twitter.com/hEnGTTr2b1

— NSU Basketball (@NSUDemonsMBB) December 10, 2022
---
PAPER CHAIN
This paper chain made by Town & Country Living is so pretty.
If I ever make a paper chain I need to remember to use my scalloped-edged scissors to cut the paper. It elevates the whole look and feel of the paper chain, don't you think?
(image: Town & Country Living)
---
SOMETHING TO PONDER
"See enough and write it down, I tell myself. And then some morning, when the world seems drained of wonder, some day when I'm going through the motions of doing what I am supposed to do… On that bankrupt morning, I will simply open my notebook and there it will all be, a forgotten account with accumulated interest. Paid passage back to the world out there. It all comes back. Remember what it is to be me." – Joan Didion
---
Thank you for reading today's Happy List. Thank you for every blog post you've read this year. Thank you for being a part of my world.
I hope you and your family have a wonderful rest of the year.
I'll be taking the remainder of 2022 off the blog to celebrate the holidays with my crew. I haven't set a return date quite yet, but I assume it will be the first or second week of January.
Happy Christmas and New Year!