DIY Plant Hanging Rod Secured to the Ceiling
We recently built a plant hanging rod on our sunporch, so I guess I'm a plant person now?
Perhaps I should have ended that sentence more declaratively.
I'm a plant person now!
Nope.
That label still feels more uncomfortable than that time I touched poison ivy.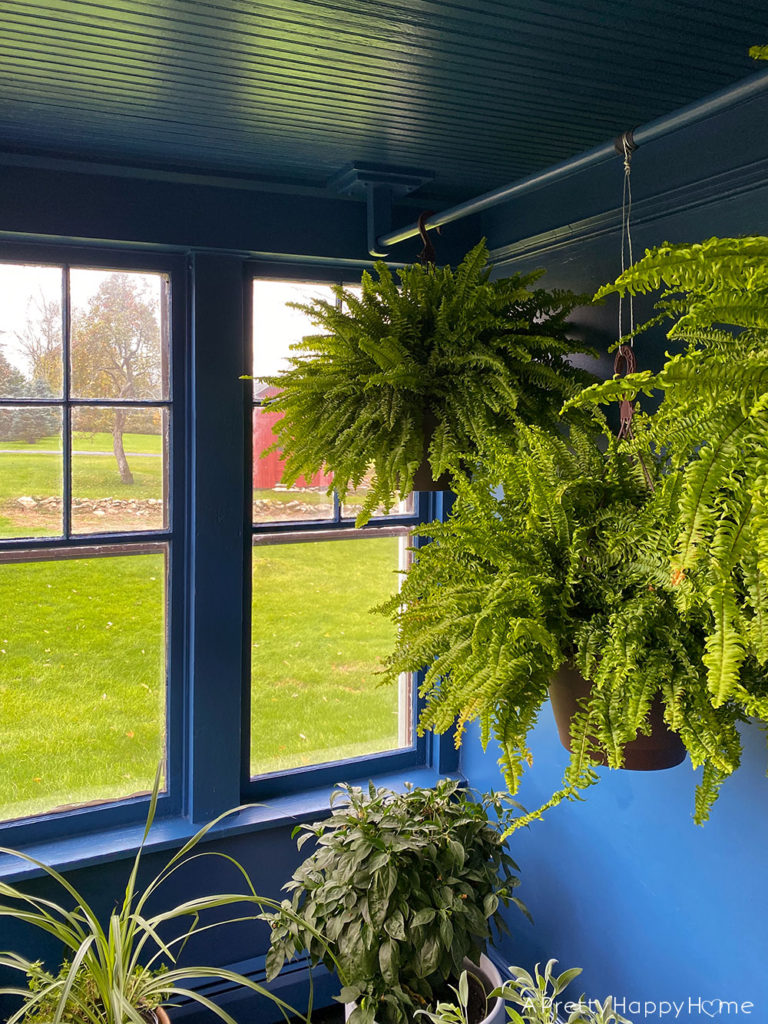 I have some house plants. Not a lot. More than what's on the barren surface of the moon and less than what's in a tropical jungle.
I also have some outdoor plants that I had the wild idea to try and keep alive over the winter. Three of those outdoor plants are ferns in hanging pots. They really liked hanging on my front porch this summer.
I'm sure the happy and robust state of the ferns is less about the location and more about me remembering to water them regularly.
Now that I've invested so much time into keeping these $5 ferns alive, I want to see if I can winter the ferns on our sunporch.
Some people challenge themselves to a high score in Candy Crush. I challenge myself to see how many months I can keep ferns alive.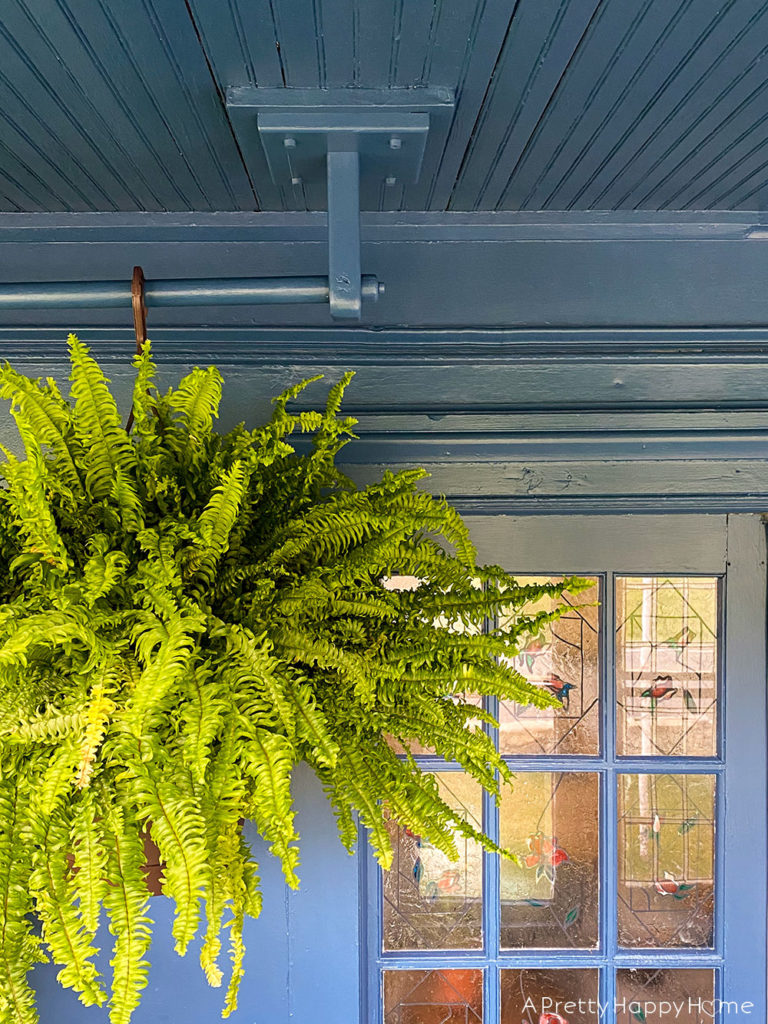 The easiest way to hang my ferns would be to screw hooks into the ceiling. If you are a regular reader, you will know I don't often do things the easiest way.
There were three things factoring into my decision on why to build a plant hanging rod instead of using ceiling hooks or wall-mounted brackets.
The sunporch is a long narrow space with five doors. Space planning has been a challenge. It made sense, for now, to designate one spot for hanging plants that is out of the foot traffic pattern for this room.
There were already wood ceiling plates mounted on this ceiling in just the right location that we could give a purpose to (other than probably covering holes) with this plant hanging rod.
The plant hanging rod idea felt different, fun, and like it made sense for this space. Plus, if I kill these plants, I can use the plant hanging rod for something else. Maybe drying herbs or flowers?
I joked at the time we were constructing this plant hanging rod that it looked like a chin-up bar!
It still kind of does and that doesn't hurt my feelings.
However, if we wanted to use this rod for chin-ups or pull-ups we should have used a metal bar.
This wood dowel is 6-feet long and 1 1/4-inch in diameter, but with 3 full-grown ferns hanging from it it is starting to sway a tad. With two ferns up there it doesn't. Time will tell if we need to add an additional support or not. I'm hoping not.
Last year we were able to keep a jalapeno plant and a sage plant alive over the winter by keeping them on our sunporch.
That's why we think there is a fair chance of keeping some of our other summer plants, peppers, and herbs alive over the winter.
The sunporch receives a ton of daily light. Plus, on blue sky days, it is the warmest spot in our house with temperatures pushing 80-degrees Fahrenheit!
In fact, we often use that room to "heat" the living and music rooms in the winter by throwing the french doors open during the afternoons.
Power of the sun for the win!
While you could have so much fun painting this hanging rod in different colors or going metallic, I'm glad I went the monochrome route.
This room feels very dramatic because the ceiling, windows, and walls are the same color. The plants are now the star of the show, as they should be because the plant hanging rod blends into the ceiling.
I'm so happy we turned this corner of our sunporch into a living wall of sorts by building this plant hanging rod.
---
P.S. I'll keep you posted on if my plants survive or not! I recently killed a succulent, so this could go downhill fast!
P.P.S. If you install a plant hanging rod in your house or otherwise have a cool way of displaying your hanging plants, please share a picture with me! You can always leave a message in the comments section, email me, or reach out on social media. I can be found on Instagram or Facebook.
---
Need another plant hanging idea?
I love this ladder mounted from the ceiling. You can buy this setup off Etsy or make your own.
(image: Farmhouse Basics via Etsy)
---
Thank you for being here today! Here are some other posts you might enjoy.
See how hideous our sunporch was before I painted it navy.
Herringbone Rolling Plant Caddy
3 Unexpected Succulent Planters
*affiliate links in this blog post*