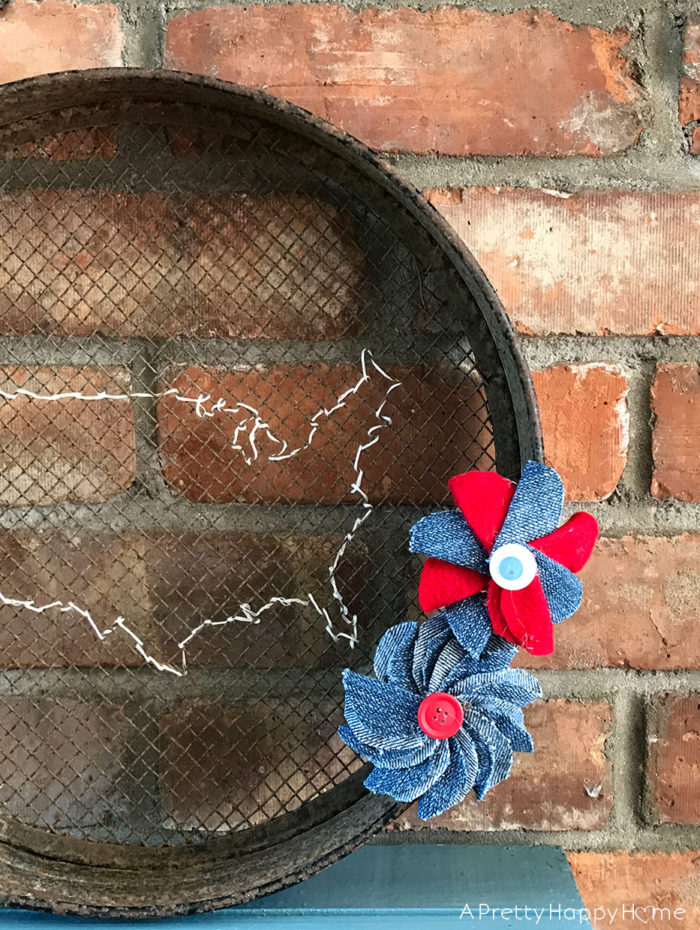 Eight Fun 4th of July Ideas
Before you know it, the USA will be celebrating another birthday. It is turning the ripe old age of 246 in 2022! That calls for a celebration, don't you think?
Here are eight fun 4th of July ideas to make the holiday even more festive.
---
Fun 4th of July Ideas: Make Faux Sparklers or Giant Frill Picks 
I had so much fun making these last year and plan to reuse them again this year. (Read how I made them here.)
You can either use these faux sparklers or giant frill picks in the world's largest sandwich, or you can do like I did and put them in my front porch plants to decorate for the 4th of July.
You could group a bunch of them together to make a festive bouquet too.
P.S. If you make the world's largest sandwich, please send me pictures.
P.P.S. While these faux sparklers can be out in the weather, they will fade if left in the sun for weeks. Ask me how I know? Ha!
---
Fun 4th of July Ideas: Hang Porch Flags or Bunting
Do you have a front porch, a deck railing, a fence, or somewhere else you can hang patriotic flag bunting?
It's an easy way to make your outdoor space look ready for a party. Plus, these can be reused year after year too!
We purchased this 4-pack of these "half fan" flags for around $17.
---
Fun 4th of July Ideas: Add a Flag To a Barn or Other Building
If you have a garage, barn, or other outbuildings on your property, don't forget to decorate those for the 4th of July too!
Find out how we made this flag here.
---
Fun 4th of July Ideas: Stick a Mini Flag In a Milk Bottle Vase
Time to put those milk bottles to use! If you don't have milk bottles, any recycled glass jar will do!
Just stick a mini flag in your glass jar or bottle and you have instant 4th of July decor.
---
Fun 4th of July Ideas: Paint Your Fingernails With a Festive Design
I'm not a nail artist, but I can usually manage dots and a straight line!
Any combo of red, white, and blue on your finger or toenails is a fun way to add some 4th of July flair to your life.
---
Fun 4th of July Ideas: Make a Patriotic Wreath
The options are endless for how you can create a patriotic wreath for the 4th of July.
If you want to see how I made this one using a metal grain sifter, click here.
---
Fun 4th of July Ideas: Go To a Parade
Are you a parade person? I am, which is surprising because I generally detest large crowds.
However, parades are one of those rare moments where everyone gets along for 5 minutes. We put aside our differences and celebrate the good things this country has to offer. I'm hopeful that we are even reminded that we have more in common as humans than what divides us.
So, go to a parade. Clap for your fire department and the girl scout troop and the local marching band. It will make you feel good.
P.S. Here are 10 tips for making attending parades with little kids a little bit easier.
---
Fun 4th of July Ideas: Make a Burlap Flag 
Did you know you can paint burlap?
I used a little craft paint to paint an American flag on a burlap bag and used it as part of a centerpiece for my 4th of July party table. Get the tutorial here.
---
I hope these fun 4th of July ideas got your creative juices flowing.
There's nothing better than an idea that sparks your imagination and before you know it you're creating something that makes you happy.
Happy (early) 4th of July.
---
If you make a 4th of July craft or have a festive way you celebrate, I'd love to hear about it. You can always comment on this blog post (I have to approve it first before it appears), email me here, or reach out via Instagram or Facebook.
---
Thanks for being here today. I love sharing ideas with you. Here are some other blog posts you might enjoy. 
Travel: Gettysburg National Military Park
*affiliate links in this blog post*