Burlap American Flag Centerpiece
Let me tell you a little something.
There's only so much "settling in" a person can do in a new home before a break is needed.
I'd normally take a break on a comfy couch with a cold drink in hand. Maybe kick my feet up on a cute ottoman.
Alas, I don't have a couch yet. Or a cute ottoman.
I do have a cold drink though.
Priorities!
In lieu of time on the couch, I decided I'd recharge with a cold drink and a crafting session.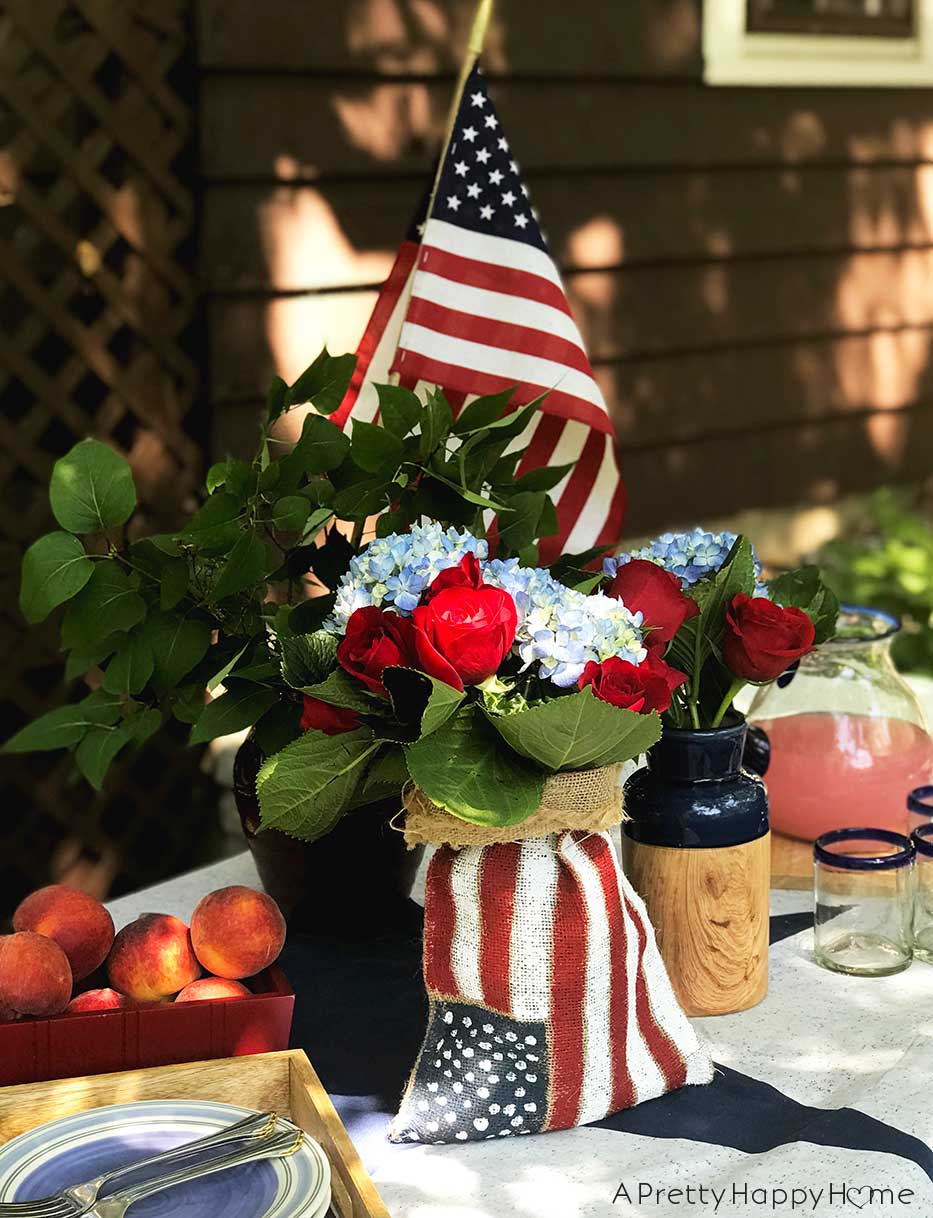 I might not have a place to sit, but I do have paintbrushes.
Go figure.
I also have a random burlap bag that I keep reusing for crafts like this one for St. Patrick's Day.
That's why, when I saw Burlap Flag Silverware Holders made by Kierste of Simple Kierste Design Co., I had a lightbulb moment!
I love it when I'm inspired by someone's creativity and can use that idea as a jumping off point to make something for my home.
Silverware holders were out because I don't know anyone here yet should probably have furniture before I decide to host a party.
But! I can decorate for 4th of July! It's one of my favorite holidays – especially after being out of the country for a couple of years.
The items I used for this Burlap American Flag Centerpiece were flowers, a vase, burlap/burlap bag (similar
), tape, craft paint and a paintbrush. I also used a piece of cardboard under my project and between the layers of burlap so that the paint wouldn't bleed through to the back side of the sack.
This is the type of project that doesn't need to be 'perfect,' but I did use painter's tape
as a general guide for the stripes. I should have used a narrower tape if I wanted to fit all 13 stripes of a real American flag on there. I did paint on 50 wonky circles stars though!
The longest part of this project was waiting for the paint to dry. That's often the case with my projects! If you use regular craft paint instead of fabric paint like I did, just know that it will make your burlap sack a little stiff.
I used a tall mason jar for the vase. A rubber band is cinching the bag around the top of the jar to hold the sack up. I just noticed you can see the rubber band from this angle on the below picture! Hahaha! Clearly, I'm a professional.
The flowers are from Trader Joe's. If you are a lucky duck that has red, white or blue flowers growing in your yard, you can save yourself a few bucks on this flag centerpiece.
My table is feeling festive and now I'm ready to celebrate the 4th of July!
I'm happy I took a break from organizing the kitchen to make this Burlap American Flag Centerpiece. Crafting is a good creative outlet for me and one of the activities that helps me feel settled and at home. Funny how that works.
And I swear I'm working on getting furniture. I'm currently in the "overthinking it" phase of making a decision.
---
If you like patriotic crafts, let's be friends! Here are a few from the archives.
Patriotic Fingernails and Toes
*affiliate links in this post*