3 Ways To Label DIY Furniture
Have you ever thought about how to label DIY furniture? Or even if or why you should label DIY furniture?
We've made DIY furniture for years but didn't think about labeling it until a couple of years ago when we had an "oh no" moment.
We own a wood-framed mirror that, according to family lore, was made by my husband's grandpa. Everyone in the family knew it was made by him but no one in the family could remember when he made it, why he made it, who he made it for, etc.
The story of this mirror is now lost and that's sad from a family history perspective.
If we don't tell our children that their great-grandpa made that mirror then someday they will probably donate it to a thrift shop because they have zero connection to the mirror and don't know it has sentimental value.
Our situation is not unique. I'm confident every family has a similar story or set of circumstances on this topic. To that end, let's all start labeling our DIY furniture and other things we make so that these stories, this family lore is not someday lost.
Here are 3 ways to label DIY furniture. Feel free to add your own ideas in the comments section!
---
Label DIY Furniture: With A Wood-Burning Tool
You can use a wood-burning tool to label DIY furniture.
On the underside of this DIY bench, I burned the date the bench was created, who made it, and the location. (I blurred identifying information for the purposes of this blog post.)
You don't have to make a huge investment to get into wood-burning. A beginner wood-burning kit runs under $30 at the time I'm writing this and it's not hard to pick up the basics of wood-burning.
This is the wood-burning kit I have. I read the directions that came with the kit and practiced on some scrap wood before diving right in!
(image: Amazon)
While my wood-burned label might not look the most professional due to my wood-burning skills or lack thereof, I do like that this type of furniture label is permanent. It's only coming off if someone sands it off or fills it in with wood putty. And because I burned the label on the underside of the bench, it's unlikely that it's ever going to need to be sanded down in this specific spot.
Alternatively, if you don't want to go the wood-burning route, you could use a permanent marker to label DIY furniture. It would certainly add a personal touch to the piece with your handwriting. I would implore you to print and not use cursive as that can be difficult to read.
Keep in mind that permanent marker does have some downsides. While it should last as long as the furniture does, you're going to have to hope that no one paints over it and that the ink doesn't fade.
---
Label DIY Furniture: With A Brass Plaque
What's more legit looking than a brass plaque? Not much!
You can have custom brass plaques engraved by a variety of shops. You may have a local trophy shop in your town that can do it. You can also order from Etsy.
This Etsy shop, Custom Plaque Shop, has a 5-star rating and can make small brass plaques for $10 – 14. You can order them with adhesive backing or with screw holes. I'd opt for the screw holes if you are attaching them to wood furniture.
(image: Custom Plaque Shop via Etsy)
A brass plaque would definitely make your DIY furniture look very professional.
---
Label DIY Furniture: With A Note
If your DIY furniture has a back story that you want to preserve, then you might consider attaching a note somewhere on the furniture.
My great-grandma wrote the story of how she came to own her treadle sewing machine on a 3×5 notecard and tucked it in the back of the sewing machine drawer. The details that she included in this note were incredible.
Miraculously, after being passed down through the family, that card stayed with the sewing machine.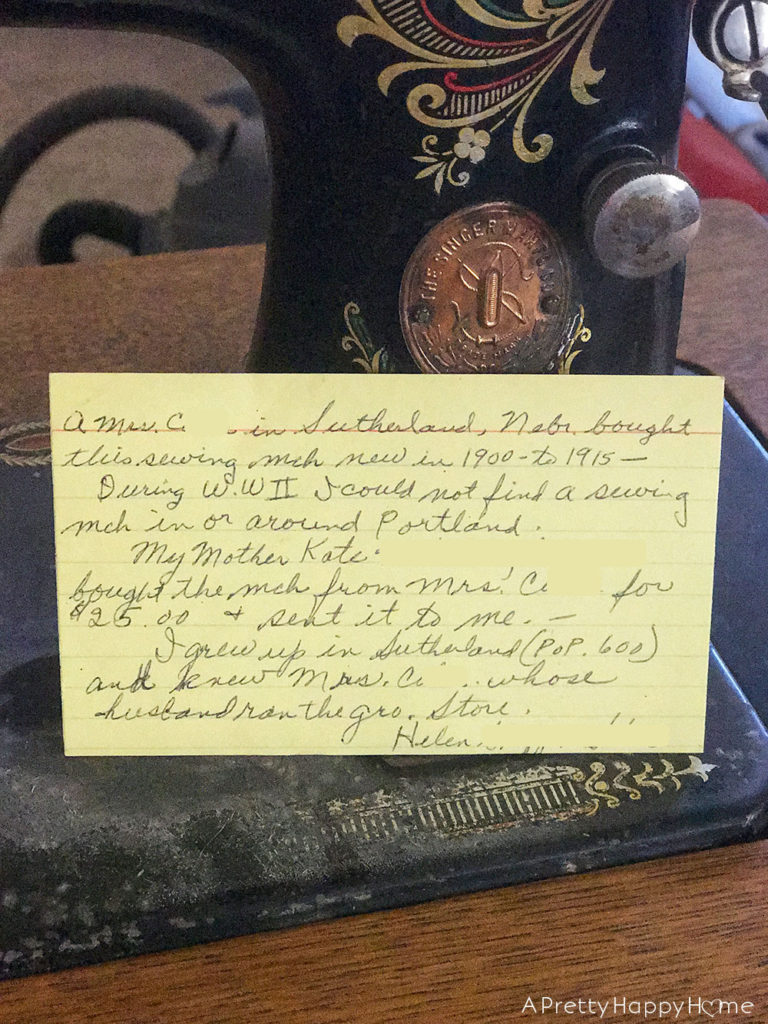 While you run the risk of a note being lost or damaged over time, I do like the idea of attaching a note to a piece of furniture perhaps in conjunction with one of the other labeling ideas. Consider putting the note in a protective envelope or sleeve to try and preserve it for as long as possible.
---
This idea of labeling DIY furniture and keeping the stories about the furniture and the people who created it alive through documentation is what I call sentimental provenance. You can read more about that idea here.
I'm slowly labeling all of the DIY furniture we have in our house. It's going to take me time but I'm determined to get it done.
Do you label your DIY furniture? Do you have other ideas on how to label DIY furniture? I'd love to know. You can always comment on this blog post, email me here, or reach out via Instagram or Facebook.
Happy DIYing!
---
Thanks for spending part of your day here! I appreciate it. Try one of these if you'd like another blog post to read! 
Establish Sentimental Provenance For Family Keepsakes
The Key To Decorating With Kid Art
The Age Our Kids Started Doing Their Own Laundry and a Hamper Makeover
A New Old Closet Door For Our Bathroom
*affiliate links in this blog post*