Hello, hello! Welcome to this week's Happy List. I'm delighted you're here.
This week on the blog I discussed a very niche quirk of old houses. Some old homes, like ours, have field stones or bricks in between the wood studs. These aren't stone walls in the traditional sense. There's nothing structural about these stones. In this blog post, I discuss why this might have been done.
To keep things interesting around here, I also shared a blog post about how to reuse a Basmati rice bag. These burlap bags are awesome and too good to throw away!
As always, I love hearing from you! It makes my day. It makes your day. It's also part of the magic that keeps this blog running. You can always comment on this blog post or send an email here. You can also connect with us on Instagram or Facebook. I look forward to chatting.
Here's the Happy List!
---
SO PRETTY
I was charmed by this simple and pretty Easter flower arrangement by Purely Katie.
(image: Purely Katie/The Casual Craftlete)
---
HOW TO MAKE GREENS LAST LONGER
Did you know you can use a SodaStream to make a bag of lettuce last longer?
You can also just breathe in the bag before you seal it up. However, it might be a little too soon after the pandemic to go that route!
Pandemic PTSD aside, I found this tidbit pretty interesting. Learn more about the how and why over at America's Test Kitchen.
(image: Amazon)
---
WALLEYE CROCHET PATTERN
Whoever runs the social media accounts for the National Park Service deserves a raise. That's my favorite account to follow because they are funny, clever, and informative.
Now, the NPS offers free crochet patterns of fish for those who like fish but might not want to catch a real one. I applaud this light-hearted way they are engaging the public.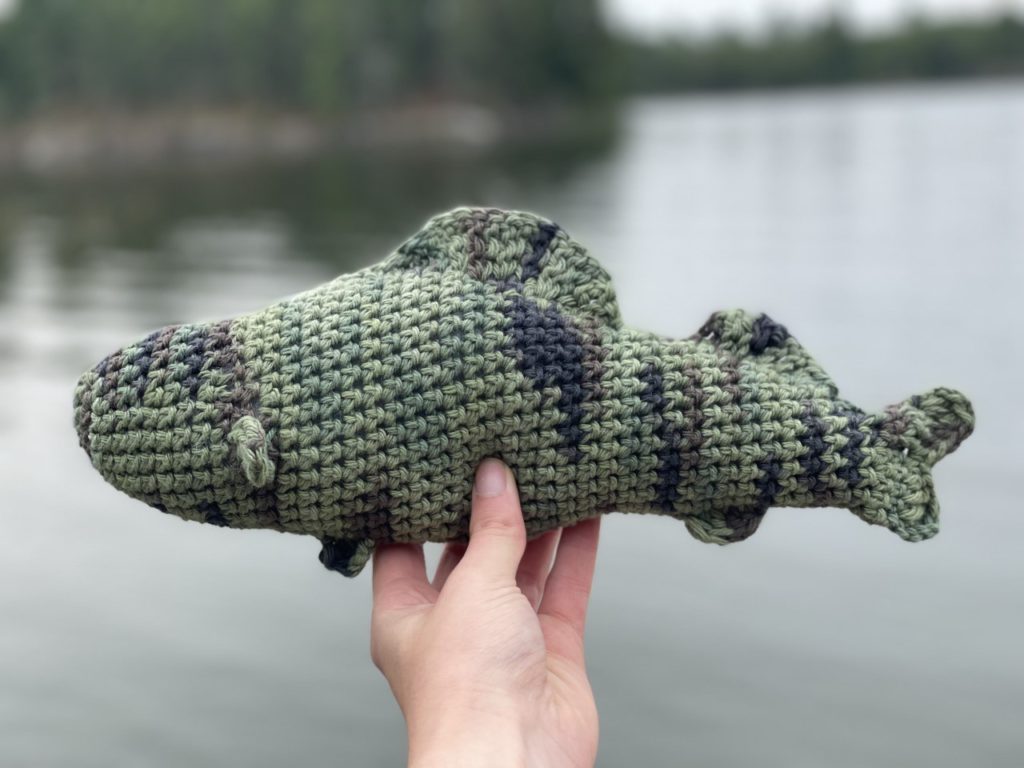 (image: Ranger Burley and National Park Service)
---
VEGETARIAN WHITE BEAN CHILI
I made a vegetarian chili recipe last week from Kitchen Treaty and I was SO surprised at how much flavor it had. We did not miss the meat.
It has a secret ingredient in it that I would never think to put in chili. Cloves! It might sound strange but it really worked. My family ate it right up – even the picky eater. We only had enough leftover for one person to have a small bowl for lunch the next day. Get the recipe here.
(image: Kitchen Treaty)
---
MADE ME LAUGH
This is me.
(image: via Sad and Useless)
---
BURGER EASTER EGGS
I applaud the creativity of these burger Easter Eggs from Studio DIY.
(image: Studio DIY)
---
DID YOU KNOW?
Did you know that almond extract might not come from almonds? It probably comes from peach pits.
SAY WHAT?!?!?
Almonds aren't really nuts. They are seeds and are related to peaches, apricots, plums, cherries, and nectarines.
Bitter almond oil, which is what is used to make almond extract, often comes from the seeds inside peach pits because it's cheaper to make. It's either that or throw those pits away!
There's so much more to this story! Read more about it in this All Recipes article.
I hope you appreciate the quality photos I take for this blog. Where else will you get a smiley face made out of almonds? Hahahaha!
---
SHORTS
I just got these Baleaf swim shorts for summer and the cut is just so good. They could be regular athletic shorts too. You can't tell from this picture but they have a bike short-type liner with a hidden pocket. They were under $30.
If you've been here a while, you know I'm a fan of the Baleaf brand. I have two of their swim skirts. Their swim skirts are just a tad bit longer than most swim skirts (more tennis skirt length) so you could wear them in public. Plus, they've held up well against all the pool chlorine I've exposed them to.
(image: Amazon)
---
SECRET DOOR
Do you know how badly I want a secret door hidden in a bookcase? The only problem is my secret door would never be a secret because I'd be so excited to show everyone who came over how it worked.
Check out this secret bookcase door in this home in Notting Hill. It's so cool.
(image: Hubert Zandberg Interiors via Desire to Inspire)
---
POETRY MOMENT
(I'm sure I've shared this poem before. Billy Collins is one of my favorite poets and this poem is perfect for the start of spring.)
If ever there were a spring day so perfect,
so uplifted by a warm intermittent breeze
that it made you want to throw
open all the windows in the house
and unlatch the door to the canary's cage,
indeed, rip the little door from its jamb,
a day when the cool brick paths
and the garden bursting with peonies
seemed so etched in sunlight
that you felt like taking
a hammer to the glass paperweight
on the living room end table,
releasing the inhabitants
from their snow-covered cottage
so they could walk out,
holding hands and squinting
into this larger dome of blue and white,
well, today is just that kind of day.
Thank you for reading today's Happy List!
Be good to yourself and others this weekend.
I'll see you back here on Monday!
*affiliate links in this blog post*