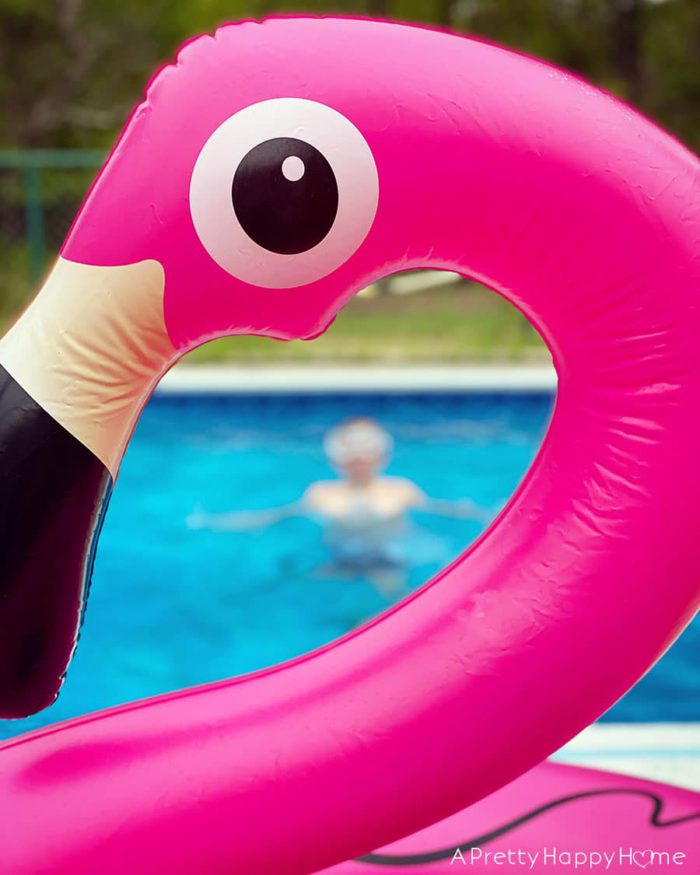 Hi! Welcome to this week's Happy List. I'm glad you're here because I have some fun things to share with you this week.
But first! In case you missed it, this week on the blog I relayed an update on how our pool coping is doing. As a side note, it's been raining so much in New Jersey that I feel like we haven't had a ton of pool days yet this summer. I also shared an update on how the art in the Carriage House has changed recently.
I say it every week but I mean it all the same, thank you for reading this blog and sharing it with your friends. You can't share it enough! We also love talking to you. If you want to connect with us, you can always comment on this blog post or send an email here. You can also reach out on Instagram or Facebook. We're much better about responding quickly on Instagram than on Facebook though.
Now, here's the main event, the Happy List!
---
ISLAND TREND
I've recently noticed a trend in high-end homes: kitchen islands with dual-surface counters or counters made of two different materials, usually wood (i.e. butcher block) and stone.
I don't know if people are using the wood portion as an actual cutting surface or if it's just there for looks. Here's a pretty example of this by Mindy Gayer Design Co.
(image: Mindy Gayer Design Co.)
I wonder if this trend will move to mainstream design.
---
PYROGRAPHY AND LATH ART 
A few weeks ago I wrote about lath art and this week I discovered the work of Jynae Bergeron who combines reclaimed wood, a bit of lath art, and wood burning to create beautiful landscapes.
Read more about her technique here. See Bergeron's shop here.
(image: Jynae Bergeron via My Modern Met)
---
MINIATURE GOLF GOES WAY BACK
Did you know miniature golf got its start in Scotland? Way back in the day, it was improper for a lady to "take the club back past their shoulder" and miniature golf on a women's only course became a workaround for that society rule.
Like many things, Americans took the idea and put their own spin on it, especially during The Great Depression when it was too expensive for people to play and maintain proper mini-golf courses. New courses sprang up with whatever junk obstacles were lying around including tires, gutters, barrels, etc. and folks loved these wacky obstacles.
For a full history of the wild ride that has been the mini-golf industry, read this Mental Floss article.
P.S. One time, my kids and I turned a bunch of old golf balls into emojis. It was a fun craft.
You can read about how we did it here.
---
OWL ART
Some of you are really good at repurposing items, so this crafty idea caught my eye! The House of Hawthornes repurposed a glass snack set into owl art.
I will never look at fancy tongs the same way after seeing this picture. Hahaha!
Read how they assembled it all here.
(image: House of Hawthornes)
---
I WAS WRONG
Here's a fun fact. I didn't want to move to New Jersey because all I knew about this state was from MTV and the Newark Airport. Neither of those is a great representation of the Garden State.
My opinion has since changed.
CNBC just released its 2023 list of the best states to live and work and New Jersey ranked #3 for inclusivity, health protections, and low crime rate. Not too shabby!
Here's another fun fact. I've lived in 5 of the states on this list! Is your state on it?
---
BAKED EGG SANDWICHES
I've never thought about baking beaten eggs in a water bath in the oven but I can see how it would create a really nice texture. Apparently, these pre-baked eggs reheat really well for sandwiches too.
I am now intrigued.
Get the recipe here. It's the copycat of Flour Bakery's egg sandwich. Flour is a well-known bakery in Boston.
(image: Alexandra Cooks)
---
RECOMBOBULATION 
This is an old story but it still seems relevant to me. Milwaukee's airport has a Recombobulation Area.
Recombobulation is not a "real" word but the urban dictionary defines it as gathering one's thoughts or composure.
The recombobulation area at the airport was meant to be a light-hearted way of saying, "We get that traveling is stressful. Here's a place to gather yourself after going through security."
I love that! Read more about it here.
(image: On Milwaukee)
---
BEE-UTIFUL
If you're planning a bee-themed party or baby shower, these DIY beehives by Tatertots and Jello are cute.
Get the directions here.
(image: Tatertots and Jello)
---
FOOD FOR THOUGHT
"Well…most people don't spend a lot of time thinking about poetry. Right? They have a life to live, and they're not really that concerned with Allen Ginsberg's poems or anybody's poems, until their father dies, they go to a funeral, you lose a child, somebody breaks your heart, they don't love you anymore, and all of a sudden, you're desperate for making sense out of this life… 'Has anybody ever felt this bad before? How did they come out of this cloud?' Or the inverse…something great. You meet somebody and your heart explodes. You love them so much, you can't even see straight. You know, you're dizzy. 'Did anybody feel like this before? What is happening to me?' And that's when art's not a luxury, it's actually sustenance. We need it." – Ethan Hawke
---
Thank you for reading today's Happy List.
Be good to yourself and others this weekend.
I'll see you back here on Monday.
*affiliate links in this blog post*