Dave's Killer Bread Copycat Recipe
You know that point when you grow up and realize you've got to make your carbs count and white bread just isn't doing you any favors? I'm totally kidding.
A life without carbs…where's the joy in that?
However, I have moved passed my white bread phase onto a more heartier bread. It started for me several years ago when I tried Dave's Killer Bread. If you live in the Northwest, you've probably heard of it and I hope, for your sake, that you've tried it. It combines the smooshie goodness you associate with white bread with the benefits of "healthy" bread (fiber, protein, whole grains, etc.). Plus, the story of how Dave's Killer Bread came to be is pretty amazing. My world was rocked. It became a part of my routine.
And then we moved to Georgia. No more Dave's bread. Whomp, whomp.
I hate to sound melodramatic about bread when there are real problems in the world. You know, like people not having bread at all. So, please indulge me for a moment. We tried 10 – 12 different types and brands of bread and they all tasted like cardboard. The texture was wrong. The taste was blah. I know, I know. Woah is me. Get to the point of this post already!
So, I stopped whining and found this brilliant blogger (Kitchen Wench) who made a knock off recipe of Dave's Killer Bread
.
Bless her baker hands! I've got to admit, I had never made yeast-based bread before. I was scared. I don't own a bread machine. If I was going to do it, it was going to be the old-fashioned way. By hand. How very Little House on the Prairie of me. That should tell you how desperate I had become.
The ingredient list was a little daunting and it did take me a couple of trips to find what I'd need. Honestly, I had never purchased flax seed before. What aisle is that in? Quinoa in my bread? Okaayyyy. Why not? It's tricky to look for these things with 2 kids hanging off your cart, but I figured it out. Go me.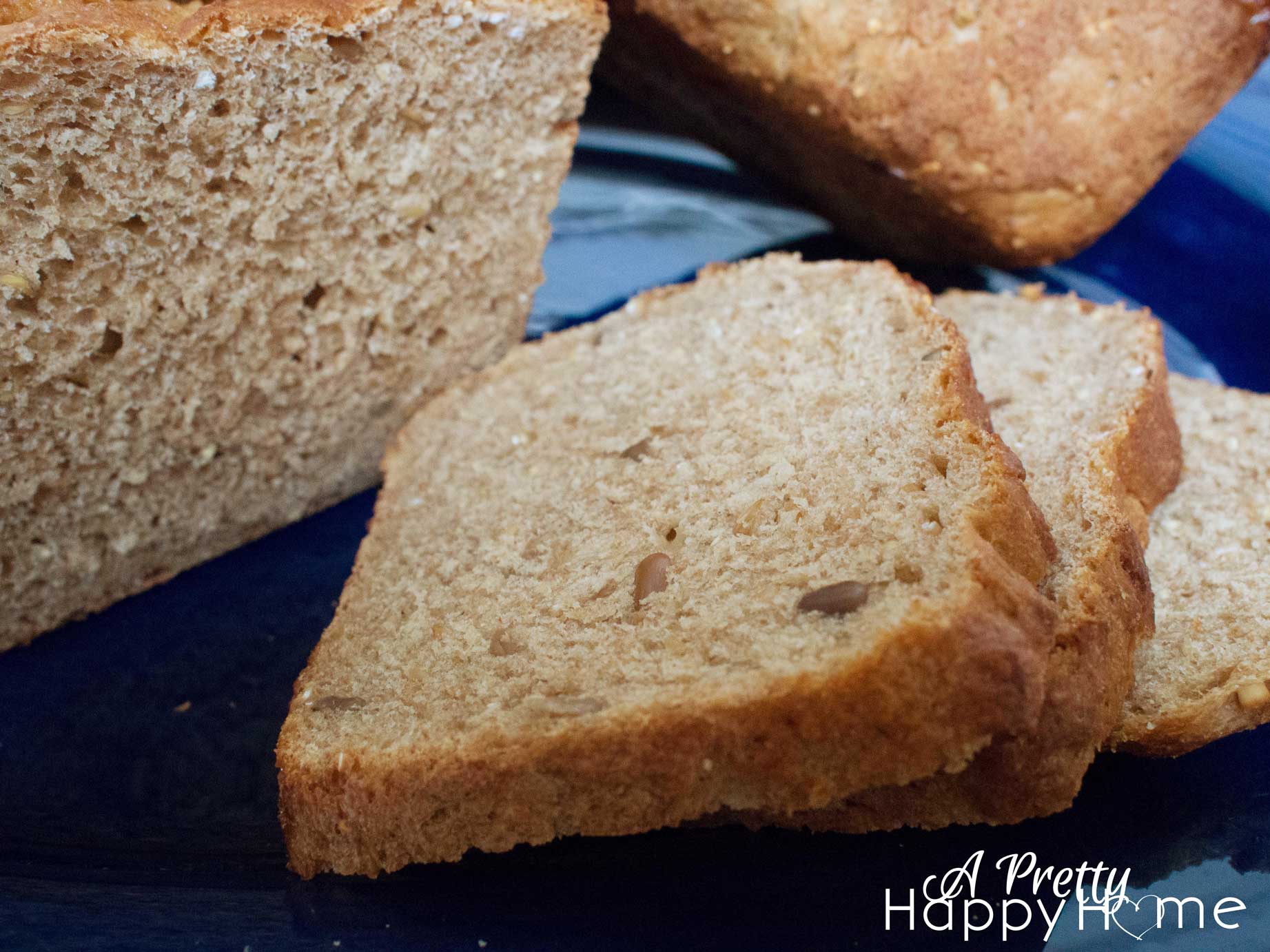 It wasn't as hard as I thought to make the recipe and I'm getting better at it with each loaf. I've learned that bread making is quite the scientific process. The humidity in our Georgia climate really impacts my bread and I've accounted for extra flour in the recipe below. Also, you can let your bread over rise. Who knew? Clearly not this newbie bread maker.
I did tweak the recipe from the original for taste, ingredient availability and climate. Also, my husband read somewhere that Dave's Killer Bread
uses vital wheat gluten in its recipe to help with the texture or "chewiness" of the bread. So, I found some of that at Whole Foods and have added it to the recipe. It won't be the end of the world if you can't find that particular ingredient though.
Thankfully, this recipe has been very forgiving of my lack of experience. I'm still learning a lot about the bread making process, but if I can do it – you can certainly do it.
We haven't purchased bread in about 3 months and I make 1 batch (2 loaves) probably 5 times a month. Best of all, my kids think it tastes similar to the Dave's Killer Bread
they are used to eating. I can tell that it is definitely homemade and not commercially produced, but somehow, that just adds to the tastiness. While the original Dave's Killer Bread
is a masterpiece in and of itself, this knock off recipe is delicious!
Update 4/22/15: I've updated my Dave's Killer Bread Copycat Recipe. Read on for the original or click here to read the updated post. It's very similar, but has some lessons learned.
Dave's Killer Bread Copycat Recipe
(Based on the recipe by Kitchen Wench)
Ingredients:
2 1/4 cups of warm water
2 Tablespoons yeast
2 Tablespoons coconut oil
2 Tablespoons molasses
3 Tablespoons honey
1 Tablespoon kosher salt (use whatever salt you have)
1/4 cup vital wheat gluten
1/4 cup quinoa
1/4 cup flax seed
1/4 cup sunflower seeds
1/4 cup long cooking oats (quick cooking oatmeal would be fine if that's all you have)
1/4 cup steel cut oats
2 cups white flour
2 – 3 cups wheat flour*
olive oil for drizzling
extra honey for drizzling
Fill large bowl with warm water. You want it to be hot to the touch, but not burning. Sprinkle the yeast on top of the water and let set for a few minutes so the yeast can start working. I use this time to get out my other ingredients and by then, it should be good to go.
Add coconut oil, honey, molasses and salt to the water/yeast mixture. Give it a quick, gentle stir with a fork to break up the coconut oil (it usually comes as a solid).
Add in the oats, sunflower seeds, flax seed, quinoa and wheat gluten. Give it another gentle stir to combine.
Add in 2 cups of the white flour and 2 cups of the wheat flour. *SET ASIDE THE REMAINING CUP OF WHEAT FLOUR. (You may or may not need it depending on the humidity in your area. Some days I only need a quarter cup extra, some days I need the entire cup of flour.) Stir in the flour with a fork and then begin working the dough with your hands. If the dough remains sticky after you've kneaded it several times, start sprinkling a little bit of your reserved cup of flour in the bowl. Work the additional flour in with your hands. I can tell it is done when it has a more play-doh like texture – pliable, but not too sticky. You definitely do not want it goopy, but you don't want it too dry either.
When the texture of the dough is ready, form the dough into a ball. Drizzle a little olive oil in the bottom of the bowl for the dough to rest on and drizzle a little on top of the dough. Smear around with your fingers so the entire dough ball is lightly coated.
Cover the dough and let it rise until it has approximately doubled in size.
Punch down dough and knead it out for 2 to 3 minutes. You're trying to work all of the air bubbles out of the dough. (You can experiment with kneading it for shorter or longer periods of time. I'm still figuring this part out.)
Recover the dough and let it rise again until the dough is approximately doubled in size.
Punch the dough out and again knead the dough for 2 to 3 minutes. Select half of the dough and form it into a loaf-like shape. Place it into a greased bread pan (cooking spray works too). Do the same with the other half of the dough.  Drizzle a little olive oil and honey on top of the loaf. (I rub it around gently with my fingers to lightly coat the entire top of the loaf.) Cover both bread pans and let the dough rise until it peeks over the top of the pan. Meanwhile, preheat your oven to 425 degrees.
When the dough is done rising, place it in the oven to bake for 30 minutes at 425 degrees. Check at the 15 minute mark and cover lightly with foil if need be so the bread doesn't get too dark on top. When finished baking, remove bread from pan promptly and let cool on a baking rack.
Pat yourself on the back for being so freaking awesome. You just made fresh, homemade bread! How many of your friends can do that?
TIPS:
1) I let my bread rise in the microwave. It is the only place in my house that isn't too drafty or too cool. I also usually place a hot pack (you know those ones that you can heat up in the microwave to keep casseroles warm during transport) under it. This step is totally not necessary, just something you can try if your bread isn't rising.
2) I've never had to adjust my recipes due to humidity in the air before. So, I am learning. You could always decrease the amount of water in this recipe or like me, just add a little more flour.
3) If you want to go 100% whole wheat, go for it! My family prefers the split version of white and wheat bread. Do what ever suits your tastebuds.
4) Flax seed comes whole or milled. I prefer the taste in the recipe of the whole seed. I haven't seen a difference whether you use the golden flax seed or the darker variety.
5) I'm sure that most baking recipes that call for sunflower seeds use the unsalted version. I use whatever version I have on hand. I'm not a stickler for the rules here!
6) I end up freezing both loaves of bread. When the bread is completely cooled, I slice up the entire loaf and put it in a gallon-size freezer bag and place in the freezer. That way, we can pull out just a slice or two as we need it and the bread doesn't go to waste. If you are using the bread for sandwiches, it only takes a few minutes for a slice of bread to thaw.
Enjoy! I hope the bread makes your mouth and tummy very, very happy!