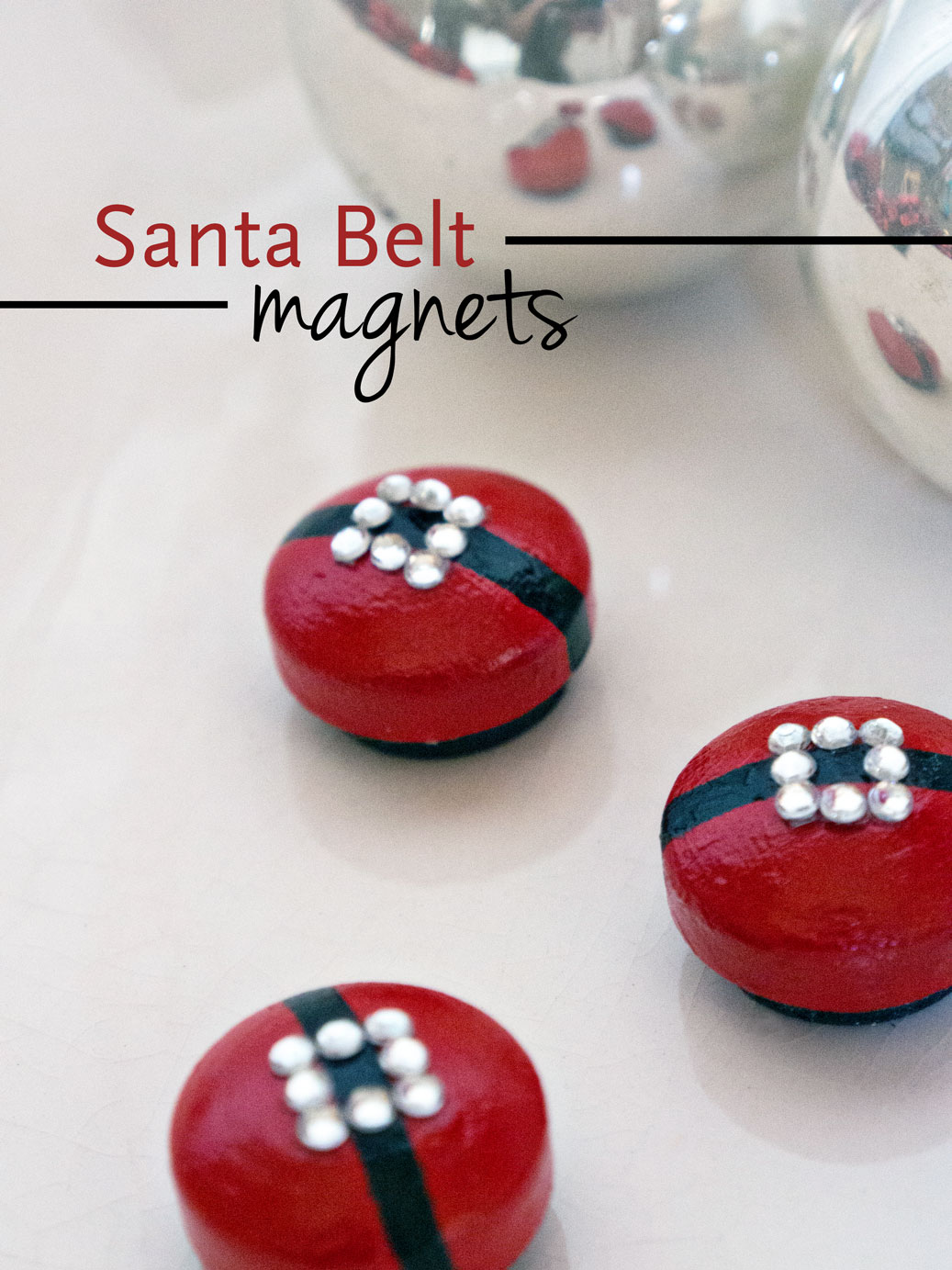 Last year I got on a magnet kick.
Don't ask me why. Sometimes you just get a wild idea and before you know it, your fingers are covered in Mod Podge and you forgot to start dinner. Am I right, or am I right?
The result was a whole bunch of these ridiculously cute Santa Belt magnets.

Don't worry. No humans starved during the making of these magnets. We totally had cereal for dinner that night. Problem solved!
Here's what you need to make them: wood discs of some sort, magnets
, glue, small paint brush, Mod Podge
, tape, craft paint and rhinestones or gems.

You may want to sand the wood discs – depends on which ones you buy. I liked these ones that were rounded on top, but there are plenty of options and sizes at your craft store.



You'll want to paint the entire magnet red. Wait for it to dry. Do another coat of red if necessary.
Then you can either freehand a black stripe for the Santa Belt or if you have an unsteady hand, like me, you can tape off the area you want to paint black. I used scotch tape to do this. It worked great. If the perfectionist in you wants to walk out to your cold garage to find the painter's tape – I totally get it. Actually, I don't. But, I do admire those perfectionistic tendencies! And you probably have your painter's tape stored in some place way more handy anyway. Perfectionists for the win!
Anyway, I digress. Back to magnets…

Now, when the black stripe is dry you can add the rhinestones. I found some gems that had a sticky back, so I just had to peel and carefully position them on the wood disc.
I then gave the entire magnet a coat of Mod Podge
. This was partly because I wanted my magnets to have a bit of shine. The practical part was to make sure those rhinestones stayed in place. Santa does not want to lose his bling!
The last step was to use a dab of wood glue to hold the magnet on. Other types of strong glue would probably work fine too. I used a fairly heavy duty magnet because I wanted them to be able to hold up an extra thick holiday card.


To "package" my magnets as gifts, I folded a piece of card stock in half and then cut out circles slightly larger than the magnet that I could "pop" the magnets into. If your card stock isn't thick enough, you can also glue a piece of cereal box in-between your card stock to make it slightly sturdier.
I'm still smitten with these Santa Belt magnets. Whether they are dressing up your own magnetic chalkboard, a fridge or you are giving them as a gift, I think they make a happy little addition to the Christmas season. Let me know if you give it a try!
---
Okay, let's keep this party going!
Turn Building Blocks into Christmas Ornaments
*affiliate links in this post*