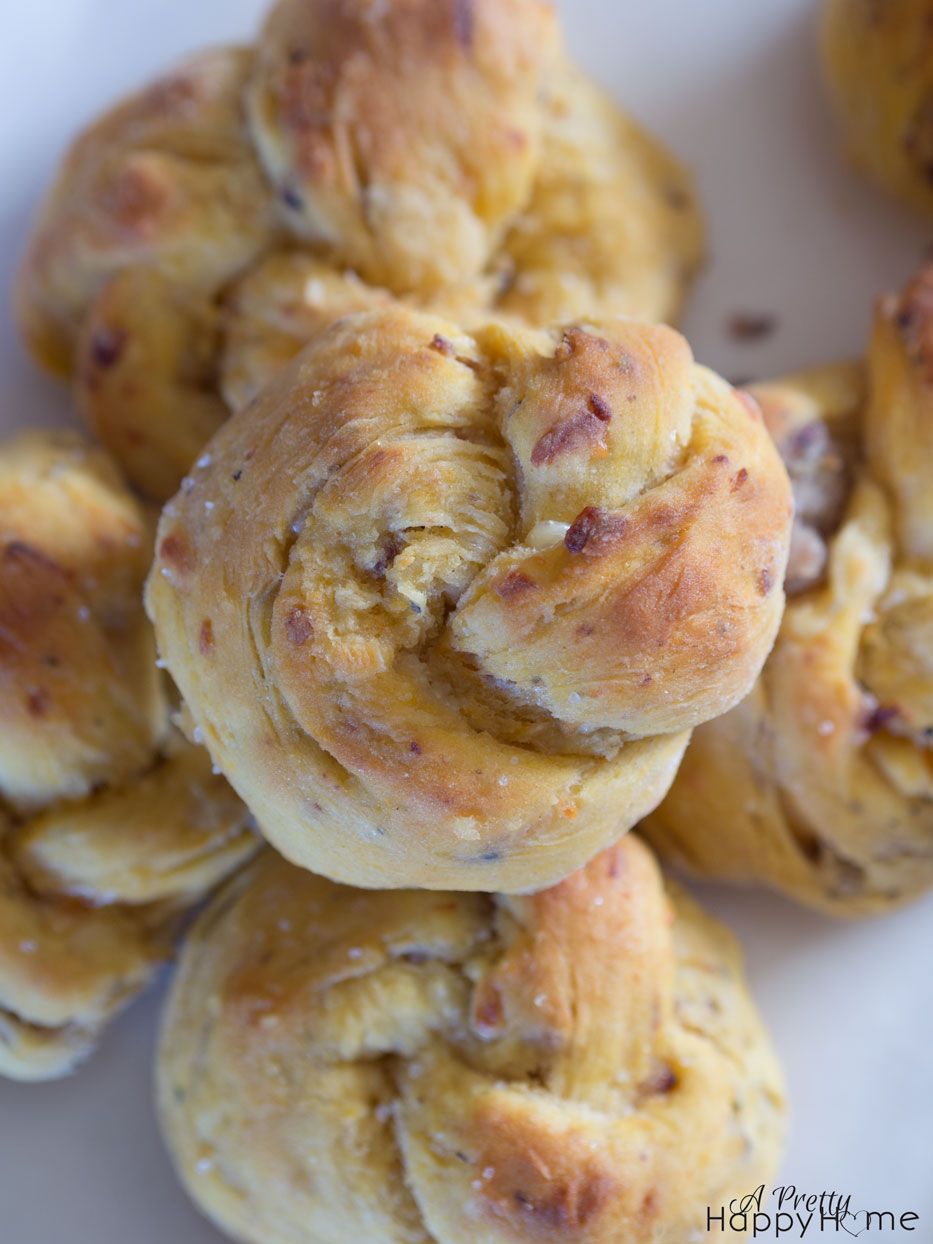 Cheesy Sweet Potato Sausage Bread Knots
Cheese. Italian Sausage. Bread.
Seriously. What's not to love about this scenario?
Besides. We're in the holiday season…I think we can all use a little comfort food right now.
These bread knots are like having a sandwich all wrapped up in a nice, convenient, easy-to-devour bundle.
If you wanted to be really healthy you could serve these bread knots with a salad. You know, to make it a well-rounded meal or something crazy like that.
That's actually what I did, but my judgment is a little questionable.
I recently asked my hair stylist to cut my hair in such a way that when it was whipped by the wind, pelted by rain and smashed by my jacket hood I wouldn't look like a crazy lady picking her kids up from school. That should be no problem, right?
He replied to me completely deadpan in his Irish accent, "the hair isn't going to help that, love."
Hahahahaha. I adore that man.
This breadapoolza is the adaptation of the Sweet Potato Bread Knots recipe from the Tasty Kitchen site.
I've made the original bread knots recipe countless times and wrote about it here. The rolls are always tender, flavorful and a hit whenever I serve them. I enjoy these rolls so much more than a regular dinner roll.
Plus, they are super easy to make. If my 9-year-old can twist bread dough into a knot, surely you can. Surely.

Just grab a plum-sized hunk of dough and roll it with your fingers until it is approximately a 10-inch long strip.
I've found it works better to use a lightly floured surface for this so that the dough doesn't stick to itself when you twist it into the knot like so:
(my fingers this time, not my 9-year-olds)

Bada-bing, bada-bang.
I can tie bread into a knot, but my youngest still can't tie his shoes.
Hmmm…priorities? Nah.
When the rolls come out of the oven, I brush them with a mixture of olive oil and minced garlic.
I rarely mince my own garlic anymore. Real chefs would be horrified, I'm sure, but I like the convenience of garlic already minced and in a nice, ready-to-use tube from the grocery store.
The irony is not lost on me that I will take the time to make rolls from scratch, but not to mince garlic.
If there are any rolls leftover (ha!), they store well in a sealed container in the refrigerator.
I store all of my bread in the refrigerator or freezer though…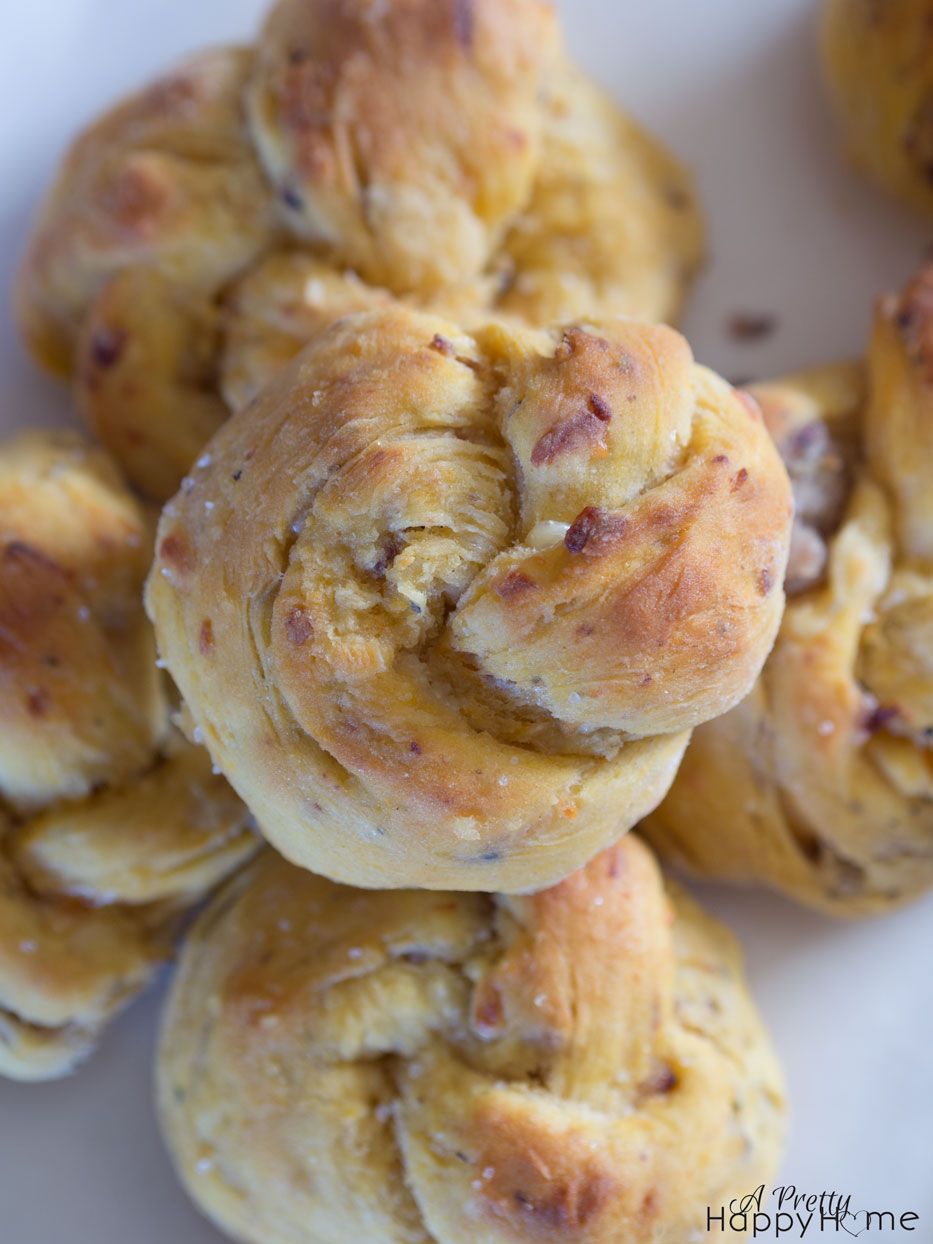 Whether you make the original Sweet Potato Bread Knots recipe or this heartier version, you definitely won't be disappointed.
Your belly will be happy you made them! I can't speak for your thighs though.
---
CHEESY SWEET POTATO SAUSAGE BREAD KNOTS
Recipe adapted from Tasty Kitchen
Ingredients
1 cup warm water
1 envelope (7g Envelope) active dry yeast (approx 2 1/4 teaspoons of yeast)
2 tablespoons honey
2 tablespoons olive oil, plus more to oil the bowl
½ cups sweet potato puree (fresh or canned)
3-½ cups while flour (you can also use unbleached bread flour)
1-½ teaspoon coarse kosher salt
1 cup cooked Italian sausage
1 cup grated Edam cheese (or any Swiss-type cheese)
Minced garlic, olive oil, and kosher salt to brush on baked knots (optional)
Note: If you are making fresh sweet potato puree, you can do this two ways. I usually bake the sweet potatoes. When the potatoes finish baking, discard the skin and mash the potatoes with a fork. A few lumps are not going to matter in this recipe. You can also peel the potatoes, dice them into 1-inch chunks and then boil them until soft. Drain the potatoes and mash.
Directions
Cook Italian sausage over medium heat. Set aside. While sausage is cooking, grate cheese.
While all of that is happening, start your dough. Add warm water and honey to a medium bowl. Sprinkle yeast on top. Let sit, covered in a warm spot for 10 minutes or so until the yeast is nice and frothy. Then add olive oil and mashed sweet potato. Whisk until thoroughly combined.
In a separate bowl, mix flour and salt. Slowly stir in dry ingredients to your bowl of wet ingredients. When the ingredients are about halfway incorporated, stir in sausage and cheese. Continue to stir until it becomes impossible to stir more. Then use your hands to continue mixing and slowly start kneading your dough, adding more flour to your hands to keep it from sticking. You don't need to knead this bread a lot. Just make sure it is well incorporated and not too sticky.
Once you've created your dough ball, add olive oil to the bottom of your bowl and roll the dough ball in it until it is coated. Cover with Saran wrap or a damp towel and store in a warm, dry place (I use my microwave) for two hours.
Around the last 15-minute mark, preheat your oven to 425 degrees. Divide your dough into plum-sized pieces you can easily hold in your fist (you should be able to get 12 rolls out of this recipe). Roll the pieces on a lightly-floured surface into long strips around 9 or 10-inches long. Don't worry if they're skinny, they'll still get fat when they bake. Tie each into a knot, tuck the edges under each side, then place each on a pizza stone or baking sheet.
Bake until golden, around 10-15 minutes. (Mine took about 12 minutes, so keep an eye on them and check the bottoms of the rolls so they don't get too dark.) Brush with a mixture of minced garlic and olive oil immediately after removing from oven. Allow to cool 3-5 minutes. Enjoy!
---
I do enjoy my carbs. You?
Yes?
Awesome! Let's be friends.
Since we are friends now, here are some more carbalicious recipes. 
Pane Bianco with Sun-Dried Tomato, Basil and Sausage
Dave's Killer Bread Copycat Recipe