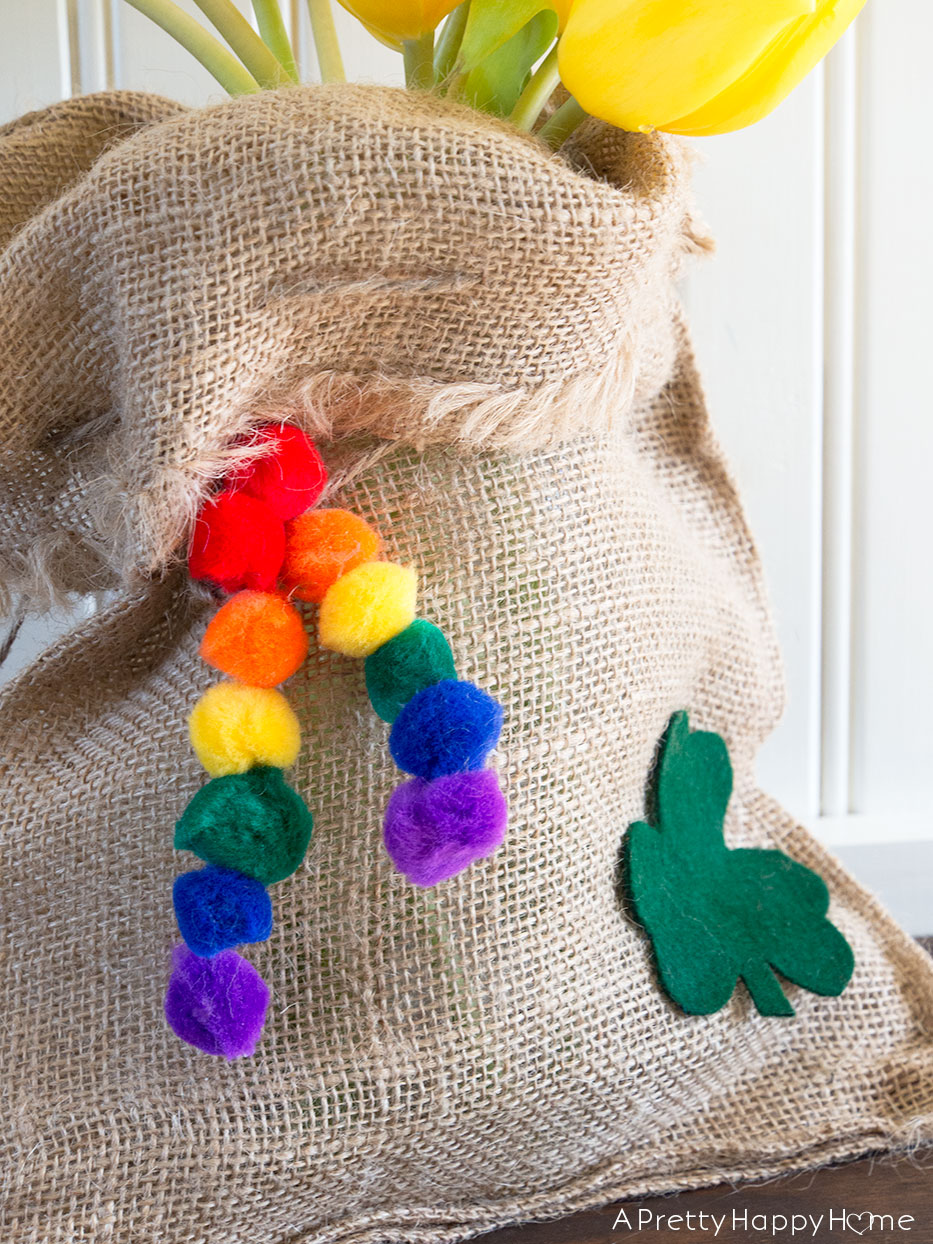 St Patrick's Day Craft: Burlap Pot of Gold
Happy first day of March! Who's excited?
March is a big month on the little island I currently call home. Ireland. I don't say that every time to rub it in. I only mention it, again, on the off chance someone is joining the blog today for the first time. It could happen!
Anyway, there's this little holiday on the 17th with leprechauns and drinking. Lots of drinking. You might have heard of it.
Well, have you heard of island time? Ireland operates on its own sort of island time. I just started to see advertisements go up for St. Patrick's Day events. The local newspaper is still asking for entries for their small town parade. No one gets too worked up about these things.
Except me! Because we need to plan, people!

My kids are SUPER excited to celebrate St. Patrick's Day this year. Mainly because they get the day off from school and daddy gets the day off from work. But also because we're going to try and experience as much as we can on that day that's kid-friendly.
I wouldn't normally decorate or do crafts for this holiday, but because we get to experience St. Patrick's Day with actual Irish people in Ireland, I'm getting in the spirit of things.
That's why I did a little crafting this weekend.
I don't know what the best name is for this creation, so I consulted my creative team (me, myself and a cup of joe) and we decided 'burlap pot of gold' sounded catchy.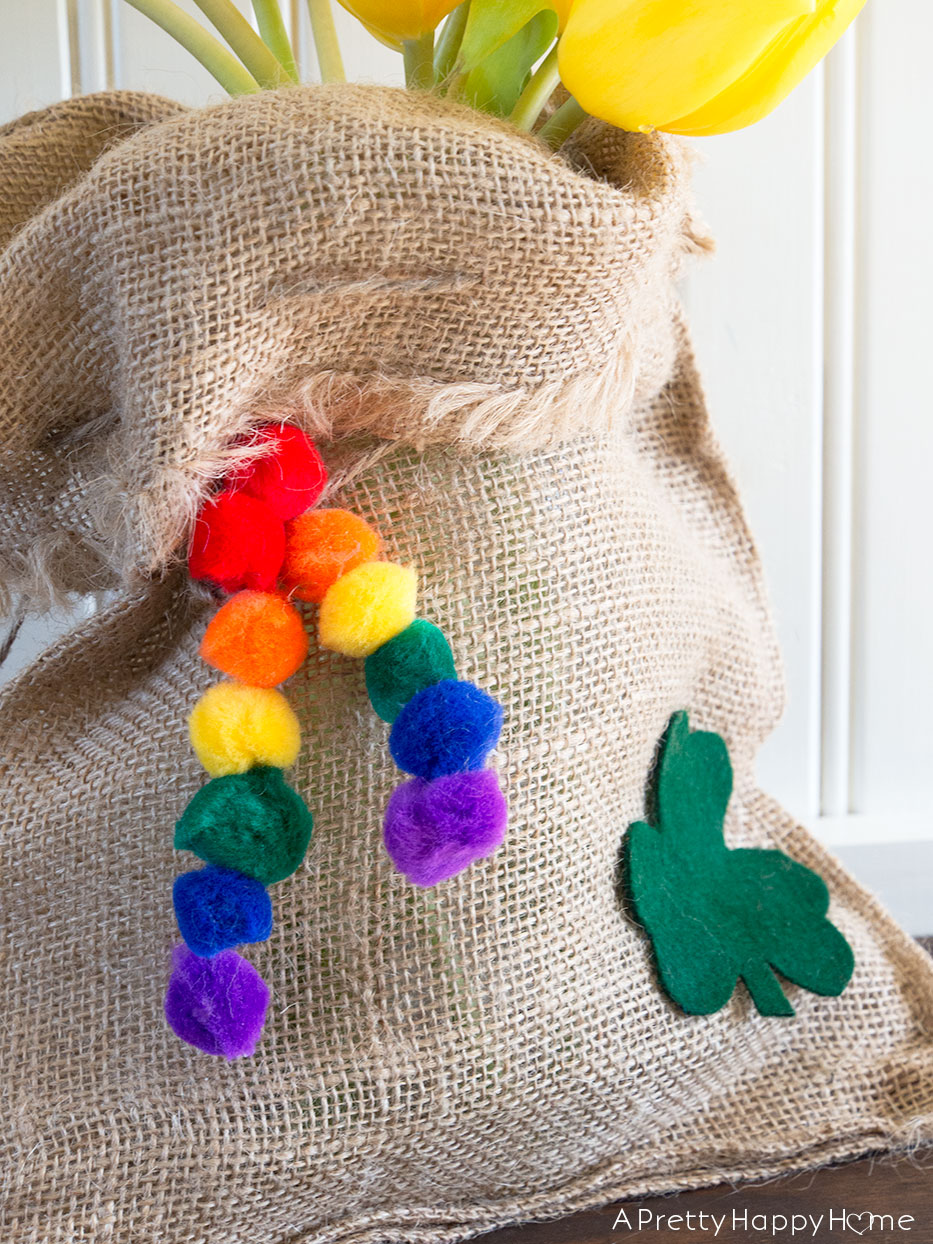 The burlap bag is one I've been reusing for a couple of years. A scrap of burlap would work terrific for this project as well. You can also order inexpensive burlap bags
on Amazon.
I used a needle and thread to thread together the pom poms
and then tied them to a piece of twine.
I used the twine to cinch the sack around the vase of flowers.
Aren't they happy looking?

Then the I cut a shamrock out of green felt
.
I opted for a normal shamrock instead of a 4-leaf clover.
Personal preference. No other reason.
The shamrock is tacked onto the burlap with a little bit of thread. I don't intend for this to be a permanent project, so I didn't have a need to secure the felt in a never-coming-off sort of way.

When that was all done, I just slipped the bag around a vase of yellow tulips.
One woman's pot of gold is another woman's bouquet of yellow tulips!

With the exception of the tulips, this craft utilized materials I already had on hand. Plus, it was quick and easy.
I think this would be a fun way to package up a bouquet of flowers or a potted plant for a friend.

If you'd like a little behind-the-scenes chuckle, here's a story for you. When I was taking these photos, I had an extra vase of flowers on hand. In a really dumb move, I set the extra vase on the floor while I moved flowers from one vase to the other. I was in a hurry because the weather changes minute-by-minute here and I was so happy to have a short window of decent lighting. In my haste, I forgot about the vase on the floor…until I backed into it while taking a photo. As I made a mad dash to the kitchen for a towel to sop up the mess, I stepped on a Lego.  The teeny, tiniest, sharpest Lego. Luck of the Irish was not on my side right in that moment.
But it was all worth it because I'm loving this cheerful craft!
---
Other St. Patrick's Day Ideas:
Easy Irish Flag Centerpiece using lentils and clear jars.
10 Tips for Surviving Parades with Kids including pictures of Dublin's St. Patrick's Day Parade!
Easy St. Patrick's Day Wreath using felt.
---
*affiliate links used in this post*