Welcome back to the Happy List!
This week I shared the Scandinavian idea of using two duvets on one bed. I also debriefed our experience with Storm Ophelia.
Here are some other things that floated my boat this week…
---
BROWN SUGAR FUDGE WITH PUMPKIN SPICED WALNUTS
Okay. I like the IDEA of this recipe, but I'm wondering if it is all hype because there's hardly any pumpkin spice in the recipe.
I make these controversial declarations in the hope that someone will make the recipe and give me a sampling.
Walnuts aren't my jam, so I'd probably switch them out for pecans. Hint, hint.
Check the recipe out for yourself at DIY Candy and let me know what you think.
(image)
---
A GREAT HALL(WAY)
Look at the beams in the hallway of this Australian home.
(image)
---
MONSTER TABLE LEGS
Oh. my. heavens. If you are having a Halloween party, you have to use this idea.
This table CRACKS ME UP! Hilarious, awesome and fun.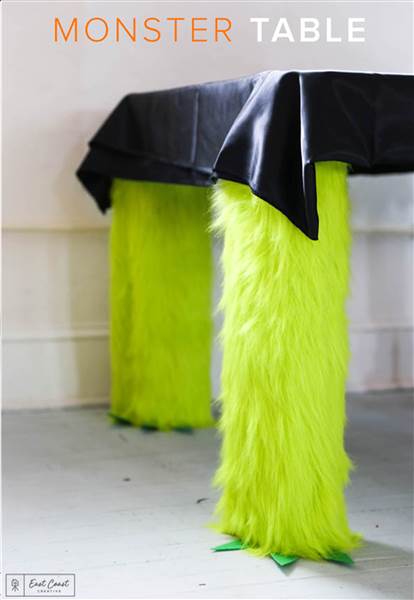 (image: East Coast Creative via)
---
BEDROOM PLANTS
I've patted myself on the back lately for keeping a few houseplants alive. I have no shame.
So, of course, I had to read about 8 plants that thrive in a bedroom.
I'm going to quote the article from Elle Decor now because my jaw DROPPED.
"A study by the American College of Allergy, Asthma & Immunology reported that English ivy removed 94% of airborne feces and 78% of airborne mold in just 12 hours. So, if you suffer from allergies, stocking up on some of these beautiful plants could keep your sneezing at bay overnight. Yep, we're buying 10, too."
I'm fascinated. I'm grossed out. I'm planning a trip to the garden center.
(image – Joy of Plants via)
P.S. Let's never speak of airborne feces again, okay? This blog is a HAPPY PLACE, dang it!
---
DRIED HERB WREATH
How about we cleanse our minds now with a pretty picture?
This dried herb wreath is so, so pretty. It probably smells good too. Unlike…oh, never mind.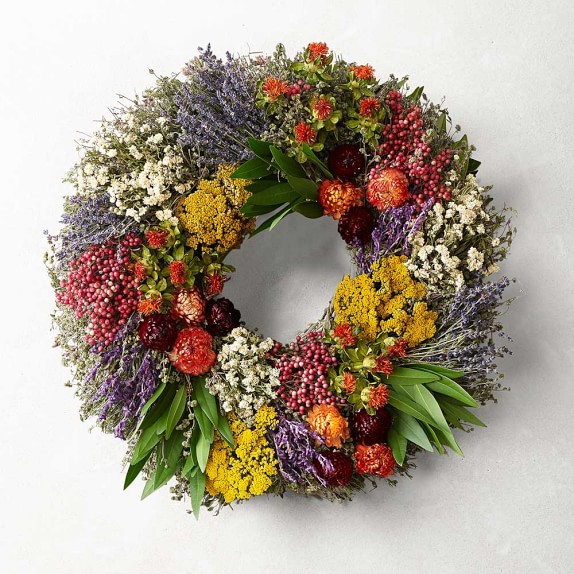 ---
HALLOWEEN FINGERNAILS
I do enjoy festive fingernails.
Here's an article from PopSugar UK with 14 ways to paint your nails for Halloween.
---
GRASSCLOTH WALLPAPER WOES
I love a good cautionary tale, don't you?
Rhoda from Southern Hospitality explained the costly mistake that occurred when she had grasscloth wallpaper installed in her Atlanta area home. I learned something new to file away for future reference!
(image)
---
PORCH LIVING
I can imagine sitting on that awesome bench on this porch.
I also like steps that go all the way around the porch area instead of just one place to go up and down.
---
ROASTED CAULIFLOWER AND ORZO SALAD
Do you know how much it pains me that Handy Husband doesn't like cooked cauliflower? But he doesn't mind eating bread heels, so I can't really complain.
This salad looks more than amazing to me and you can get the recipe at Two Peas and Their Pod.
(image)
---
Go forth and have the happiest of weekends!
*affiliate links in this post*