Hey Everyone!
How are you? I only ask that question when I really want to know, so lay it on me.
We are still firmly in quarantine lockdown in New Jersey. The only significant restriction that has been lifted is in regard to being able to walk on trails at state parks. However, exercising with a face mask doesn't seem super fun, especially as the temperatures increase, so we haven't done it. We will be able to do curbside pick up from non-essential retail businesses starting on Monday. All I really care about is getting a haircut, but I don't see that happening anytime soon.
This week I shared the newly painted fireplace in our master bedroom. I also painted the walls and it feels so much lighter and brighter in there. One of these days, maybe after I figure out curtains, I will share more of that room. Don't hold your breath though. That might take awhile.
I also shared the new shelves in one of our weird hallways! I love making our space fit our needs right now, so these shelves are a welcome addition.
Here's the Happy List!
---
WALL DETAIL
I have shown this picture to Handy Husband because I love every single bit of trim work in this photo.
More photos of this home, a Colonial in New York, can be found at Luxe Daily.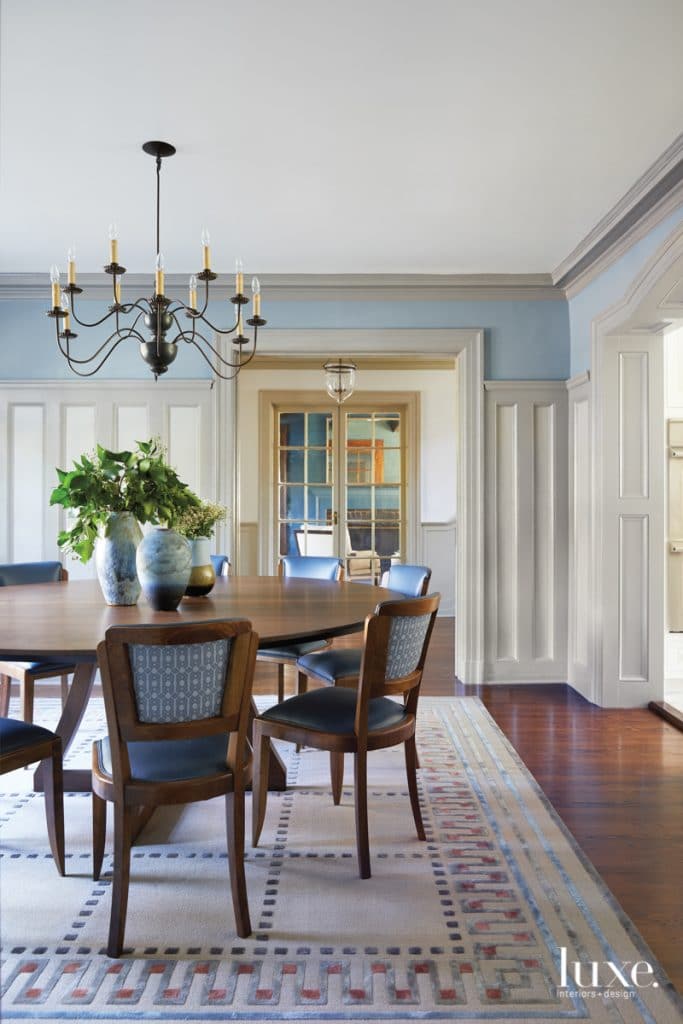 (image: Luxe Daily)
---
GOOD FOR HER! NOT FOR ME.
I loved reading the comments thread on this A Cup Of Jo blog post about Amy Poehler's book and her motherhood mantra, "Good for her! Not for me."
As women, there is such graciousness in acknowledging, maybe even celebrating, that another woman is doing something that works for her. End of story.
Her choice has nothing to do with me and that's okay.
There are countless ways to do something. You don't have to do the same thing, feel the same way, compare yourself, pass judgment, feel guilty. None of that.
The "Good for her! Not for me." mantra works in so many situations.
Amy Poehler's book is called Yes Please
if you need a good read.
---
THIS MADE ME LAUGH
The killer hornets part of this meme did not make me laugh. Those things scare the crud out of me.
The response made me laugh. Hard.
(image: A Bubbly Life)
---
AWWWW FOR AWNINGS
A guest house with a happy blue and white striped awning? Sign. Me. Up.
How cute is this?
(image: via Lonny. Photographed by Margaret Rajic for Kate Marker Interiors)
You need to see the rest of the pictures of this Michigan home too.
---
THE PACIFIC CREST TRAIL IN 3 MINUTES
Do you have any desire to hike the entire Pacific Crest Trail? I don't.
I have hiked parts of it in Oregon and Washington though.
See if you can guess when the trail crosses from California to Oregon and Oregon to Washington in this 3 minute video. I definitely caught the Oregon to Washington handoff. Hint: the crossing is The Bridge of the Gods.
---
JELLY BEAN CAKE
In case you were wondering about the things I do for my kids…
I'm going to be making my own version of an exploding jelly bean cake next week for my son's birthday.
(image: Cosmopolitan)
Part of me thinks I could get away with sticking a candle in a bowl of jelly beans and he'd be thrilled. Maybe I should ask him.
---
FRONT PORCH SITTING
My favorite thing to do right now is sit on our front porch and watch the world go by.
It's a little bit noisier sitting on the front porch rather than the back deck because of the traffic.
However, the magic is that there are more pedestrians out and about on our country road while New Jersey is under a stay-at-home order. There aren't sidewalks, so it isn't a walking-friendly road. However, people are desperate for a change of scenery and a little exercise.
I can wave and say hello to my neighbors from a safe distance. It's a connection with the rest of humanity that I really enjoy right now.
I'm also enjoying drinking this Tart Cherry Limeade flavor of sparkling water while sitting on my front porch. It is surprisingly good. It doesn't hurt that the can matches my shoes.
---
SOMETHING I READ
Speaking of front porches, this quote by Terri Guillemets really struck a chord with me.
"The swing on your porch is a better liver of life than the chair in front of your desk."
---
I hope you have time and nice weather in order to sit outside this weekend!
If you're stuck inside, I welcome all your Facebook, Instagram and Pinterest love.
Thank you for reading the Happy List! It really makes my day.
*affiliate links in this blog post*