Well, hello there!
I hope your week went well. Mine wasn't too shabby!
One of the most random things I did was take my son to try out speed skating. That's a thing. Imagine really large rollerblades that you wear to race around a regular skating rink. Do you know the 2-second rule when driving? Basically, maintaining a safe distance from the vehicle in front of you? THAT DOESN'T EXIST in speed skating. One wrong move and everyone goes down. He had a great, but I think he just likes skating for fun and isn't too serious about being competitive with it.
This week on the blog I shared tips for parents if your kid wants to wear contacts. I also wrote about The Case of the Closet Mystery because I am Nancy Drew. The funny thing about that closet is that I can't get anyone in my family to use it. Therefore, I've parked a plant and a coatrack in front of it. The plant gives us oxygen and the coatrack, well, you'd think it was functional, but mainly it just looks pretty.
In case you missed it, I also shared some of the progress I made working on my daughter's room on social media this week. The orange walls are gone, but painting all the trim is now testing my patience. I saved that story to my Instagram highlights under kid spaces. Thanks for hanging out with me here, there and wherever else our paths cross.
Now, here's the Happy List!
---
YOU LOOK GOOD!
This bathroom tile undeniably made me smile.
---
RUBIK'S CUBE PORTRAIT
This 9-year-old boy with dyslexia (that's an important part of the story) can make portraits out of Rubik's Cubes.
If you want to read the story and not just watch the video, click here.
I'm completely amazed and encouraged by this story! I showed it to my kids too. There could be kids in their school that struggle academically and in that environment you never get to see the moments where they really shine.
---
WINDOW LOVE
This window and door situation situation stopped me in my tracks.
More pictures of this Scandinavian home can be found here.
(image: The Nordroom)
---
TITANIC TREATY
The U.S. ratified a treaty at the end of 2019 that was signed by the U.K. in 2003 to protect the Titanic shipwreck. The treaty mainly allows the two governments to control who can access the shipwreck and remove artifacts.
What we learned by visiting the site where the Titanic was built in Belfast is that a metal-eating bacteria is slowly consuming the ship. The video in this story that reported the treaty ratification makes mention of that bacteria. Basically, the ship won't last forever.
If you have a chance to visit the Titanic Museum in Belfast, it is a really moving experience. I wrote about it in this post.
---
CANDY DESK
Speaking of political matters…don't worry, I'm not going THERE. This is the Happy List and politics doesn't seem to make anyone happy.
It did amuse me, however, to learn that the U.S. Senate has a candy desk. It is these little quirks and traditions that remind me of the human side of politics. And perhaps, there is a metaphor in there somewhere about finding common ground.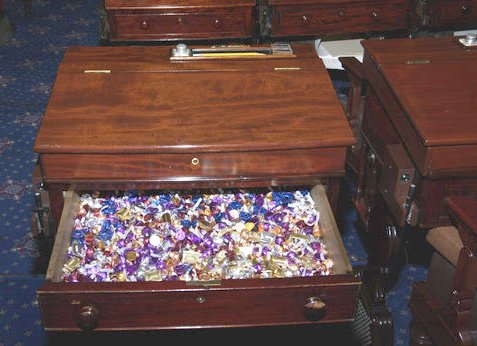 (image: Wikipedia)
The Senator from Pennsylvania currently sits at the Candy Desk. This is a tradition that has been carried on since 1968. You can read more about it on its own Wikipedia page.
---
TWIG ART
Chris Kenny is a British artist and I am obsessed with his found twig art. It looks to me like stick figures from actual sticks.
This work is titled 'twenty saints' and has been sold, but some of his other work seems to be available. So many of his pieces made me smile and I don't think I'll look at twigs the same now!
(image: Chris Kenny)
---
HAT WALL
For a gal who doesn't wear hats, I sure do love a hat wall. Also, a tile wall. That tile is pretty fantastic. By the way, this picture is from a hotel!
---
FOOD FOR THOUGHT
as you are | you are the prayer
'as you are.' says the universe.
'after…' you answer.
'as you are.' says the universe.
'before…' you answer.
'as you are.' says the universe.
'when…' you answer.
'as you are.' says the universe.
'how…' you answer.
'as you are.' says the universe.
'why…' you answer.
'because
you are happening now.
right now.
right at this moment
and
your happening
is beautiful.
the thing that keeps me alive
and
brings me to my knees.
you don't even know how breathtaking you are.
as you are.' says the universe through tears
Nayyirah Waheed from her book of poetry: nejma
---
That's it for me, folks! Thanks for hanging out with me today. It makes me happy that you were here.
Have a fantastic weekend!
*affiliate links in this blog post*