Hi! Welcome to the Happy List!
I shared a personal story about our wedding anniversary this week on the blog. We celebrated this milestone by chauffeuring our children to all the places they needed to go and then ordering Chinese food for dinner. Romantic, right? Ha!
I also wrote about how to make a weighted cord holder using fabric, rice, and your wits to sew it all together.
As always, I like connecting with you! Truly. Please feel free to leave a comment or share this site with your friends. You can also connect with us on Instagram or Facebook. Thank you in advance.
Here's the Happy List!
---
CASTLE FOR SALE
This is not a drill. There's a castle in Scotland for sale on 31 acres with 4 additional cottages. It is listed at £1,500,000. That's roughly $1.8 million.
Not that I have that much money but that seems like a deal. Doesn't it? They must be wanting people to bid over that. Go look at the pictures here and see for yourself. It's not a dive.
(image: via Desire to Inspire)
P.S. If you buy it, can I come to visit?
---
DIY CORNER BOOKMARK
Sarah from Sadie Seasongoods used damaged linens to make heart-shaped bookmarks.
I've never used a bookmark that functions as this one does but it sure is pretty! Plus, I love a good upcycled craft! Get the details here.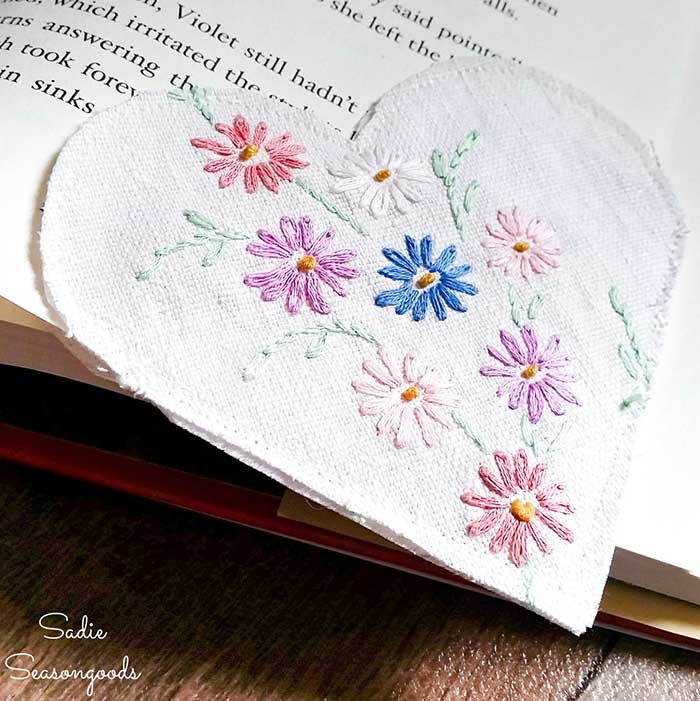 (image: Sadie Seasongoods)
---
PODCAST RECOMMENDATION
If you like the juicy details from history, then you'll enjoy this podcast series from Sharon McMahon titled "How Women Won WWII." I'm currently on episode 5!
Sharon is a former government teacher and if you need the world explained to you in a non-biased, non-dramatic, teacherly way, follow her on Instagram. She's one of my favorites.
(image: Sharon McMahon, Here's Where It Gets Interesting)
---
CHEWY CHOCOLATE CHIP COOKIES
I know you probably have your go-to chocolate chip cook recipe but have you tried the one from Sally's Baking Addiction? I made them last week. I'm not even super into chocolate and I thought they were delicious. The recipe is slightly different from other chocolate chip cookie recipes I've looked at.
My son with his face stuffed full said, "This cookie just hits differently, mom." It did.
(image: Sally's Baking Addiction)
---
SCALLOPED PENDANT
Just a friendly reminder to expand your lighting search to the kids' section. This scalloped pendant from Pottery Barn Kids is so charming.
(image: Pottery Barn Kids)
P.S. I live in fear of interchanging the words pendant and pennant.
---
WONDERS OF STREET VIEW
I'm sure you've seen funny, weird, or random pictures from Google Street View pop up on the internet from time to time. This website puts those all in one place. If you have a few minutes to waste, this is highly addicting and a fun way to get a glimpse of the world.
(image: via Neal.fun)
---
FAST FOOD INFLATION
This is not happy news. I just find it interesting.
According to data from Pricelisto and this article in Real Simple, Wendy's is the most expensive fast food restaurant in the U.S. Prices went up 35% there! However, 2 fast food chains lowered prices in 2022. Can you guess which ones they were?
We don't eat out very often because even a meal at Chipotle will cost our family of 4 between $50 – $60. That's nuts.
P.S. I needed a burger picture and remembered that one time I made hamburger buns from my Dave's Killer Bread recipe. I should do that again.
---
PAPER HEART WREATH
This paper heart wreath from The House That Lars Built is so pretty! You can get the how-to here.
(image: The House That Lars Built)
---
POETRY MOMENT
Scaffolding by Seamus Heaney
Masons, when they start upon a building,
Are careful to test out the scaffolding;
Make sure that planks won't slip at busy points,
Secure all ladders, tighten bolted joints.
And yet all this comes down when the job's done
Showing off walls of sure and solid stone.
So if, my dear, there sometimes seem to be
Old bridges breaking between you and me
Never fear. We may let the scaffolds fall
Confident that we have built our wall.
---
Thanks for reading today's Happy List!
Be good to yourself and others this weekend.
I'll see you back here on Monday.
*affiliate links in this blog post*