Happy Valentine's Day!
Do you celebrate this holiday? Handy Husband and I don't really celebrate, but I'll probably make something fun for dinner tonight.
This week I shared progress photos of our kitchen. On Monday I'll wrap this whole melodrama up with some finished photos of the cabinets.
I also asked you all to help me pick a ceiling fan for our music room. Summer is coming, after all. Probably. Hopefully. Please let summer come soon. I miss complaining about how stifling the heat is. When I went through the various places people left comments, the votes were split pretty evenly between fan #1 and fan #5. So…thanks? I think?
No, seriously. THANK YOU to everyone who weighed in. I enjoy hearing your thoughts…especially since none of you said I had lost my marbles.
Here's the Happy List!
---
MEANING OF LOVE
A rare handwritten note by Martin Luther King, Jr. is for sale for $42,000.
I think his message is priceless.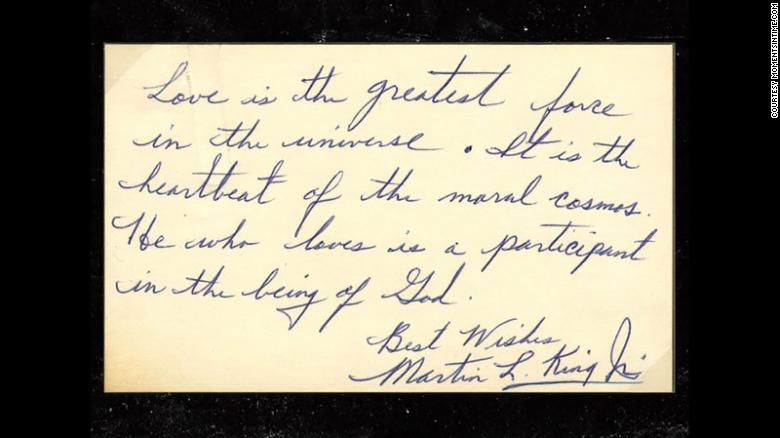 (image: Via Cnn)
---
St. Valentine's Remains
Fun fact! St. Valentine's remains are in Dublin. I wrote about this a couple of years ago while we were living there. If you missed that post, you can catch up here.
The church where his remains reside has a St. Valentine service every year on February 14.
(image: Whitefriar Street Church, Dublin)
---
TABLE CONNECTION
I love how this table connects to the island in this home from the 1800s.
More pictures of this home can be found at Cottages and Gardens.
(image: Photography by George Ross for Cottages and Gardens)
---
HOW PRESIDENTS MET THEIR WIVES
Reader's Digest has the best short stories. I loved this one about how U.S. presidents met their wives.
Two former presidents proposed on the first date! A couple of presidential spouses met when they were little kids.
My favorite story was when Grace Coolidge first saw Calvin. He was shaving while wearing long johns and hat! It must have been a ridiculous sight because Grace burst out laughing and I guess the rest is history.
(image: Calvin and Grace Coolidge via Library of Congress)
---
CHANGING
I spent the weekend with a friend recently. We've known each other since we were twelve. As I reflected on our time together, I was so proud of us for positively changing in all of the ways that result from maturity, time, experience, love, grief, etc. But in not changing in the ways that made us friends in the first place: unconditional love and acceptance and lots and lots of laughter.
Perhaps that's why I like the lyrics to this John Mayer song. Here are my favorite stanzas.
I am not done changing
Out on the run, changing
I may be old and I may be young
But I am not done changing
Some of us stopped running
Some of us went home
Some of us don't got one
So we'll build one of our own
Friends behind their fences
Looking at me strange
Wondering when I'm gonna come to my senses
But I'm still changing
And I can't change my ways
Also, at the end of this video John Mayer does a guitar solo that made my jaw drop. It's not obnoxious and ear-piercing. It's beautiful and his finger work is amazing.
---
BIRTHDAY EXPERIMENT
I liked how this woman celebrated her 50th birthday by asking people who she was grateful for to send her a written note (email, card, letter, etc.) sharing a memory about how they met or know each other.
You can read how people responded to her request here.
Our wedding anniversary reminded me that I WISH we would have started a tradition on our first wedding anniversary to reuse the same anniversary card year after year.
And it's only partly because I think cards are ridiculously priced.
It would be so neat after 50 years to see your spouse's signature and maybe a little note each anniversary. I'd imagine the card would need to have some pages added, but how sweet would that be? A little book of love.
We might just start this tradition now.
---
SOMETHING TO MULL OVER
This article struck a note with me this week.
Here's a quote from the article…
"Quit doing things you hate to impress the faceless people among us. Decondition yourself from culture, quit suppressing your uniqueness, travel to places that frighten you a bit, learn to embrace silence and solitude a few times a week. And most importantly — you must awaken from your culturally-induced slumber and try to find simple joy among the sacred." – Erik Rittenberry from the article "The American Life is Killing you" in Medium
---
I hope you feel very loved and appreciated today and everyday.
I certainly appreciate that you shared part of your day with me!
Happy Friday!