Kitchen Mini Makeover Reveal
Who is ready for our kitchen mini makeover reveal?
This will be awkward if you say you aren't ready because that's all I've got for you today!
I've been thinking about the tone I want to set with this kitchen mini makeover reveal.
When I last wrote about this space I mentioned that my new standard for design, as it relates to THIS kitchen, is a place that doesn't make my soul shrivel up.
If that doesn't set the tone for this post, I don't know what will.
---
This is not an "I have the most amazing kitchen ever" kind of reveal.
This is more of a "we're on a journey" kind of reveal and I hope you can appreciate that.
Maybe you've been or are in the same sort of situation as we are.
Now would be a good time for someone, anyone to tell me I'm not alone!
This is also a "we're working with what we have, proud of our hard work, and enjoying the heck out of it" kind of reveal and I hope you can appreciate that too.
---
We need to plan and save appropriately for a major kitchen renovation. In the meantime, I wanted to do something to make our kitchen less gross, more functional, and easier on the eyes. In other words, less soul shriveling.
Our budget was a few hundred bucks for paint, stain, caulk, door pulls, some wood, etc.
That's not a lot given this hot mess, but if I squinted at night with all the lights turned off, I could see a glimmer of possibility.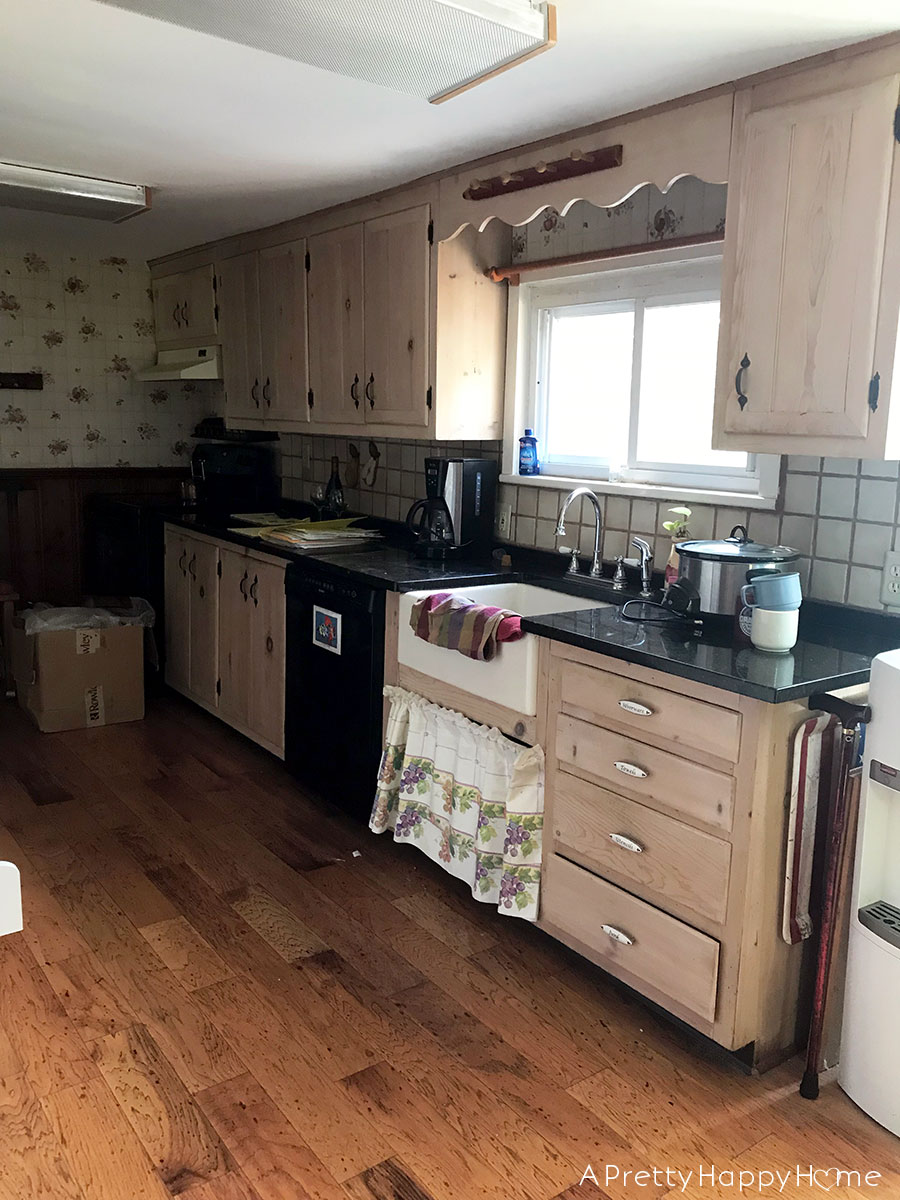 Last week I shared how we removed the wallpaper and painted the kitchen.
That was half the battle. The remaining issue was to do something with the cabinets that didn't involve pitching them into the garbage.
But I was so tempted.
For reference, our kitchen is long and very narrow. It is approximately 9-feet by 22-feet. That space is broken up by four (!) doorways and one sliding glass door. It's Grand Central Station in here! The cabinets shown in the above photo are the entirety of the kitchen cabinetry. Our lovely almond-colored fridge is free floating opposite of the cabinets.
---
The problems I was trying to solve with this last part of the kitchen mini makeover were to:
Make the black stove and dishwasher blend in with the cabinets to give the illusion of a larger work area. Remember, we don't want to get new appliances yet.
Do something to make the backsplash easier on the eyes without removing it.
Cover up the ugly vent hood.
Piece of cake, right?!?!
That's actually what this kitchen truly needs. More cake.
---
Kitchen Mini Makeover Problem #1: Cabinets 
The only way I could envision blending in the black appliances was to go dark with the cabinets.
I originally planned on painting the cabinets, but at the last moment had the idea to stain the cabinets black. I'm SO GLAD I did this.
First, I love seeing the wood grain of the cabinets show through the stain. Second, It was a million times easier to work with the stain vs. paint. Plus, the stain seems far more durable than paint – particularly on the inside of the cabinets.
I used a stain that included poly, so the cabinets have some protection. Remember, stain by itself only penetrates the wood to color it. It does not protect it. However, I did not use an additional clear coat over the cabinets when I was done. In my estimation, it wasn't worth the effort for something I want to tear out in a few years.
If you've never sanded down 50-year-old cabinets, let me give you some insight.
It's not hard, but it can be a little revolting.
The smells of the kitchen had permeated the wood of the cabinets. Even with a face mask on, I could smell 50 years of cooking, spills, dirt and pet odor wafting up out of the dust.
It was 5% fascinating and 95% horrifying.
The only changes we made to the cabinets were to switch out the pulls and add a more substantial piece of trim at the top. We could not switch to hidden hinges on the cabinets because our cabinet doors are partially inset into the cabinet frame. But we tried.
---
Kitchen Mini Makeover Problem #2: Backsplash
I'm not inherently opposed to this particular tile backsplash or the ridiculous thickness of the terra-cotta colored grout lines. I'm sure in the appropriate setting it could work.
This isn't that setting.
The backsplash tile doesn't extend behind the stove, which annoys me. Furthermore, of all the building materials left in our garage by the seller, this tile was nowhere to be found so I couldn't extend the tile. And I didn't feel like going on a wild goose chase to find something that matched it.
Handy Husband wasn't opposed to taking down the backsplash, but I wasn't so sure. If ever there was a can of worms, this backsplash was it. It practically had a neon sign flashing on it that said "Warning! Can of Worms! Open at your own risk, you crazy fool!"
Mama didn't raise no fool.
I could have covered up the tile with something different, but this kitchen is an exercise in knowing when to stop. Honestly, all DIY projects are an exercise in knowing when to stop.
My solution was to modify the terra-cotta colored grout with one of my favorite miracle products of ALL TIME.
Have you tried Grout Renew yet?
Well, you probably don't need it because you clean your grout like it's your gosh dang mission in life, but I've moved into a lot of houses where people didn't know that grout needs to be cleaned. Shocking, I know.
You "paint" Grout Renew (aka the miracle cure) on the grout, wipe off the excess and WAH-LAH! Your grout is a different color. It's not a paint, it actually seeps into the grout and doesn't just sit on top.
It took two coats to go from the dark to the light colored grout, but I've been able to use one coat when starting with a light-colored grout. It's one of the most satisfying DIY projects to do because hello, instant gratification.
Am I happy with how this turned out? Yes. It is a million times less offensive.
Do I love this tile backsplash now? No. It's still not the right backsplash for this space.
I can live with it though.
---
Kitchen Mini Makeover Problem #3: Cover up range hood
Part of our budget went to buying some wood to box out the old range hood.
Yes, we could have installed a new stainless range hood, but I didn't want to look at ANY range hood.
Unfortunately, this stove is in my direct line of vision when I walk in the house. Some people might not mind that view. I'm not one of them. It's one of the reasons the stove needs to be moved when we eventually renovate. The whole "hugging the wall" situation is another reason.
The cover Handy Husband built to hide the fan might be the best part of the whole makeover.  The box he built attaches to the original cabinet above the stove and has a little access point for me to turn on the stove fan and light.
If you ever build something like this in your own home, you need to check the code to make sure the wood is the proper distance above the stovetop. Safety first, people! You also need to make sure you don't cover up something (vent, switches, etc.) that prevents the fan from working properly.
If it looks like the box is slightly angled in certain photos, just tilt your head the other way it's not the box. It's the wall. All of the cabinets tip forward ever-so-slightly.
Old houses, you know?
---
This concludes our kitchen mini makeover reveal. Congratulations for making it this far!
While this is not the kitchen of my dreams, I am super proud of the work we've put into this space to make it less soul shriveling.
There's a certain beauty and contentedness in this type of slow, purposeful home renovation journey. I am thankful to be on that journey and excited to see where it leads.
I'm a firm believer in making small improvements to your home so that you can enjoy the space in the here and now. To me, that's not time or money wasted. Plus, having a space like this allows us to practice our DIY skills in a less high stakes environment.
We also live by the 'plan, but adapt' philosophy of life. We are planning and saving for a renovation, but have no guarantee that we will get to the kitchen renovation stage of this home. I never planned on living in New Jersey, yet here I am!  Happily, I might add. That's the wonderful zig and zag of life.
P.S. I'm also a firm believer in clear kitchen counters. It is one of my more annoying traits. I realize the photos might look better if I staged my kitchen with bowls of lemons and a sink full of flowers, but I don't have it in me right now. Minus the bouquet (it came from my dining room), this is how my kitchen looks if I'm not using it for cooking. If I'm cooking, you can rest assured that it looks like a food and dish bomb went off. That's another one of my annoying traits – a messy cook. 
---
Products used in the Kitchen Mini Makeover:
Wainscoting: Behr Ultra "Khaki Shade" in Semi Gloss
Cabinet Stain: Varathane Stain and Poly in Black Satin 
Elbow Grease: It's free, but you have to dig deep in your soul for it.
Cabinet Handles: Koofizo Cabinet Arch Pull 3 Inch
Grout Renew in Snow White (it comes in a bunch of colors and is around $13)
*Nothing sponsored, but affiliate links are used in this blog post.*
---
If you missed any of the posts leading up to this kitchen mini makeover reveal, you can catch up here and here. 
Since I now have cleaning on the brain, here are some other posts you might enjoy.