Ceiling Fan for the Music Room
As much as it pains me to get rid of gargantuan chandelier from the 1990s (sarcasm alert), it seems to be the most practical choice for our music room.
What in the the world would I replace it with?
I thought you'd never ask.
We would replace the gargantuan chandelier (see below photo) with a ceiling fan.
That felt anti-climactic, didn't it?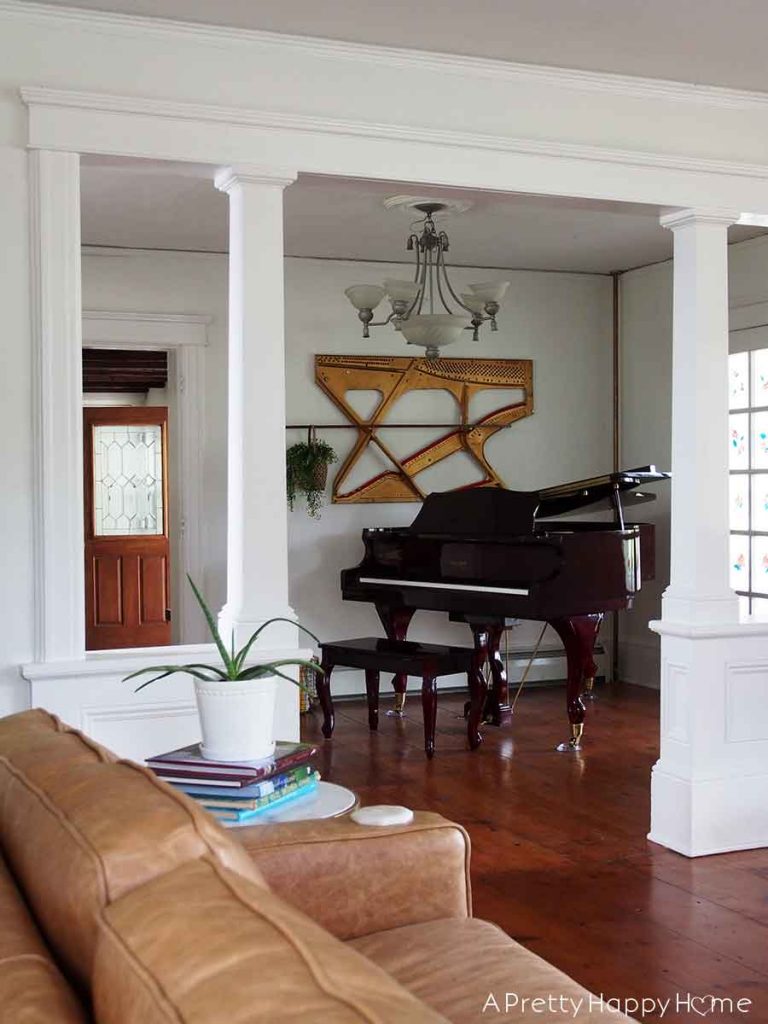 Wait until you find out I haven't purchased one yet.
Oops. Forget I typed that.
A ceiling fan for the music room is not my first choice. It's probably not my second choice either.
But remember, it's the practical choice.
B.O.R.I.N.G. But practical.
We have a little problem in the summer that I like to call DEATH BY STIFLING HEAT.
On the long list of upgrades no one ever got around to doing in our house, central air-conditioning was on the top of that list. That's why I need a ceiling fan on this level of the house – to prevent my untimely demise move air around.
I did some really bad photoshopping (you're welcome) of some ceiling fan options I am considering for the music room.
These are all fans I like for various reasons, but some clearly just won't work for the space.
Feel free to let me know what you think about these options. This might be the one time when I actually solicit feedback. Usually I just overthink the decision behind-the-scenes until I give up and make my selection using the eenie-meenie-miney-mo method.
---
Ceiling Fan Option #1: Brass and Wood 
I'm a sucker for all things brass. I like the modern lines of this ceiling fan, the combination of wood and brass, and the tone of the brass.
This is the Rivet Modern Ceiling Flush Mount Fan Aged Brass with Maple Finish Blades
 and it is priced at $329 at the time I'm writing this post.
---
Ceiling Fan Option #2: Gold and White
The photoshop is particularly bad on this one, so don't hold that against the fan. While I like the modern, clean lines of Option #1, I also like the curvy lines of this fan. Clearly, I have my preferences narrowed down.
This is the Hunter Indoor Ceiling Fan Hepburn 52 inch, Modern Brass, 59320
 and it ranges between $219 and $375.
---
Ceiling Fan Option #3: All White
The Photoshop is extra bad on this one too…it's becoming a trend.
The reason why I wanted to try an all white ceiling fan in this virtual decorating session was because I thought it would be safe. Perhaps the fan would just blend in with the ceiling and not be so "Hey! Look at me!"
I'm not sure it's the right choice for this room though.
However, I see white ceiling fans in bedrooms all the time that look great…mainly because they don't compete with anything else in the room.
This is the Honeywell 51030-01 Ceiling Fan 52″ Rio with Remote Control
 and it comes in two other colors. It was priced very affordably at $129.
---
Ceiling Fan Option #5: Wood and Oil Rubbed Bronze
There are a bunch of fans in this swoop-y style that are made by Minka Aire that I adore. They come in all different colors.
This combo with the wood and oil-rubbed bronze was on the Lamps Plus site, but you can find similar versions on Amazon and Wayfair.
As a side note, almost all of these fans are sold on multiple websites. It's either convenient or annoying depending on your mood.
This is the 56″ Sleuth™ Oil-Rubbed Bronze LED Ceiling Fan – Style # 13X20 and it is listed at $399 at the time I'm writing this post.
---
Ceiling Fan Option #5: Tiffany Style
If ever there was a house that could handle Tiffany-style shades, this house is probably it.
Ironically, I did get rid of two Tiffany-style chandeliers that came with this house, so I don't know what calls me to this particular ceiling fan. It could be that I think this ceiling fan would play nicely with my ruby glass chandelier, which is visible from the music room.
The fan blades on this ceiling fan retract. Cool, right?
This is the Tengchang 42″ Baroque style LED Remote Ceiling Fan
 and it costs $189.95 at the time I'm writing this post.
---
Well?
Do you have a clear favorite?
Do you detest all of my options?
Are you starting to wonder if I've lost my ever-loving mind?
This is where you say, "No, not starting to…"
Haha!
That joke was too easy.
All I know is I'll be happy when I make a ceiling fan decision. You'll be happy when I finally make a ceiling fan decision.
Do you know who won't be happy? Handy Husband.
Because he'll have to hang it up! Poor guy.
---
Thanks for all of your help with this post! Here are some other posts that don't require your vote.
Fix furniture scratches without sanding
St. Valentine's Remains are in Dublin 
*affiliate links in this post*