10 days until Christmas!
Are you ready? Or are you fa-la-la-la-frazzled?
I'm feeling pretty solid. Or as solid as I can be hoping the items I ordered show up on time!
This week I finally (a whole 11 days into the month) shared something Christmas-y with you.
On Monday it was window shopping in Ireland to see how Irish retailers get in the Christmas spirit. Spoiler alert: no grinches here! On Wednesday I shared the ornaments I made out of my son's wood blocks. Apparently, nothing is safe in this house from one of my crafty ideas.
I've got some good stuff for you on today's Happy List! I do love all the ideas and inspiration this time of year!
---
SHEET MUSIC PINECONES
The heavens have opened and bestowed on me the perfect craft idea!
For a piano-playing gal – especially one who is missing her piano right now (it's in storage in Atlanta) – these sheet music pinecones are everything!
I saw this idea and the great tutorial that goes along with it at Vin 'yet Etc. I just discovered and bookmarked this blog because they have a ton of ideas and inspiration I need to catch up on!
(image: Vin 'yet Etc.)
---
MY KIND OF TO-DO LIST
And no, I'm not going to make any jokes about #5. I'm a immature adult.
---
THE MOTHER
I just discovered the song The Mother by Brandi Carlile.
If you know a mom who is going through that transition from their old-life to their mom-life this song will strike a chord. It does not matter how we became a mom or when. We all have to find our way through that messy, beautiful, hard, amazing transition. I've been a mom for 10 years and I still sometimes wrestle with those emotions.
The story of how I became a mom is different from Brandi's. Yet her lyrics had me saying "Yes! I get that feeling!"
---
CHRISTMAS GUACAMOLE
Guacamole doesn't do much for me, which I know is a VERY controversial thing to say. People are very passionate about avocados.
However, look at this Christmas guacamole. It makes even me want to try it. The recipe is by Gaby at What's Gaby Cooking. Definitely check it out.
Also, I'm suddenly craving some salty chips.
---
ECODOMES
If I ever decided to do the ecotourism or outdoor adventure thing in Patagonia, I think I'd like to stay in one of these domes by EcoCamp.
Just throwing that out there. I'm not at all super into roughing it, so this seems like a nice compromise: nature in the day, hot shower and a real bed at night. I wonder if they have wifi?
---
DIY BUFFALO CHECK JARS
Anyone want to make these for me? Just seeing if there are any takers…
The detailed tutorial is at WhipperBerry!
(image: WhipperBerry)
---
RECHARGEABLE BATTERIES
Handy Husband has a lot of good ideas, but his decision to start buying rechargeable batteries about 10 years ago was one of his better ones.
I don't know how much we've saved over the years, but I'm confident it's been a lot. That panic of not having batteries when the kids open their Christmas present from Santa or when the TV remote dies is no longer a thing in our house.
We've used these AA
and AAA batteries by Eneloop
 for years and can vouch for them. There are cheaper brands on the market now, which I'm sure are just as awesome though.
Oh, and don't forget the charger. We have this one
 and it's worked for years. It even works with our outlet adapter while we are living abroad, which is a miracle in and of itself.
---
FREE PRINTABLE – PERPETUAL CALENDAR
Ashley from Under The Sycamore has a perpetual calendar free printable for all of you!
She's been making these since 2010 when her husband needed an inexpensive and meaningful gift for the small group leaders at his church. She made a daily calendar with a simple premise: "write down the best part of your day…each day."
Her idea was to also print this out and attach to hostess or teacher gifts this Christmas. I REALLY like that idea since I've been pondering the teacher gift situation. This only takes 4 sheets of paper!
---
WOVEN WREATH
There is so much talent and creativity in the world and it never ceases to amaze me. Case in point: here's an awesome idea for a wreath by Lisa at Wisconsin Magpie.
You have to click over to her site to see the finished woven wreath. The best part is this idea can work for any season just by changing the accessories. So smart.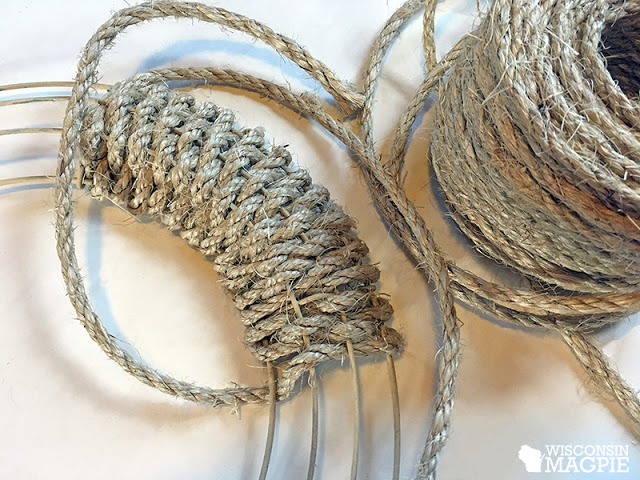 (image: Wisconsin Magpie)
---
TABLETOP TREE
Anyone doing a tabletop tree this year?
I love the simplicity of this one from Tone on Tone Antiques.
(image: Tone on Tone Antiques)
---
Happy Friday, everyone! I hope your weekend will be full of holiday cheer!
*affiliate links in this post*