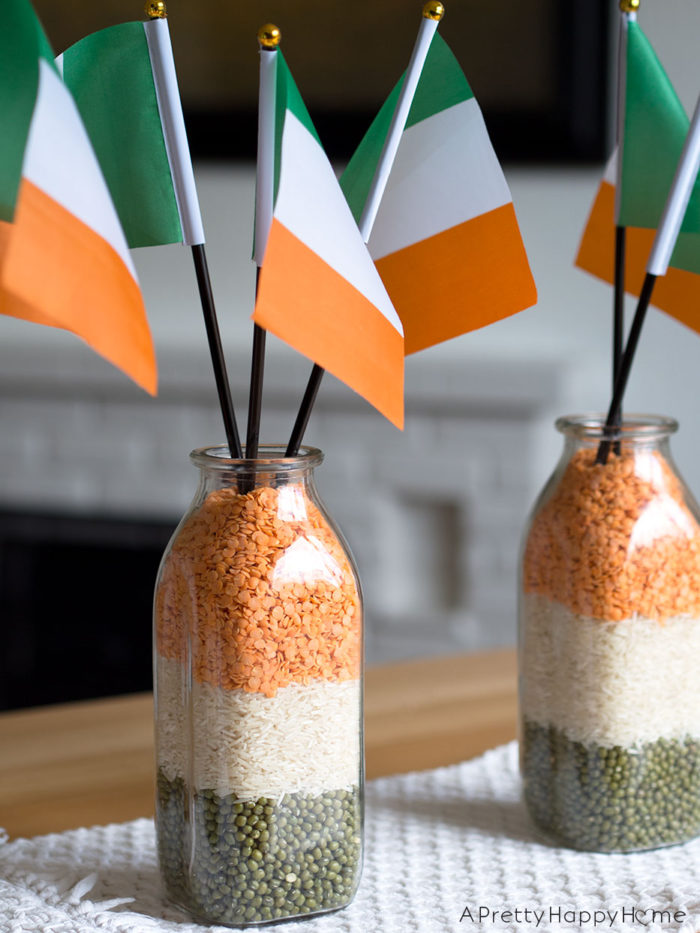 Simple St. Patrick's Day Centerpiece
St. Patrick's Day is just around the corner and if you are celebrating at home this year, I have a simple St. Patrick's Day Centerpiece idea for you.
All you need for this St. Patrick's Day Centerpiece are some mini Irish flags, clear glass vase(s), rice, and lentils.
To make this St. Patrick's Day Centerpiece your are going to put mini Irish flags into clear vases or milk bottles filled with dried goods in the color of the Irish flag.
The Irish flag is in color order green, white, and orange. For this example I've filled the vase with green mung beans, white rice, and orange lentils.
Dried split peas would be a great alternative to the mung beans.
If you can't find a dried lentil or legume in your color choice, you can always use food coloring to color rice. Put the uncooked rice in a bowl, sprinkle food coloring over the top and stir it up. You could also put the uncooked rice and food coloring in a ziplock bag and shake it up to distribute the food coloring evenly.
Just be forewarned that if you decide to cook with this rice later that you will have a VERY colorful meal. Ha!
The Irish flag, or tricolor, was first flown during the Rebellion of 1848 by Thomas Francis Meagher. Meagher was convicted for his role in the rebellion and sent to Australia because that's where they shipped the criminals during that time. Meagher later escaped Australia and traveled to America where he became a Brigadier General for the Union Army during the American Civil War and later the Governor of Montana. (source)
Small world, isn't it?
When thinking about the Irish flag it is important to remember that Ireland's history is defined by clashes (to put it lightly) between Catholics and Protestants.
The green color of the Irish flag represents Irish nationalism (Catholics).
The orange color represents the Protestant minority.
The white color symbolizes a lasting truce between the two.
If you want to say "Irish flag" in Irish it is 'Bratach na hÉireann.'
For those of you wondering, Irish is its own language. It is separate from Gaelic. Gaelic as a language is spoken in Scotland. Gaelic as an adjective can be used to describe the culture. It's confusing!
My kids had to study Irish when we spent two years living in Ireland. It is a HARD language to learn and I was so happy that I had a legitimate excuse to not be able to help them with their Irish homework.
By far, the best part of living in Ireland is the Irish people. Their generosity of spirit was overwhelming in the best way at times because we hadn't experienced anything like it.
I hope you like this St. Patrick's Day Centerpiece and have fun celebrating St. Patrick's Day this year.
---
If you'd like to order mini Irish flags to make your own St. Patrick's Day Centerpiece: here is a link to a multi-pack on Amazon.
I used clear milk bottles (like these) for my St. Patrick's Day Centerpiece, but you could also use mason jars or a clear cylindrical vase.
---
Thanks for being here today! It makes me happy to share these ideas. Here are a few more on this topic that you might like:
Pot of Gold Flower Centerpiece using Yellow Tulips
What it is like to attend a St. Patrick's Day Parade in Dublin
Living in Ireland: Practical Advice for Americans
If you'd like to catch up on the years we spent living in Ireland, I have a bunch of blog posts on this topic:
*affiliate links in this blog post*