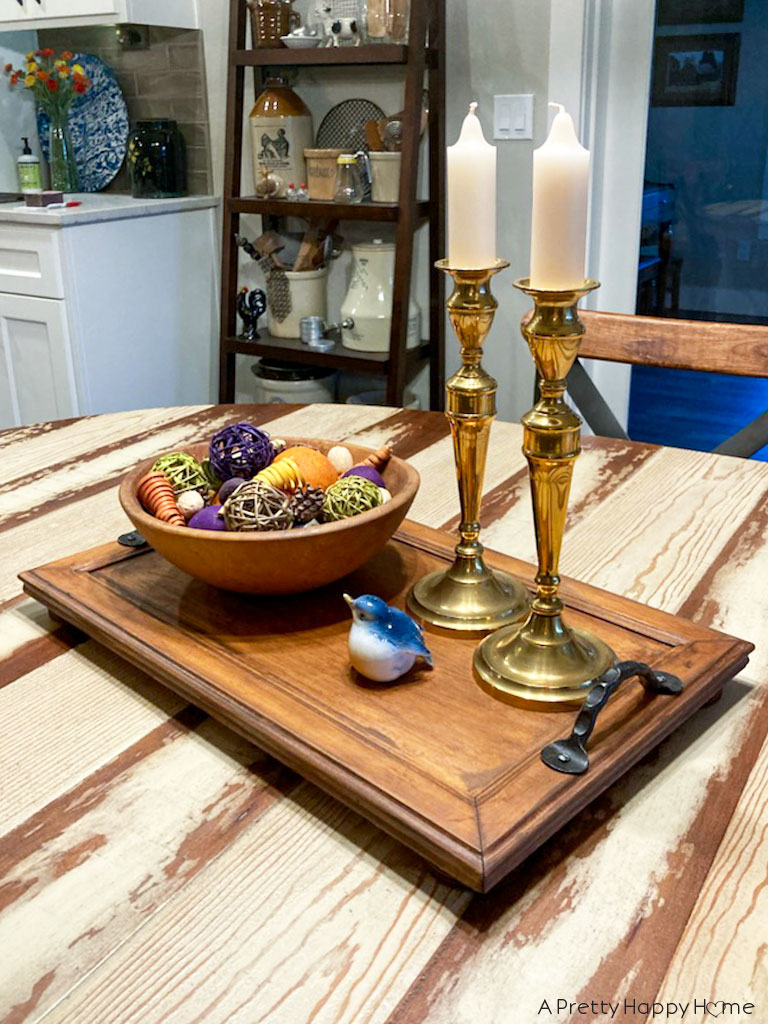 I am so happy to share a DIY Cabinet Door Tray project with you today because it's not mine!
No work was involved on my part. I just get to look at fun pictures, be inspired, and share them with you. It's a good feeling.
There's even a twist in this project that I didn't see coming. I love a good twist.
Today's DIY Cabinet Door Tray project comes from someone I affectionately refer to as The Junk Whisperer. Seeing what she's created out of actual junk over the years has inspired me to take a second look at everyday objects and reimagine them in a new light.
Ready to be inspired?
Here are the steps to DIY your own Cabinet Door Tray:
---
DIY Cabinet Door Tray Step 1: Procure a cabinet door.
Please note that I said "procure." I didn't say rip one of your cabinet doors off your current kitchen cabinets thereby committing you to that open shelving look before you are ready. I am not to blame for anyone going Incredible Hunk on their kitchen!
You can always find cabinet doors for sale at thrift shops or on Facebook Marketplace. My Habitat for Humanity Restore always has cabinet doors and other building materials available for cheap.
The Junk Whisperer's cabinet door was $1 and she found it at a neighbor's garage sale. The benefit of this particular cabinet door is that it didn't have any holes drilled for a knob or pull, which meant she didn't have to fill any holes to complete this project.
---
DIY Cabinet Door Tray Step 2: Prep your cabinet door.
Depending on how you want to finish your tray, you may want to sand the finish off your cabinet door.
If you are painting it and the door is otherwise in good shape, you could use a liquid deglosser on it instead.
If you need to fill any holes, now would be a good time to do that with wood putty.
If you hit the cabinet door jackpot and like the finish of your door as is and have to do zero prep, at least clean the door, okay? That would make the rest of us feel better that there was SOME prep work involved in your project.
---
DIY Cabinet Door Tray Step 3: Stain or paint your cabinet door.
The Junk Whisperer used gel stain to fancy up her cabinet door.
Did you know you can get gel stain at the craft store? I didn't! It comes in a little container like craft paint. That's so cool!
If you don't want to leave your house, you can get it on Amazon too.
The difference between gel stain and regular stain, besides the consistency, is that a gel stain sits on top of the wood while regular stain soaks into the wood. This can be helpful if you are trying to create a uniform tone on a piece of furniture that is made out of different types of wood.
The only rule on what finish to use on your cabinet door is to do what makes you happy!
You could paint your cabinet door tray. Distress it. Add a decal or design. You can add a coat of polyurethane to further seal it. Your imagination is the limit on finish options.
---
DIY Cabinet Door Tray Step 4: Optional: Add feet.
If you want your cabinet door tray to be slightly elevated then add feet to the bottom of it.
This is where the project twist comes into play.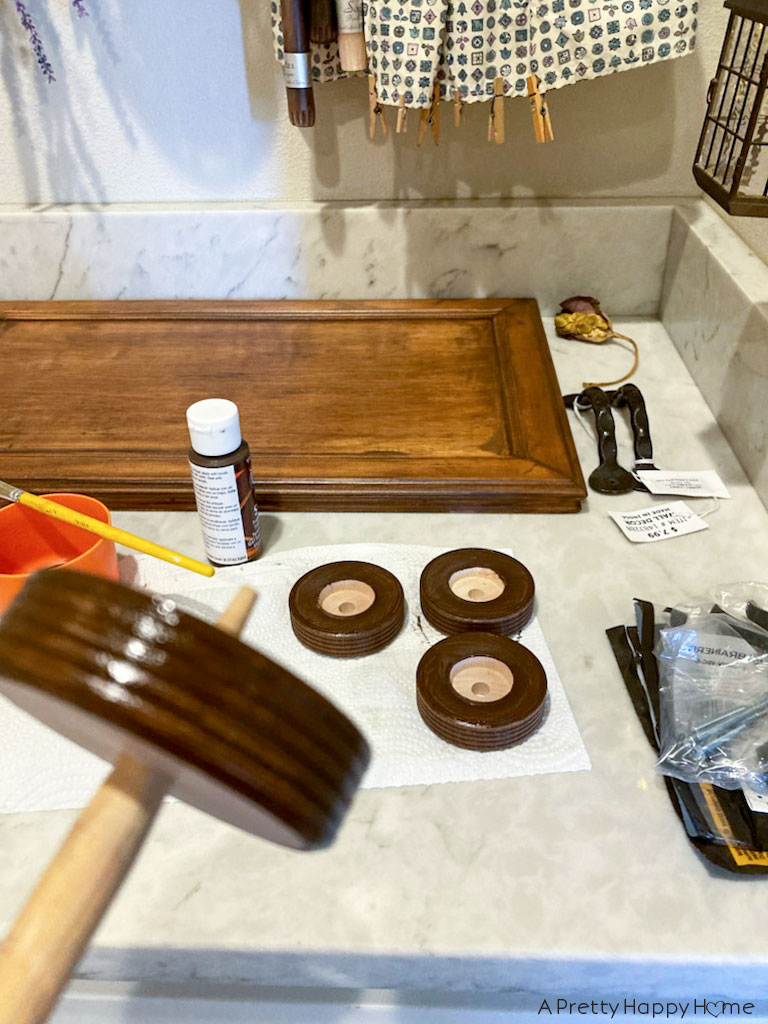 The Junk Whisperer used wooden toy wheels for the tray's feet.
How's that for a great repurpose?
Just don't use toy wheels that your kid was actually playing with. Wait until they set the toy down. Kidding!
You don't have to use your kid's toys. The craft store sells wooden toy wheels. Amazon does too. Of course it does.
---
DIY Cabinet Door Tray Step 5: Add handles.
If you have dreams of being served breakfast in bed, then I'd recommend adding handles to your tray.
You can do this without a drill, but it's always nice to pre-drill the holes so you avoid the chance of the wood splitting when you screw in the handles.
Although, we've already joked about ripping cabinets off of walls and stealing toys from children, so perhaps we don't need to get into your levels of risk aversion.
---
DIY Cabinet Door Tray Step 5: Enjoy your creation!
It's time to pat yourself on the back because you did it! You made something fun and versatile for your home and that's the best feeling.
---
What I like about projects like this DIY Cabinet Door Tray is that it is completely customizable to your style based on the type of door you select, the finish, and the handles.
From farmhouse to modern and everything in between, this project has potential for everyone.
Happy creating!
P.S. Today is The Junk Whisperer's birthday! I hope this blog post counts as a card because I totally dropped the ball on sending one…again.
---
If you have a DIY project you'd like to share with me, please send me an email or message me on Instagram or Facebook. I love to see what you are creating!
---
Thank you for being here today. Here are some other posts you might enjoy!
Outdoor Decorating With Farm Junk (another Junk Whisperer project)
DIY Tray Repurposed from a Side Table
Display Shelf Repurposed from a Silverware Tray
DIY Leather Belt Tray (probably my most recent favorite project)
*affiliate links in this post*