2021 Outdoor Project Progress
Do you know what's great about blogging? There are thousands of people to hold you accountable to what you say you are going to do.
That's also the downside of blogging. Ha!
Today I'm updating you on our 2021 outdoor project progress! We're a good chunk of the way through summer, so let's hope I've made a little progress, right?
If you've been following along on social media, especially stories, you'll be familiar with some of this work. If you haven't been, you're missing out on the rollercoaster of emotions that is every single project we tackle: excitement, anticipation, regret, hope, relief, excitement, pride, vows to never tackle that project again.
Here we go:
---
2021 Outdoor Project Progress: New Roof Over Kitchen and Garage
Our big expenditure for 2021 was replacing the kitchen roof and re-coating the garage roof. Both of these roofs are flat roofs.
Flat roofs are not projects that will razzle dazzle you with their before and after pictures. There's nothing exciting about them from a visual standpoint, but from a practical standpoint, I'm still pinching myself that THESE ROOFS DON'T LEAK.
You don't know how stressful a leaking roof is until you've had one.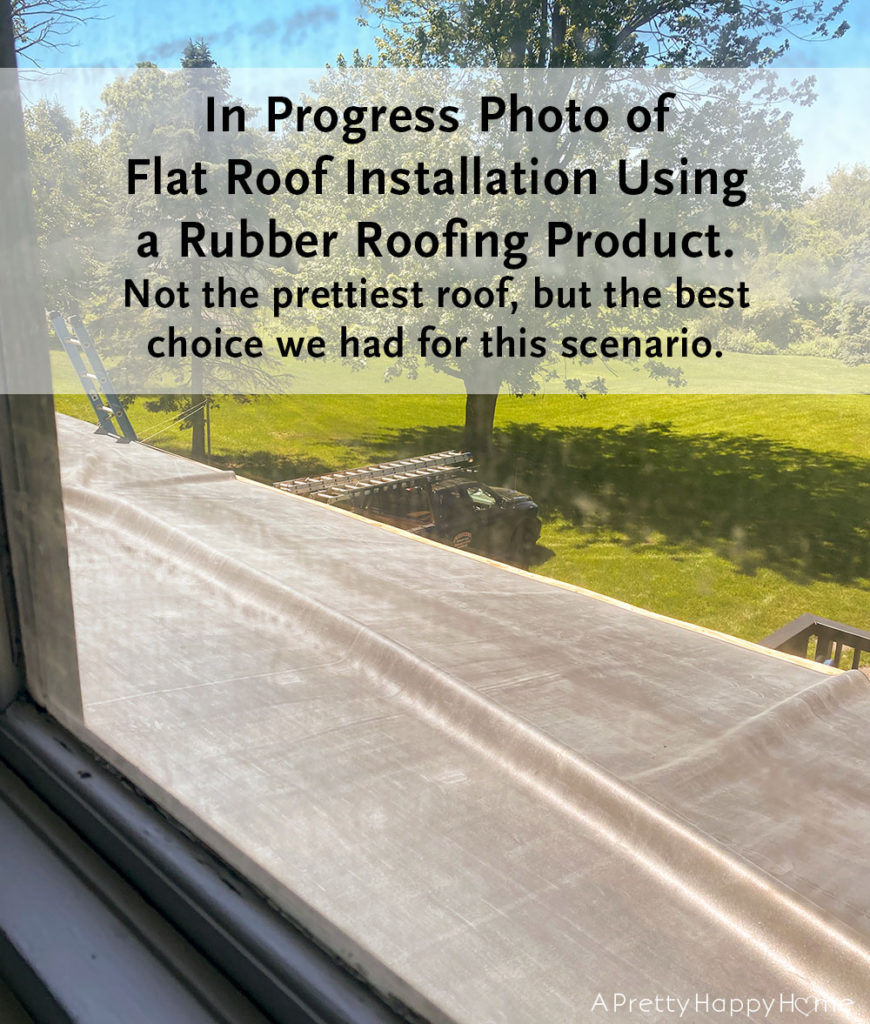 The interesting part of this project is what the roofers found: two layers of shingles and a layer of tin on our kitchen roof. Under all of that was planks, not plywood.
The roofing pros thought it looked like a roof from the 1920s, which gives us more evidence that our kitchen addition is around 100 years old. If that's the case, it is likely that is when indoor plumbing was added to this house. If only they added plumbing to the older parts of the house too. I sure do miss an en suite bathroom! Whomp, whomp.
There's always a possibility that the kitchen addition was originally a porch, but that's a mystery that won't be solved today.
---
2021 Outdoor Project Progress: Fix Up the Pool Area
Our pool area needed some love! So far this summer we've tackled three things.
First, I painted the posts of our chainlink safety fence from green to black. It took me forever because I did it by hand instead of spraying it. I had my reasons for this choice…not saying they were good reasons, but I had my reasons.
The black paint instantly modernized the fence. It's still a boring chainlink fence, but it looks better.
Now I get to see how long the paint lasts. Can I get a couple of years out of it? If the fence survives the winter, I might write a blog post about it, but until then, I'm enjoying this view.
Second, we gave our pool pump shed a mini makeover. We added the siding that the previous owners had never completed to the back of it. Then I stained the entire thing black.
If you want to see the before pictures of the shed, click here.
The shed no longer looks tired and dilapidated. I FELT a little tired and dilapidated after completing that project, but it was worth it.
Also, that pampas grass to the left of the shed is now taller than the shed. I'm good at growing everything except the things I want to grow. Ha!
Third, we pressure washed the pool deck and fixed some of the crumbling concrete. We'd like to add more concrete out here because there are some areas that need it from a maintenance perspective, but that's one of those "all in good time" goals.
---
2021 Outdoor Project Progress: Reclaim the Flowerbeds
This summer one of my goals has been to reclaim the flowerbeds in the back of our house.
Save the beds! Fight the weeds!
In all honesty, dealing with the landscaping around our Colonial Farmhouse has been low on the priority list until now. The first summer we lived here we didn't even own a riding lawn mower to tackle our 2 acres. Instead of weeding the flowerbeds, we weed whacked everything and pretended like our flowerbeds didn't exist.
Denial makes landscape maintenance so much easier…until it doesn't.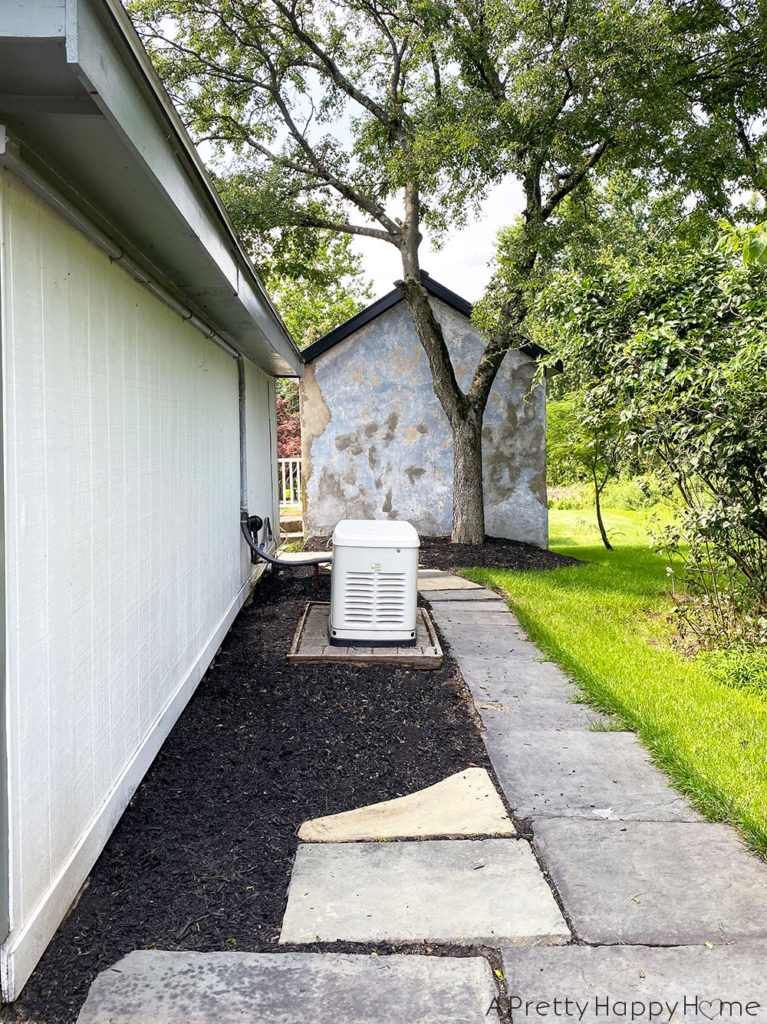 Now, we have a riding lawnmower and my list of excuses for dealing with our landscaping is running out. So I did some edging, a little weeding, and added a whole lot of black mulch and TADA! We have flowerbeds again, folks. Minus flowers.
Let's just see if I can take care of flowerbeds sans flowers before I get carried away adding flowers and shrubs. Plus, flowers aren't cheap and I'd rather buy paint.
How's that for priorities?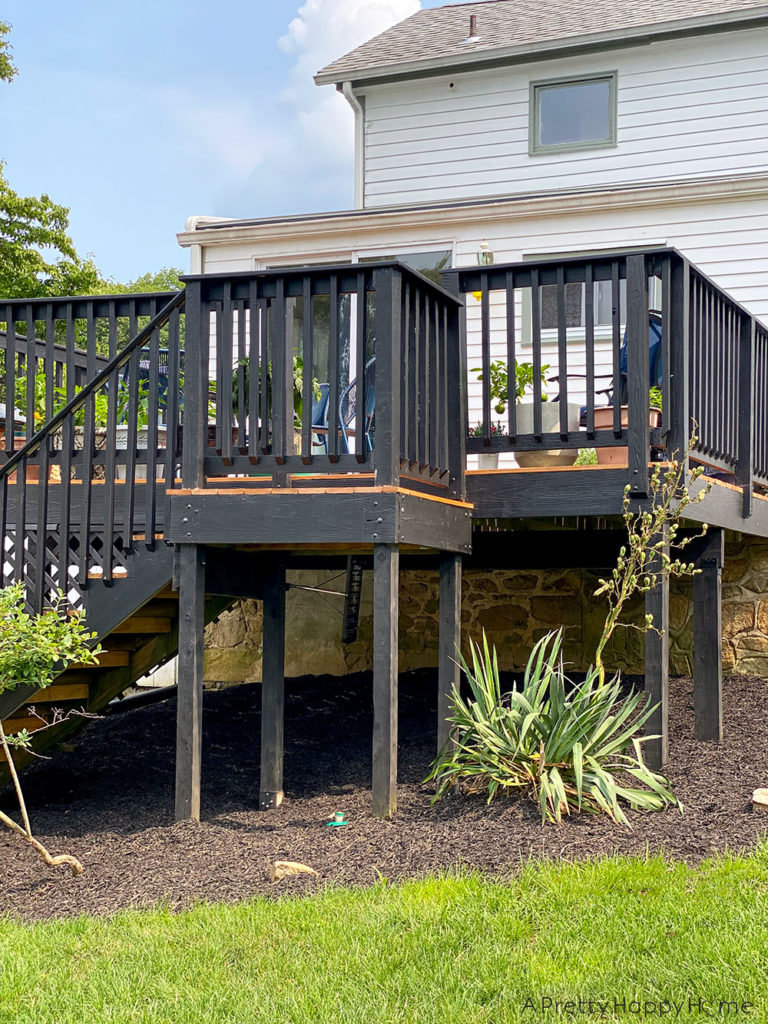 In a couple of the pictures in this post you can see that we also added more stones to our stone footpaths because the previous paths were too narrow in spots.
The stones were all found on our property, so this was a zero cost project in terms of dollars. In terms of back pain…no comment.
---
2021 Outdoor Project Progress: Front Porch Painted
The front porch looks so much better now that I repainted it.
It pains me that it was even painted in the first place because it will be a constant maintenance issue, but it is what it is.
Here's the wee little problem that I created by repainting the front porch. Our front porch is only half of the front of our house. We technically have a second front door to the sunporch. Now I need to paint the rest of the exposed and previously painted concrete foundation and steps up to that sunporch door because the grays don't match.
I knew this would happen, but it is a good example of my projects snowballing into much larger projects. Actually, almost all of my projects are good examples of that, but thank you for not mentioning it.
---
What do you think?
Have we made decent progress on our outdoor projects so far this summer?
I am happy with out progress, but there are still a few things on the to-do list.
We still need to paint the Carriage House, paint the pool coping, and for the love of chocolate cream pie, I need to clean the outside of the gutters.
Basically, I've gone to great extremes this summer to distract your eye from looking at the gutters by laying out fresh mulch. That's not technically true, but did it work anyway? Ha!
Have you been tackling outdoor projects this summer too? Please tell me I'm not alone.
---
P.S. I felt confident tackling the flowerbeds this summer because I've had good luck (knock on wood) keeping weeds at bay by using a HEAVY layer of mulch combined with Preen weed preventer. I have not used a weed barrier or landscape fabric because eventually I always regret it when they disintegrate or I have to dig through them.
I know it's not organic, so don't send me nasty grams, but I also use Round-Up grass and weed killer along our fence lines and stone walls. Grass and weeds growing through our stone walls is really bad if we want to try and preserve these stone walls.
*affiliate links in this post*
---
Thanks for being here today! I appreciate all of your support and encouragement. It really does help keep me motivated. Here are some other posts you might like.
Antique Nail Caddy Fall Centerpiece
Striped and Flower Petal Denim Pumpkins