Welcome to the Happy List!
I hope your week has gone well and that you have something to look forward to experiencing this weekend.
This week on the blog I shared a fun DIY tray project and an update on how we're doing with our outdoor project list this summer. Have you been working outside this summer too?
If you'd like to see what we are up to this weekend, please follow along on Instagram or Facebook stories. If you create something I should see, please tag me! I love to see your ideas come to life and how you find inspiration. I may even include them in a blog post!
Here's the Happy List!
---
MIRRORS
This mirror grouping is lovely.
If you like the design intersection of rustic meets beachy, you'll enjoy scrolling through the rest of the photos of this house.
(image: via Desire to Inspire)
---
WALKING SHOES
I normally do not buy cheap shoes. I'm not a shoe snob. I've just reached the point in life where I don't want my feet to hurt and I want my shoes to last a long time. That is all.
I made an exception recently because I was looking for walking shoes that weren't obnoxious or overly sporty AND had a wide toe base. After wearing Birkenstocks all summer, my toes don't want to be squished!
I settled on these $40 slip-on tennis shoes and I'm quite happy so far. They look like they'd be heavy, but they are as light as air.
Do I expect them to last for years? No. I'd be happy with one year though!
---
PRETTIEST CABINET
This is the prettiest handmade, sentimental cabinet in a cabinetmaker's own kitchen.
I'm not usually moved by home decor articles, but reading about Ben Block's custom cabinetry company and the personal choices he made for his own kitchen were very insightful. I loved his comments on embracing the quirks of the space and on making intentional choices about materials and layout. Read the entire article and see more pictures of this space in this Remodelista article.
(image: via Remodelista)
---
VAN LIFE
Would you ever consider living in a converted van? It seems a little more intense to me than living in an RV. However, it's probably easier to move around and park.
This article in CNN made me ponder the topic and then I went down the rabbit hole of looking at custom van conversions. WOW. They are so different in terms of style!
I don't think this lifestyle is for me, but I do love a good road trip and I admire people who can live so minimally in terms of possessions and space.
(image: Outside Van via CNN)
---
HOW CAST IRON PANS ARE MADE
This was interesting! What impressed me most was that it appears like there is zero waste in a cast iron pan factory.
If the video doesn't load, here's the direct link.
---
FUN ARCHITECTURE PHOTOGRAPHY
I absolutely love the way Anna Devís and Daniel Rueda make architecture photography fun and entertaining! I don't know how you couldn't smile looking at their photos!
So much time must go into planning these shots! Go see more of their work in this This is Colossal article or visit their website.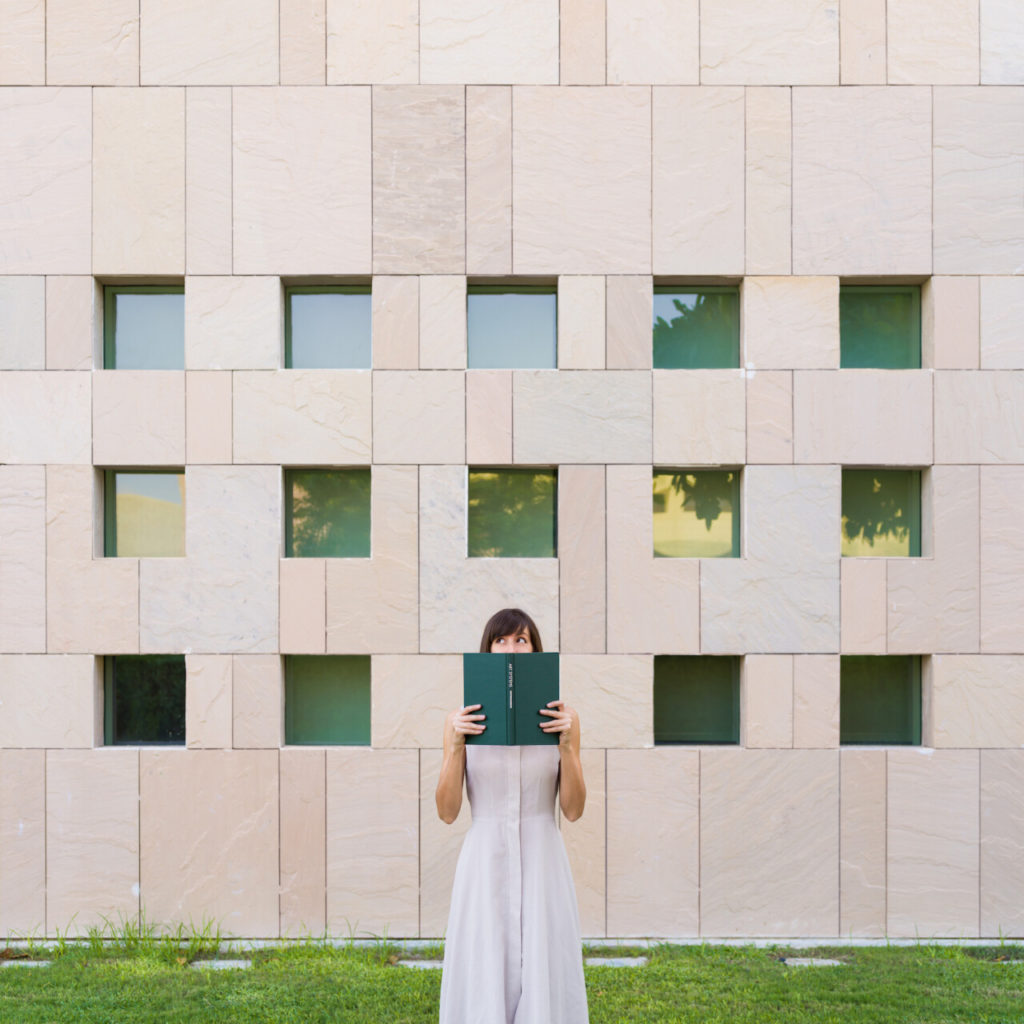 (image: Anna Devis and Daniel Rueda via This is Colossal)
---
THE AC MARKET
As someone who doesn't have central air-conditioning and misses it, I'm interested in how the air-conditioning market will evolve with better solutions in the coming years.
I like the look of this prototype window AC unit by Gradient Comfort because it doesn't block any window light. It can also double as a heater, which is pretty cool…or hot?
Read more about what's happening in this area in this Fast Company article.
(image: Gradient Comfort via Fast Company)
---
POETRY MOMENT
I shared this poem on Instagram last weekend, but I enjoyed it so much that I decided to share it again here.
Crossings by Ravi Shankar
Between forest and field, a threshold
like stepping from a cathedral into the street—
the quality of air alters, an eclipse lifts,
boundlessness opens, earth itself retextured
into weeds where woods once were.
Even planes of motion shift from vertical
navigation to horizontal quiescence:
there's a standing invitation to lie back
as sky's unpredictable theater proceeds.
Suspended in this ephemeral moment
after leaving a forest, before entering
a field, the nature of reality is revealed.
---
Thank you for reading today's Happy List.
Be good to yourself and others this weekend.
I'll see you back here on Monday with a fresh, new blog post!
*affiliate links in this blog post*