Kraft Paper Snowflake Mantel for the Holidays
I hope you're sitting in a warm, cozy place while you check out my Kraft Paper Snowflake Mantel!
I had a jolly good time making all 33 snowflakes on this Kraft Paper Snowflake Mantel. Yes, I counted.
"Jolly good time" makes it sound like it was a party.
I haven't been to one of those in…well, we don't need to count everything in this blog post. That would be depressing.
Perhaps it is better to say I was in the mood to create something with my hands, so spending several hours making 33 kraft paper snowflakes was satisfying.
Plus, I enjoy making something that looks way more complicated than it really is.
I promise I don't do complicated crafts.
All I needed to make these paper snowflakes was brown kraft paper (you can use any paper), hot glue, scissors, and a ruler.
I used this YouTube tutorial to learn how to make the snowflakes. To get the variation in snowflake size, I used kraft paper squares ranging from 2-inches to 8-inches.
The kraft paper snowflakes are attached to the fireplace using poster putty.
I haven't had a chance to use that stuff since I hung posters on my dorm walls in college!
College Me would not have been able to fathom that decorating, crafts, and home renovation would be something Present Me enjoys doing.
Frankly, College Me was a little uptight.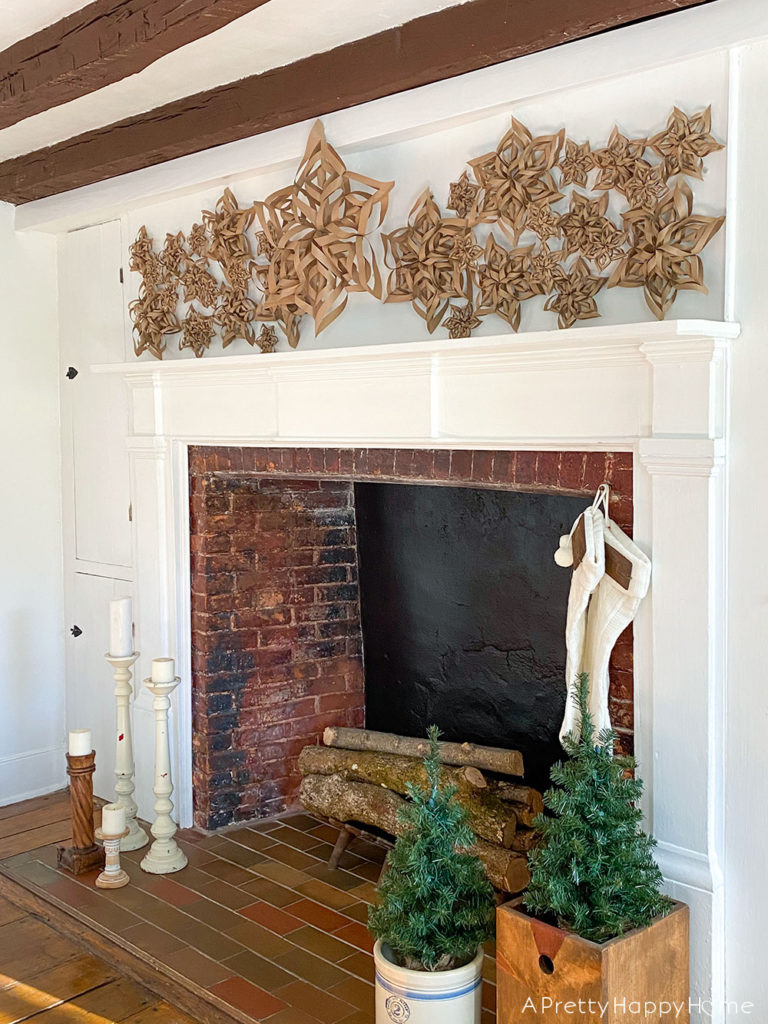 Do you know how I know Present Me isn't as uptight as College Me?
One of my children, whose name will not be mentioned, looked at this Kraft Paper Snowflake Mantel that I had worked quite awhile on arranging and rearranging and with a sly grin said, "Are those supposed to be yellow snowflakes?"
Yellow. Snow.
I was sick every day for nine months while I grew you in my stomach and then pushed your 8-lb. body out without an epidural and you're making yellow snow jokes?
Hahahahahaha!
You ARE my kid! Good one, kid. Good one!
See? Present Me rolls with the yellow snow jokes. Not uptight at all. Well, a teensy bit uptight. I did make that kid eat extra vegetables at dinner.
But only because they are good for you.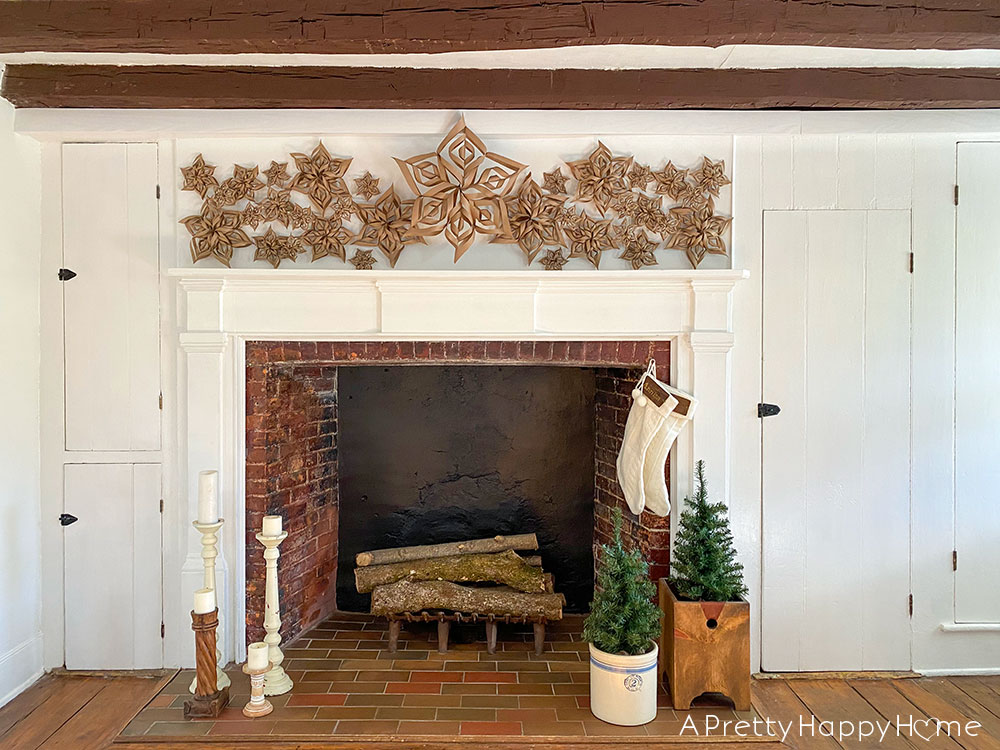 If you're in the mood to create something while you're watching Hallmark Christmas movies this year, I highly recommend making a few paper snowflakes.
You don't need to go overboard like I did and create an entire Kraft Paper Snowflake Mantel. Even two or three paper snowflakes hanging in a window would be pretty.
Paper snowflakes would also make pretty gift toppers or you could string them together to make a garland for your mantel. There are so many possibilities!
Happy crafting!
---
P.S. If you do make paper snowflakes or have a mantel otherwise decorated for Christmas, I'd love to see what you've created or decorated! It's inspiring to me to see so many different decorating ideas come to life. You can reach out to me via the blog or email. You can also tag me in social media. I'm on Instagram and Facebook.
---
Materials Used in this Blog Post:
Roll of Brown Kraft Paper (18-inch x 100-ft)
White Sweater Stockings (I added the name tags in this blog post.)
18-inch Christmas Tree (similar)
*affiliate links in this blog post*
---
Thank you for sharing part of your busy holiday season with me. I hope you come away today with a smile and maybe an idea or two. If you'd like another blog post to read, I've got you covered. Try one of these:
Festive Tradition: Kids' Christmas Trees
A Touch of Christmas on Our Barn