Hello! Welcome back to another thrilling edition of The Happy List. I'm glad you're here.
It was a crafty week on the blog. I guess I've been in the mood to make things!
In case you missed it, this week on the blog I shared how to make a DIY embroidered vote t-shirt. I also shared how to make your own napkin rings out of wood acorns and beads. Yes, wood acorns are a thing and I'm obsessed with them. I'm hoping I work this out of my system soon, but I still have about six ideas of things I can make with the wood acorns. Thank you for sticking with me through this time. Ha!
Thank you also for your continued support of this blog in all shapes and forms. Even engaging with us on Instagram or Facebook is important to us. Your support truly helps our family, helps restore this old house we live in, and keeps this blog running.
Now, get ready to be razzled and dazzled because here's the Happy List!
---
FLOATING HOUSE
I've always wanted to own a lake house. Now I might have to reconsider if I'd like to own a floating lake house. This one is located in Sweden and belongs to Anna Starrén.
See more pictures of this lake house here. It's so dreamy.
(image: Anna Starrén via My Scandinavian Home)
I told Handy Husband about this home at dinner and he says, "So they built a houseboat?"
I'm like "No! It doesn't look like a boat."
Then we went round and round about what to call a house that floats. Ha!
---
GLOW-IN-THE-DARK ROAD LINES
Australia is testing glow-in-the-dark road lines. What do you think of this idea?
If it worked, I think it would be great. I'm not a fan of driving at night. That's mainly because I drive in so many areas where the road lines are hard to see at night. Also, we have way too many deer who like to run across the road.
Read about the glow-in-the-dark road lines here.
(image: via ABC Gippsland Australia)
---
DIY DECORATIVE AIR VENT COVER
I have read the Thrifty Decor Chick blog for years and Sarah always has great ideas for improving your home on a budget.
Her recent tutorial on how to make a decorative air vent cover was so clever! It looks amazing, is easy to do, and shouldn't impact the airflow at all.
(image: Thrifty Decor Chick)
P.S. We have zero air vents in our old house. Is that weird to think about?
---
MACRAME INSTALLATION
Check out this gigantic macrame installation in Bali by Jakarta-based fiber artist Agnes Hansella. This made my jaw drop. It is so beautiful.
Your life is not going to be complete until you go check out the finished work here.
(image: Agnes Hansella via This is Colossal)
---
EYEGLASS FIX
It's possible that I've dropped my eyeglasses one too many times and I need to take them to the eye doctor to be adjusted.
Or I could just buy some sticky silicone nose pads so that they don't slip down my nose and give me a literal and figurative headache.
Can you guess which option I chose? And I have zero regrets.
(image: Amazon)
---
MADE ME SMILE
I do not know how this stacked pumpkin situation is happening, but it made me smile.
I can only guess that they are faux pumpkins on some sort of pole.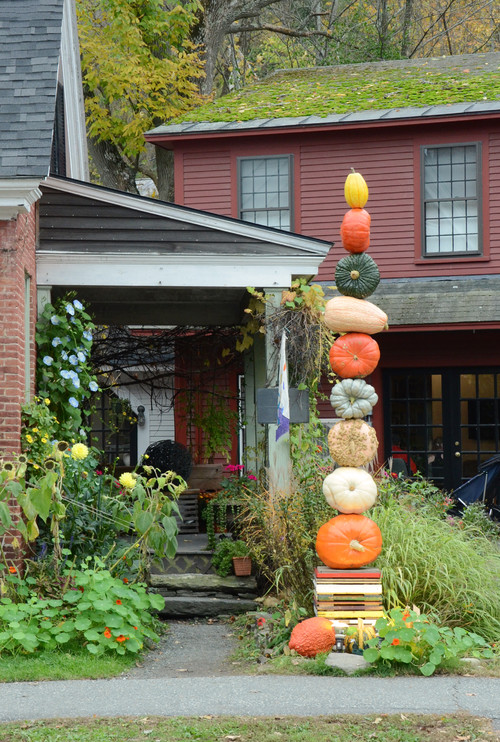 (image: Design Fixation via Houzz)
---
CHICKENS
Look at me skipping from fall to Christmas. Sorry, not sorry.
These DIY chicken ornaments by Dans le Lakehouse are super cute!
(image: Dans le Lakehouse)
---
MADE ME LAUGH
"I have never tried that before, so I think I should definitely be able to do that." – Astrid Lindgren, Pippi Longstocking
This is Handy Husband and me every time we attempt a new DIY project. Haha!
---
Thanks for reading today's Happy List.
Be good to yourself and others this weekend.
I'll see you back here on Monday.
*affiliate links in this blog post*