Hello, December, and hello to you too! Welcome to today's Happy List.
This week on the blog I shared how to make a Piano Hammer Christmas Tree. I realize I make some things that aren't easily replicable. That's not really my goal though. My goal is to inspire your creativity and encourage you to look at your home and decor in a new light.
I also shared my inexpensive ideas for decorating a Christmas tree. I like to switch things up with our main tree decor from year to year. We all have our idea of fun and I guess that's mine. Ha! However, I don't have a big budget to spend on this activity so I have to get creative.
As always, thank you for continuing to show up here week after week supporting this little spot on the internet. Your engagement here and on Instagram or Facebook is important to us. It feels like a community! Your support truly helps our family, helps restore this old house we live in, and keeps this blog running.
Here's the Happy List!
---
CHRISTMAS PERFECTION
The more I stared at this picture featured on Julia Berolzheimer's site, the more I fell in love with it. So many details started popping out and look at the dog sleeping in the basket! *swoon*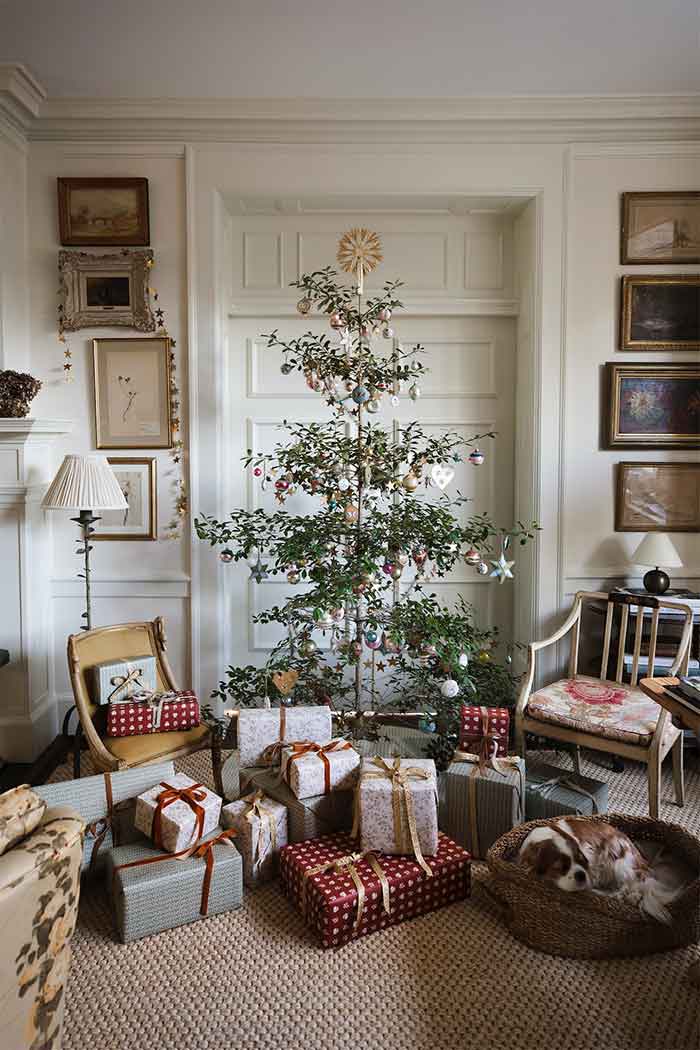 (image: Julia Berolzheimer)
---
HOLIDAY NAILS
This is one nail art idea that I might be able to recreate. Even without the gems, you could just do a dot of colored polish for the lightbulbs.
Find more holiday nail art ideas here at Momooze. This particular idea is sourced from Deco Miami, which sells nail art stickers and polish.
(image: Deco Miami via Momooze)
---
SCIENCE FOR THE WIN
Scientists at Brunel University in London have found that artificial sweeteners can halt the growth of antibiotic-resistant bacteria.
The bacteria, acinetobacter baumannii and pseudomonas aeruginosa, cause pneumonia and sepsis. The World Health Organization says new antibiotics are urgently needed to treat these antibiotic-resistant bacteria.
So much more still needs to be done to make this discovery actionable, but you can read about the study's findings in this BBC Science Focus article.
It does beg the question. Maybe I shouldn't have stopped drinking Diet Pepsi?
I'm kidding. Of course, it's a good thing I stopped drinking that regularly. Water is so tasty, after all. So tasty.
---
LIBRARY LOVE
Do you love your public library? Me too!
Libraries have long been safe places for all people. They provide access to information and promote education and literacy. If you want to learn something, the library probably has a book for you!
I also find that libraries and librarians are the least judgmental places and people around…unless you are talking loudly! Hahahaha!
This shirt supports the American Libraries Association.
(image: Alagraphics)
P.S. I have found a new-to-me website, I Love Libraries, which has interesting news from the library world, book recommendations, and information about how you can help prevent book banning and censorship.
P.P.S. One of my favorite things to do when traveling is to visit libraries. It's interesting to note the similarities and differences in libraries around our country and the world.
---
VINTAGE POSTCARDS
I went to a craft fair and a lady was selling vintage postcard ornaments. She had sandwiched the postcards between two pieces of glass so you could see both sides and read the message on the postcard. She then soldered them shut. They were gorgeous and would be particularly sentimental if you knew the sender of the card.
Unfortunately, she did this "just for fun" and didn't have a website or Etsy shop.
I haven't found anyone online who does exactly this that you could purchase from, but I did find someone who made their own postcard ornaments. It was Traci from the Amazing Mae blog, who was featured on Polkadot Chair.
I wanted to share this idea in case you have some vintage postcards you've been saving.
(image: Amazing Mae via Polkadot Chair)
---
RESISTANCE CORD
This is so random, but you've probably come to expect that by now. Ha!
I found this $11 resistance cord at Target for my son and now he and I are both using it. It would make a great Christmas gift or stocking stuffer for the right person.
For him, it's a way to burn off excess energy. He picks it up periodically throughout the day and does some reps or tries to use it as a jump rope. For me, I've started doing a couple of sets of reps per day not so much to build arm muscle, but so that I don't lose arm muscle. I like it better than pushups.
(image: Target)
The black tab you see on it can be shut into a door if you want to expand the type of exercises you do. The tab also comes off.
---
OFF-CENTER
I love seeing off-center decorating. Isn't this fireplace gorgeous?
I find this style of decorating to be incredibly hard to pull off, so I love to see other people nail it.
This image is from Micah and Co. and you'll love this entire home and their portfolio.
(image: Micah and Co.)
---
PUMPKIN TIP
I accidentally discovered that if you add half a cup or so of canned pumpkin puree to your chicken soup, it will be the best chicken soup you've ever made. You can do this with a veggie-based soup too.
You will not be able to taste any pumpkin flavor. Instead, it seems to add depth or richness to the broth. The only noticeable thing the pumpkin will do is darken your broth slightly.
My family has been devouring the soup I've been making lately and there's no way I'm telling them what I've done because even Handy Husband thinks pumpkin is gross. Feeding my family is a joy, can't you tell? Ha!
---
DISCO BALL WREATH
I want to be the type of person who can pull off a disco ball wreath, but I'm not sure I can.
One of you definitely needs to make something like this though! How can you not smile looking at a disco ball or a group of disco balls? Pure happiness.
Get the directions over at Tatertots and Jello.
(image: Tatertots and Jello)
---
MADE ME CHUCKLE
For A Mouthy Woman by Countee Cullen

God and the devil still are wrangling
    Which should have her, which repel;
God wants no discord in his heaven;
    Satan has enough in hell.
(This poem was written in 1925 by Countee Cullen, an important voice of the Harlem Renaissance.)
Thank you for reading today's Happy List!
Be good to yourself and others this weekend.
I'll see you back here on Monday.
*affiliate links in this blog post*