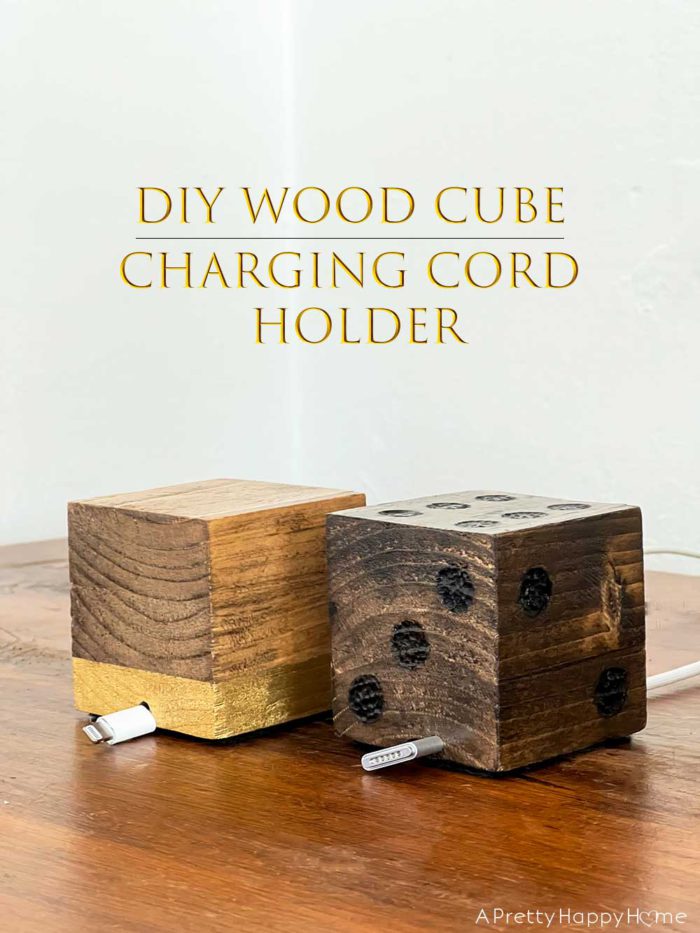 DIY Wood Cube Cord Holder
Today I'm going to show you my latest creation, a DIY Wood Cube Cord Holder, and how you can make one yourself.
Cord management for all of our electronic devices seems like a universal problem we can all get behind. That's a rarity in our world!
I've been on a kick to contain, manage, and wrangle all the charging cords in our house. It's a thankless job but someone has to do it.
My laptop charging cord is particularly wily. If that cord wasn't plugged into my laptop, it would slide right off the back of my desk. There are adhesive clips you can purchase to solve that problem but they don't work for every scenario.
This time I've come up with a cord holder that not only functions well but looks good too! What more could you ask for?
---
HOW TO MAKE A WOOD CUBE CHARGING CORD
Step 1: Make a wood cube that is 2.5 inches square.
(P.S. You can buy a 2-pack of 2.5-inch cubes on Amazon and skip this step!)
Unless you have a big block of wood in your garage or workshop, you might have to laminate or glue multiple pieces of wood together to create your cube.
We glued together two 2x4s to create our wood cube cord holder but you could use fancier wood.
Cut the wood cube to size using a table saw and sand smooth.
You can change the dimensions of your wood cube, but if you go much smaller it won't be heavy enough to hold the cord in place. We did not test how small we could go with this cube. It depends a bit on your particular charging cord.
Step 2: Cut a channel for the charging cord.
In order for the wood cube cord holder to wrangle your charging cord and sit flush on your desk or table, it needs a small channel cut in the bottom where the cord will go.
We used a 3/8″ drill bit on our drill press to cut this channel. Ours isn't perfectly shaped but it works. If your cord is larger or smaller than ours, then you might need to change the size of your cord channel.
We cut our cord channel with the grain, but in hindsight, it would have looked better to NOT have the cut end of the block be what you see when the cord holder is in use. Live and learn!
If you don't have a drill press, there are a couple of other ways you could make the channel. You could use a series of clamps to hold the cube in place and a regular drill to create the channel. You could also cut two smaller pieces of wood, and glue them to the bottom of your wood cube allowing a gap in the middle for the cord.
Step 3: Decorate your Wood Cube Cord Holder.
Let your creativity flow, folks. Now is the time to decorate your Wood Cube Cord Holder however you like. Paint it. Stain it. Add pictures.
I turned one of mine into a dice using a wood burner.
I color-blocked a second one using stain and gold paint.
These wood cubes would make a great photo display for a Father's or Mother's Day gift. You could engrave the sides of the cube with important dates. You could paint the cube to look like a Rubik's Cube. There are so many possibilities!
Step 4: Add finishing touches and enjoy.
Consider sealing your wood cube cord holder with a clear coat of some sort such as polyurethane or Mod Podge.
If you're worried about scratches, hot glue a couple of felt strips to the cord holder's underside.
Now there is one less annoyance in your life and you can enjoy the simple pleasure of having your charging cord stay on your desk!
---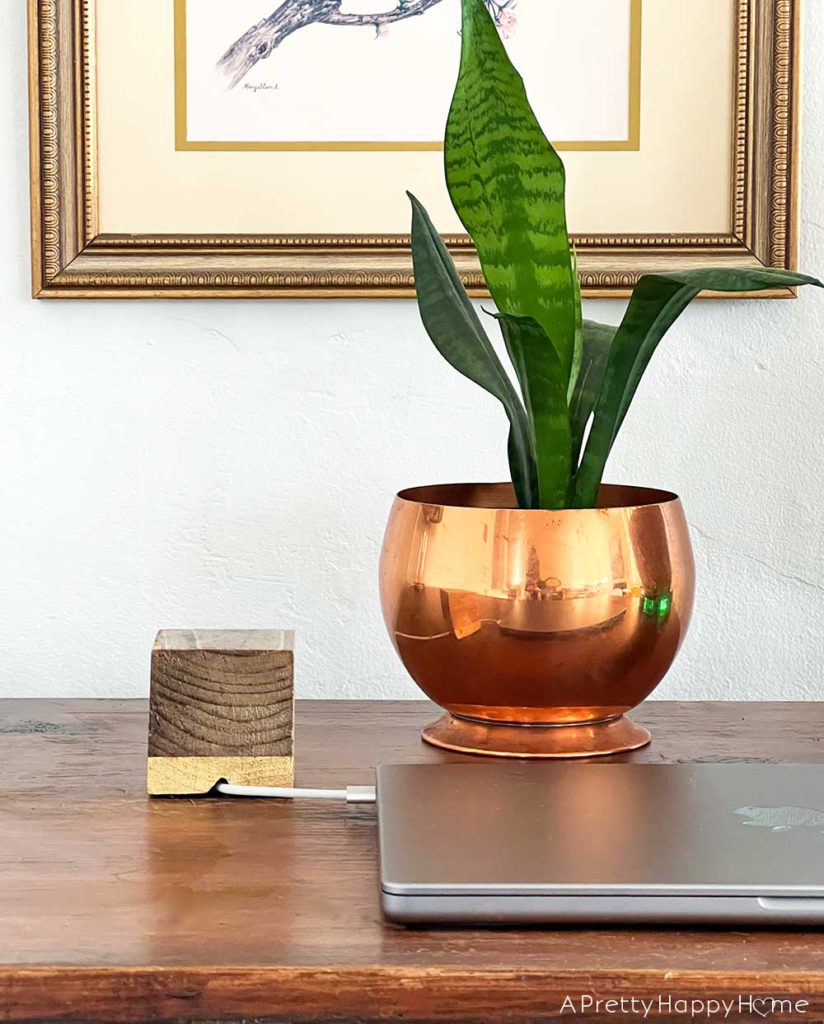 Here's one more picture for the road because the dice ended up being my favorite!
It reminds me of all the wood dice I wood-burned last year.
What do you think of these DIY Wood Cube Cord Holders? It is something you'd create for yourself?
You can always comment on this blog post, email me here, or reach out via Instagram or Facebook.
Happy cord wrangling!
---
P.S. If woodworking isn't your thing, I created another cord holder out of fabric and dried rice. Get the tutorial here.
---
Thanks for being here today. I love sharing ideas to make life a little easier with you. Here are some other blog posts you might enjoy.
How To Hide Cords On A Standing Desk
Make A Bench With a Hidden Spot To Charge Electronics
*affiliate links in this blog post*