In Praise of Basket Walls
Basket walls, meaning baskets as wall decor, have been on my mind lately.
Does that mean I'm turning into a basket case? Nah. That's something entirely different. But give me time and that may happen!
I, like many people, have not met a basket I didn't love.
Do I need all the baskets I love? Need is a relative term, but probably not.
Do more baskets really make me more organized? In my ideal world, yes.
Could I justify having more baskets if I used them as wall decor? I can make a strong argument for that.
Baskets, when grouped together as wall decor, can provide a tremendous amount of warmth, interest, and texture to a room. Basket walls are also one of those decor categories that you can spend a big wad of cash on, or hardly any money at all. I vote for hardly any money at all, but I'm cheap economically conscientious.
Here are some basket walls that caught my eye recently.
---
The website Old Brand New took a photo of the most epic basket wall at the Saxon Hotel in Johannesburg.
Go big or go home, right?
(image: Old Brand New)
---
The site Boxwood and Spruce has great ideas for a basket wall. I like the inclusion of a basket that contains dried flowers.
Also, that bench is perfection.
(image: Boxwood and Spruce)
---
Here's another basket wall over an amazing bench in this hallway picture I found on Houzz.
I'm sensing a winning formula here.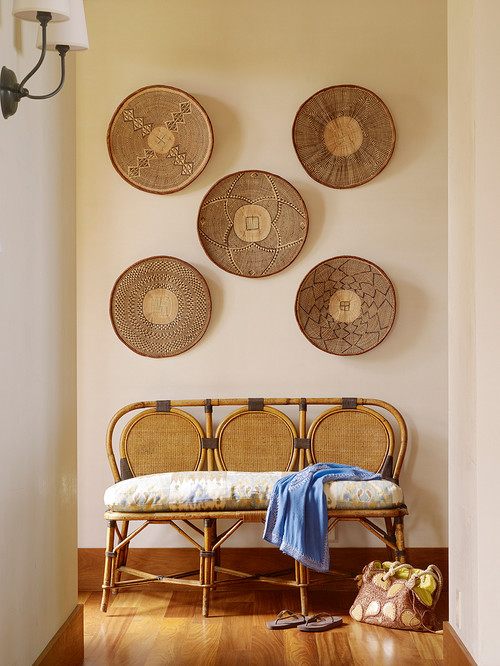 ---
Pottery Barn can do no wrong when it comes to styling. I love the statement these baskets make with not only their simplicity but also their off-centered styling.
These "Sunny Handwoven Baskets" are sold in a set of three or can be purchased singly. They are pricey but it might be worth it!
(image: Pottery Barn *The featured image in this blog post is also from Pottery Barn*)
---
Last but not least, let's not forget that baskets can be colorful!
This entire basket grouping is available on Etsy. If you don't want to take the time to search out a collection yourself, this is a nice alternative.
(image: Pagiftsus via Etsy)
---
There's a strong likelihood that I may try out a basket wall in my house. I have been collecting baskets from the thrift store. So far, I've committed about $10 to this endeavor.
If I do try out a basket wall, it doesn't mean I have to keep it. The fun of decorating is trying out new ideas to see which one really makes your heart go pitter-patter.
What do you think of basket walls? Yay or nay? Let me know.
You can always comment on this blog post, email me
here
, or reach out via
Instagram
 or 
Facebook
.
Happy decorating!
---
Thanks for hanging out with me today. I enjoy exchanging ideas with you. Here are some other blog posts you might enjoy.
*affiliate links in this blog post*