In Praise Of: Bowl Cozies
I recently visited an Amish market and a vendor was selling bowl cozies.
Bowl cozies?!?
I had never heard of such a thing. Have you? It's SUCH a good idea.
Do you know how many times my kids have spilled ramen noodles all over the floor because the bowl they microwaved their ramen in was too hot?
Me neither.
I stopped counting a long time ago.
A bowl cozy is, in essence, a pot holder shaped like a bowl. You can microwave a bowl while it is sitting in the bowl cozy. This means you won't burn your fingers handling a hot bowl out of the microwave.
I didn't even realize you COULD put a pot holder or bowl cozy in the microwave. I grew up in a time when my mom yelled at us for standing directly in front of the microwave because of the radiation. I guess I'm still playing it safe when it comes to that appliance. Haha!
Apparently, you can put bowl cozies in the microwave for short periods of no more than 2 – 3 minutes according to whoever is sewing these things.
Bowl cozies don't seem to be mainstream yet in terms of large retailers selling them. I found some on Etsy and a few, from individual sellers, on Amazon.
Here are some bowl cozies I found on Etsy that received great reviews and looked pretty.
---
I liked these grey and white striped bowl cozies because they'd go with almost anyone's decor.
One of the pictures in this listing shows a dual use for the bowl cozy. They turned it upside down and used it to cover an entire pot handle. Clever!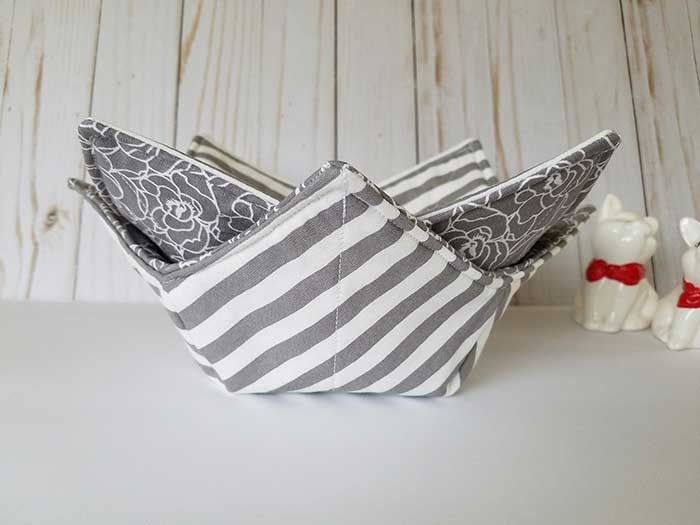 (image and blog post header image: Crafty Wanda via Etsy)
---
This bowl cozy comes as a set of three in different sizes, which I thought could be practical.
The largest-sized cozy is for serving bowls. This would probably help keep the bowl warm and would act as a trivet on your table. Win, win.
(image: Quilts And Things Linda via Etsy)
---
I'm including this set of two bowl cozies because I loved the pattern this seller was offering. It felt very autumn-like and I imagined it would be perfect for reheating a bowl of homemade soup.
Plus, it demonstrates that many sellers make their bowl cozies with reversible patterns. That's fun.
(image: 54 Rustic via Etsy)
---
This image right here is why I have not purchased a bowl cozy yet.
I now realize some people crochet or knit a bowl cozy. So neat, right?
I'm wondering if I have the skills to do this. So far, I can knit (very slowly, I might add) washcloths and scarves. I have not attempted anything more complicated.
(image: Rose's Home Apothecary via Etsy)
---
Last, but certainly not least is this humorous bowl cozy.
How can you look at this and not cluck chuckle?
(image: Elaine's Crochet Studio via Etsy)
---
I would have been happy to keep going with the bowl cozy ideas because there were a lot of people selling them on Etsy but I'm sure you get the point.
If you're looking for a pretty and practical gift, I think you could add bowl cozies to your shopping list.
Bowl cozies aren't just for moms who have kids who make microwave ramen. I think bowl cozies would be great for a wedding shower gift, a housewarming, or even a holiday gift exchange.
What do you think of these bowl cozies? Have you heard of them before? If the answer was yes, why did you not tell me? I thought we were friends! You can always comment on this blog post, email us here, or reach out via Instagram or Facebook.
---
Thanks for being here today! I love sharing ideas with you. Here are some others from this series that you might enjoy.
In Praise of The Ceramic Colander
In Praise of Watercolor Greeting Cards
*affiliate links in this blog post*