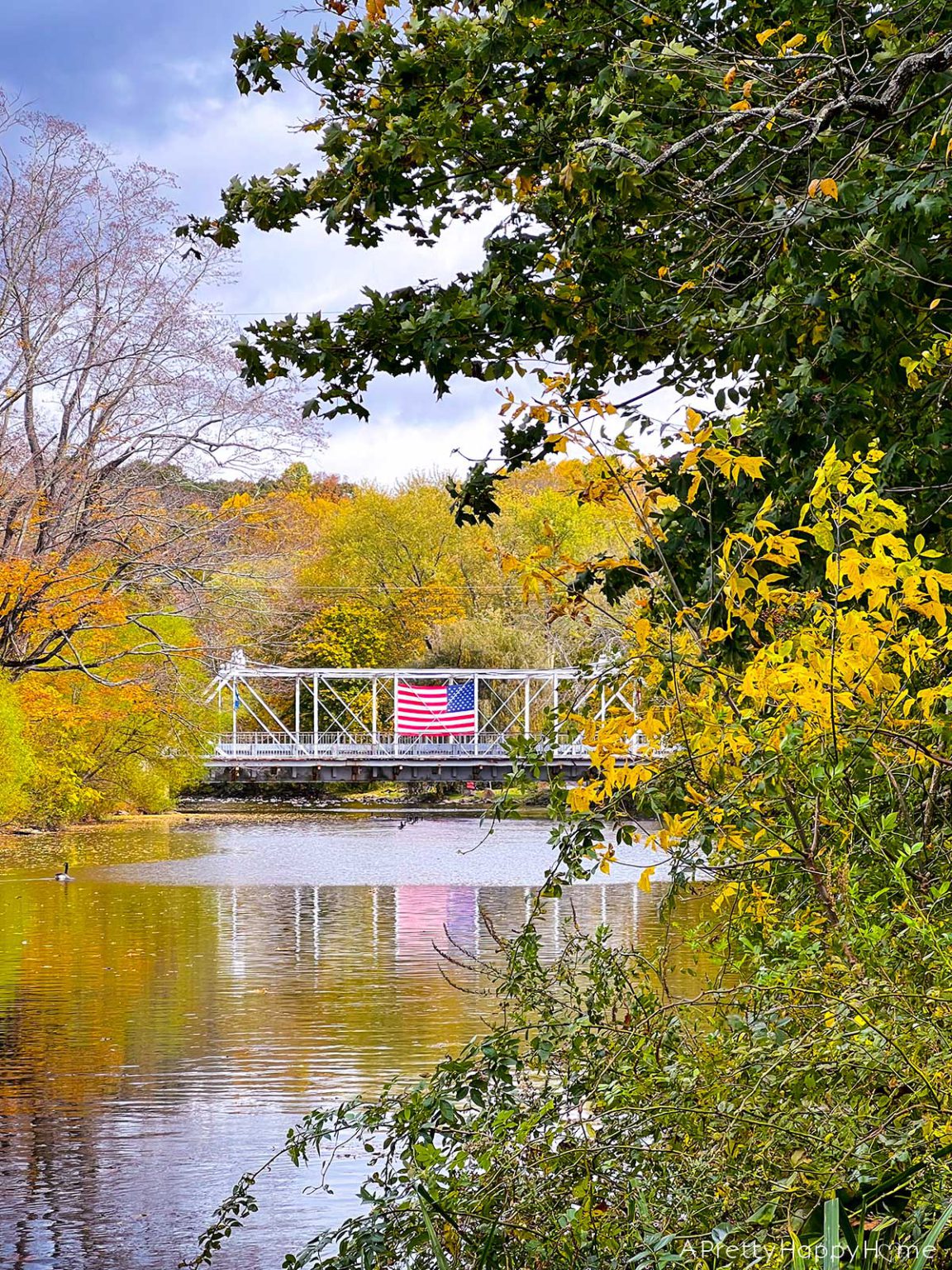 Hello! Welcome to this week's Happy List. I'm so glad you are here.
This week on the blog I did a deep dive into the advent calendars that caught my eye this year. There's really something for everyone these days…even your cat.
I also shared pictures of how my home is looking all decorated for fall. I know the internet has moved ahead to Christmas already but I'm not quite there yet.
We are so thankful to you for reading this blog. It makes our day. If you want to share the blog or an idea we post on social media, we would be very grateful. We also love talking to you. If you want to connect with us or ask a question, you can always comment on this blog post or send an email here. You can also reach out on Instagram or Facebook.
Here's the Happy List!
---
POLE WRAPPED
Jenna Sue Design shared their newly finished laundry room and I loved the creative use of pole wrap in this space. I particularly love how they used it to jazz up the front of the utility sink.
Go see more pictures and get all the details for this pretty space here.
(image: Jenna Sue Design)
---
PIGGY BANK
I went down the Etsy rabbit hole this week and found this initial piggy bank. Isn't it the cutest? You can add personalization with a name or not.
It would make a great Christmas gift for a little one. The clear front where they can see their money start to add up is genius.
(image: Art Toy Shop via Etsy)
---
DIY ALCOHOL INK RESIN COASTERS
Making something out of resin has been on my "to try" list for quite sometime. That's why these DIY alcohol ink resin coasters from A Beautiful Mess caught my eye. They look super cool, seem easy enough to make, and they'd make a great holiday gift. The tutorial can be found here.
(image: A Beautiful Mess)
---
LANDAU BARS
This isn't a happy thing but it is very interesting, so I'm including it on the Happy List. Call it a perk of making the rules around here. Ha! Anyway…
If you've ever noticed the diagonal, scroll-y detail on the back of hearses, there's a historical reason for that.
They are called landau bars, named after the town in Germany where they were invented. They were originally designed as a fancy, exterior hinge of sorts that held up the soft top of a horse-drawn carriage. Funeral carriages had fully functional landau bars so that the top could fold down for a funeral procession. American automobile manufacturers borrowed this flourish when modern automobile hearses were invented as a nod to the past.
This nod to history may very well be lost in the future as I see newer hearses with full rear windows.
Learn more about this topic over at Mental Floss.
(image: public domain, via Wikipedia)
---
DIY APPLIQUÉ TREE SKIRT
I don't think this is an inexpensive DIY, but it is colorful and fun. The House That Lars Built made an appliqué tree skirt using the happiest appliqués. I like this idea because it is totally customizable to your home and style. For a really detailed tutorial including links to the appliqués they used, click here.
(image: The House That Lars Built)
---
TWO MATERIAL COUNTERTOP
I can't decide if I love it or loathe it but I am intrigued by the idea of two different types of counters on one surface like in this deVOL kitchen. It has copper on one end and stone on the other.
I love almost everything done by deVol and you can see more pictures of this kitchen over at The Nordroom. The floor is dreamy!
(image: deVol via The Nordroom)
---
NOW I KNOW
I just learned that Swiss cheese has holes because it is made with a bacteria that no other cheese is made with. Interesting, right?
Cheesemakers add Propionibacterium shermanii to the Swiss cheese. This bacteria ferments lactic acid, which creates bubbles in the cheese where the carbon dioxide collects. Hence, the holes.
Learn more about it here.
(image: public domain, Wikipedia)
---
DIY WOOD SLED TREE SKIRT
If you need fresh ideas on what to do with reclaimed wood or pallet wood, Funky Junk Interiors is your place to go.
For Christmas, let me offer up the coolest DIY wood sled tree skirt for your hands to build. You've got plenty of time to get this done, especially since all of the dimensions are listed in the tutorial! I would probably use this type of wood sled with a little tree to decorate my front porch.
(image: Funky Junk Interiors)
---
PUMPKIN GOOEY BUTTER CAKE
This might be a pumpkin pie/cake situation that I can get behind. Pumpkin pie is not my favorite, if you can't tell.
However, I've never seen it made quite like this using a cake mix for the crust. If you read the recipe notes, it will make sense how the logistics of this work. I'm intrigued! I'm also hungry. Go check out the Pumpkin Gooey Butter Cake recipe over at TidyMom.
P.S. I've used TidyMom's cookie recipes using cake mix before and they were delicious, so I have no reason to doubt this pumpkin situation.
(image: TidyMom)
---
POETRY MOMENT
seasoned love. by r.h. Sin
I don't want puppy love
I now require something seasoned
something stronger
straight like my favorite liquor
I want something
homegrown from seeds
within my soul
watered with truth
and loyalty
I'm not a child
and I no longer have the need
for childish things
give me imperfect
but give me your best
I want your love
in its purest form
I want you
---
Thank you for reading today's Happy List.
Be good to yourself and others this weekend.
I'll see you back here on Monday.
*affiliate links in this blog post*