2023 Advent Calendars For Kids and Adults
I have the best 2023 advent calendars for kids and adults to share with you.
After all, the holidays should have a little magic for all of us, don't you think?
We are definitely a chocolate advent calendar family, but sometimes I add in an advent calendar that is not food related too. Oh, and I did just buy an advent calendar for the cat. Yes, the cat. I've become that person now.
Here are some 2023 advent calendars that would go over BIG in our family and maybe yours too.
---
Elf™ Advent Calendar  | Williams Sonoma
Any Elf fans out there? This Elf advent calendar has maple syrup, chocolate, caramels, peppermint taffy, and more. Perfect for your sweet tooth.
(image: Williams Sonoma)
---
Through The Window Puzzle Advent Calendar | Uncommon Goods
This puzzle advent calendar is neat because the 24 mini puzzles all fit together in the end to make one festive scene. Each mini puzzle has 50 pieces.
(image: Uncommon Goods)
---
Brain Teaser Advent Calendar | Amazon
Stay sharp this holiday season with an advent calendar full of brain teaser puzzles.
These sort of trinkets are fun because they can look great in a bowl or tray on your coffee table, especially the wood ones.
(image: Amazon)
---
New Yorker Puzzle Advent Calendar | Shop PBS
Any public radio fans out there? If so, they will love this collaboration between PBS and The New Yorker for a puzzle advent calendar. Each puzzle has 100 pieces.
(image: Shop PBS)
---
Stitch A Day Advent Calendar | Uncommon Goods
I love the concept of this advent calendar. Plus, at the end, you'll have a bit of Christmas decor you can hang up year after year.
(image and top of blog post image: Uncommon Goods)
---
Rifle Paper Co. Felt Advent Calendar | Pottery Barn
This advent calendar is one of those keepsake pieces, especially if you have it personalized with your family's name. The only trouble is you have to fill it with treats or presents yourself. I'd probably put wrapped chocolates in each pocket to keep it simple.
(image: Pottery Barn)
---
George and Viv Beauty Advent Calendar | Anthropologie
I know some teens and adults who would love an advent calendar filled with beauty product samples, especially if it was from Anthropologie.
(image: Anthropologie)
---
National Geographic Science Advent Calendar | Amazon
My kids always loved the National Geographic science activity boxes when they were little. I know they would have liked this science activity advent calendar. As a mom, I would have liked them to have something that wasn't candy or screen related.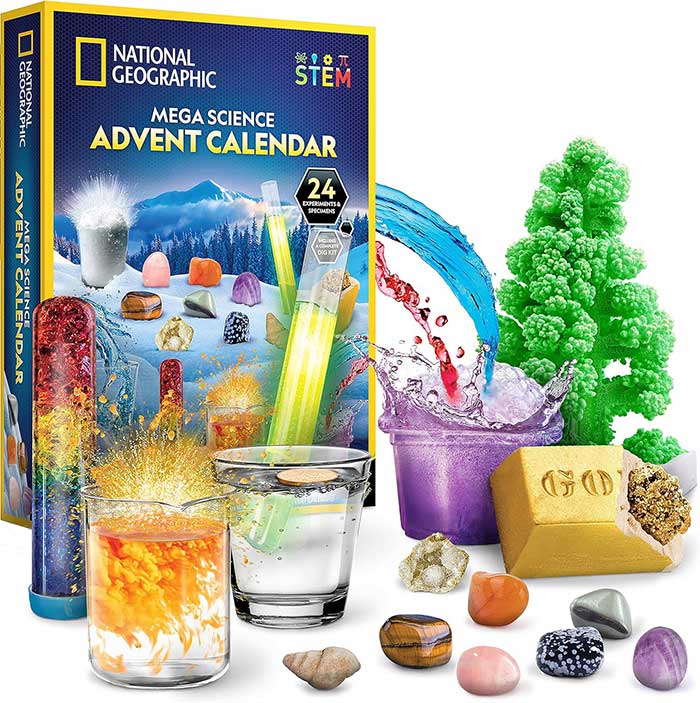 (image: Amazon)
---
Avian Holiday Pop-Up Advent Calendar | The Met
For the bird lovers, here's a beautiful pop-up advent calendar where you hang a new bird on the tree for each day counting down to Christmas.
(image: The Met)
---
Bonne Maman Advent Calendar | Bonne Maman
An advent calendar full of jam in cute jars? Yes, please. This is my favorite of the bunch.
(image: Bonne Maman)
---
Retro Games Coding Advent Calendar | Uncommon Goods
If you can build it, you can play it! This advent calendar looks like a really neat way to engage a techie kid.
(image: Uncommon Goods)
---
Aren't these holiday advent calendars so creative? There's basically something for everyone these days.
Do you do advent calendars in your house? Do you buy them for your pets? I'd love to know. You can always comment on this blog post, email us here, or reach out via Instagram or Facebook.
Happy (early) Holidays!
---
Thanks for being here today. I hope you leave with a few ideas. If you're not quite ready to go, here are some other blog posts you might enjoy.
DIY Mini Silhouette Christmas Ornaments
Halloween Mantel That Will Transition Into Thanksgiving
Peg Doll Place Cards – Perfect for Thanksgiving
*affiliate links in this blog post*