Candy Cane Advent Calendar
Of all the ideas I've dreamed up that my husband has built for me, the giant chalkboard is still one of my favorites.
Plus, it's not just a chalkboard, it's a magnetic chalkboard. It's constructed out of sheet metal with a wood frame. I got the impression when I went to the sheet metal manufacturing place to buy this randomly-sized piece of sheet metal that they don't get many walk-ins. And the walk-ins they do get must be a certain type because the only thing the man who helped me said was, "you must be using this to homeschool your children." Ah, no. Can't a girl just want a giant magnetic chalkboard?
However, I took the comment as a compliment that he thought I looked patient enough to handle the monumental responsibility of educating my children at home. Fooled him!
Some home educating did occur though.
The chalkboard was a useful tool in teaching my son that we only write on the chalkboard, not on the walls. Also, not on the frame surrounding the chalkboard. Not on the door jams or the doors or the floors. Basically, no writing at all. Ever. 😉
The chalkboard was a useful tool in teaching ME that sidewalk chalk
should never ever be used inside on a chalkboard. 10 times the chalk dust, folks. 100 times the headache.
But, I really do LOVE that chalkboard. Especially when no one uses it. 😉

I had planned to write some sort of holiday greeting on the chalkboard this year, but in one of the forty-gajillion magazines I subscribe to, I saw someone had used candy canes and string to make an advent calendar.
I thought that was a project I could handle.
It involved the highly technical process of guesstimating how much twine I'd need per row. My rows aren't perfect, but the candy canes haven't fallen down yet. I call that a win.
Making the advent calendar took me exactly 13 minutes.
I probably shouldn't admit this, but I think I spent more time trying to figure out if an advent calendar needed 24 or 25 days. I thought Google would help me clear this up, but the images I found were split pretty evenly.
You know what decided it for me? Candy canes come 12 per a box. I took that as a sign that I should only buy 2 boxes.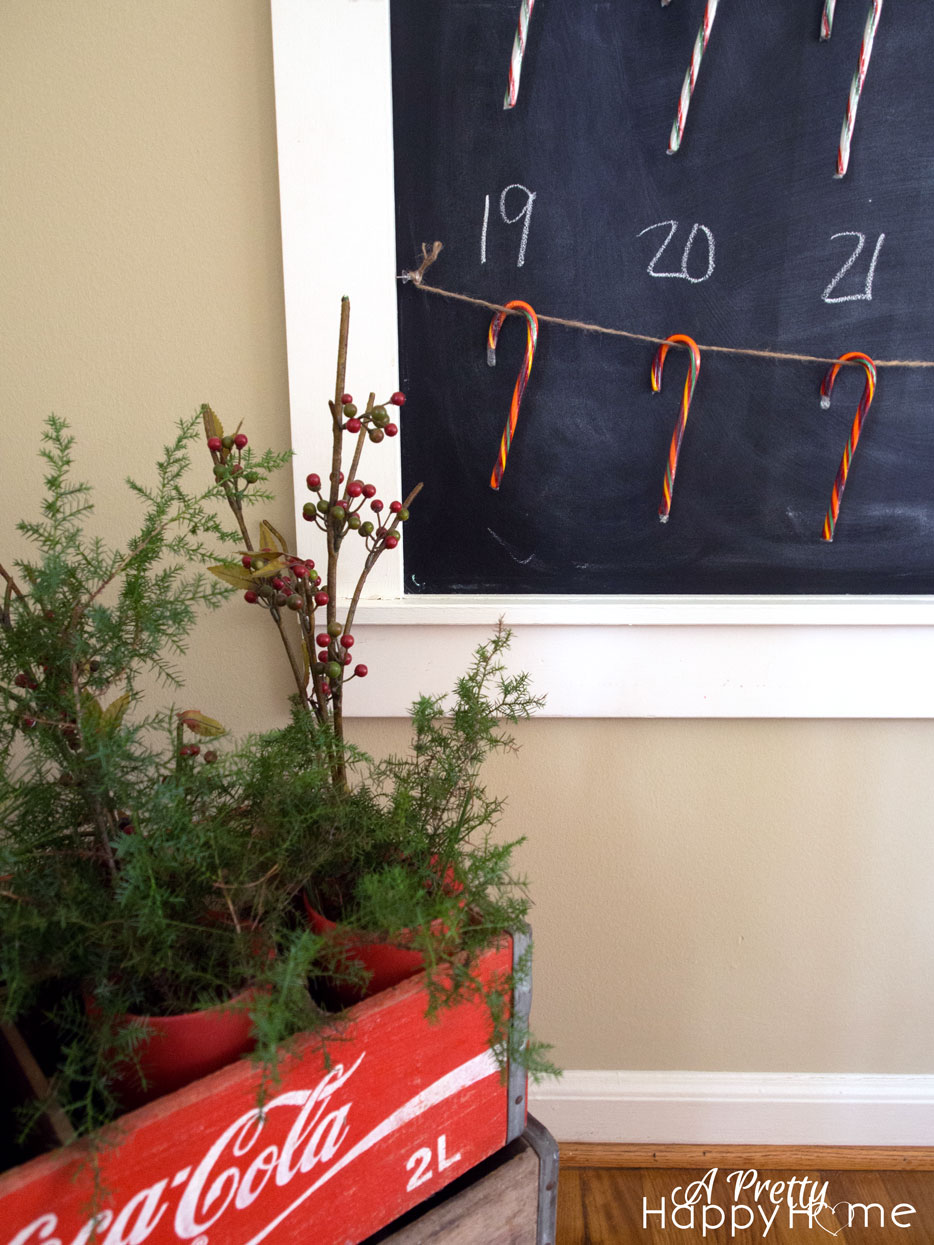 I knew the original peppermint candy canes would look prettiest in the picture, but at the end of the day, I decorate this house for my family and not for the blog. There is no way we can eat 24 peppermint candy canes in a year, let alone a season.
We might have a fighting chance with the Spree-flavored and chocolate mint-flavored candy canes. I should just count them as decor and not worry about whether or not we waste them by not eating them, but I'm not wired that way. Besides, who doesn't love a candy cane in July?
I'm happy with how this little project turned out. My kids are so excited to countdown to Christmas and I must say, their enthusiasm, much like their colds, is contagious!
---
If you enjoyed this post, let's see what else you might like! How about…
---
*affiliate link in this post*