Welcome to the Happy List! Here we have fun exploring the more light-hearted things on the internet.
This week on the blog I shared the copper-themed Christmas mantel in our primary bedroom. I also spent an entire post discussing scissors. Yes, scissors. You can tell me to cut it out, but I won't.
If you don't follow along with us on Instagram or Facebook stories, please join us there! There's always some project happening on stories! If we do something you like, it also really helps us out when you share our blog or social media posts. That's even better than clicking the like button and much appreciated.
Also, here's your weekly reminder if you create something that makes you happy however big or small, please tag me! I really do love to see what you are making.
Now, here's the Happy List!
---
PRESENT SITUATION
Can anyone else relate to this t-shirt?
(image: Etsy)
If you need this t-shirt in your life, you can find it at this Etsy shop for about $10.
---
BLOW ME OVER WITH A FEATHER
My mouth hung open in amazement as I looked at the found feather art made by artist Chris Maynard.
He finds feathers and then cuts out intricate shapes to create a scene. No words, people. I have no words for how awesome this is. See more of his work in this This is Colossal article. You can also visit Maynard's Instagram account here.
(image: Chris Maynard via This is Colossal)
---
GINGERBREAD OFFICE
The humble office cubicle has never looked better!
Monika Orrey has taken the office decorating contest to the next level. How could you not smile looking at this? Read the whole story here.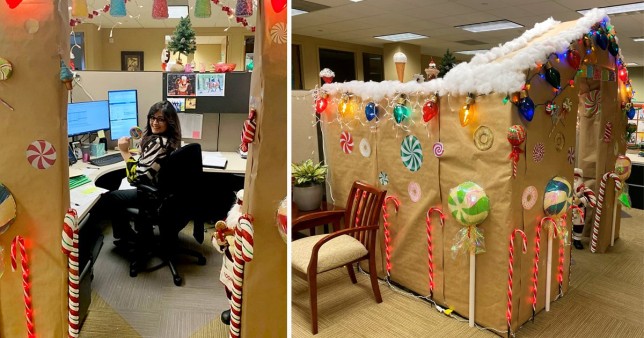 (image: SWNS / Monika Orrey via Metro UK)
---
CLEVER MURPHY BED SOLUTION
Instead of the Murphy bed door folding down in this home, it opens to the side.  This creates a "wall" to give guests at least an illusion of privacy in an otherwise open space. Clever, right?
See more photos of how this Murphy bed works in this Domino article.
(image: by Cody James via Domino)
---
ALGAE FOR LIFE
Scientists have managed to keep tadpoles alive without oxygen by injecting algae into the tadpole's heart. They then shone a light on the tadpole and by means of photosynthesis, oxygen was created which brought nerve cells back to life.
This story gave us a ton to muse about at the dinner table!
Learn more about this scientific development in this Big Think article or read the original scientific paper here.
Watch the YouTube video here if it doesn't load below.
---
CHARMED
I was absolutely charmed by this photo by Griffin Houghton.

(image: Griffin Houghton)
You need to check out the rest of this space. I especially loved the rustic bathroom vanity and the window situation in the sleeping loft.
---
ORANGE CRANBERRY MOCKTAIL
This Orange Cranberry Mimosa Holiday Mocktail from the Rhubarbarians (great name!) looks delicious. My kids would probably like it too since it is made with sparkling cider.
Get the recipe here.
(image: Rhubarbarians)
---
SNOW GLOBE POP SOCKET
This snow globe pop socket is so fun and pretty! This would be a great stocking stuffer.
(image: Pop Socket)
---
TECH WALLPAPER
Need a festive wallpaper for your phone or computer? Download these free gingerbread wallpapers created by Jess Blazejewski here.
(image: Jess Blazejewski via Jacquelyn Clark)
---
ISN'T THAT THE TRUTH
"People are like stained-glass windows. They sparkle and shine when the sun is out, but when the darkness sets in, their true beauty is revealed only if there is a light from within." – Elizabeth Kubler-Ross
---
Thank you for reading today's Happy List.
Be good to yourself and others this weekend.
I'll see you back here on Monday.
*affiliate links in this blog post*