In Praise of Pretty Scissors
I use our kitchen scissors (shears, if I'm being fancy) a dozen times a day and they aren't the prettiest scissors on the planet. They aren't the worst either.
Our kitchen scissors are used so frequently for all manner of tasks that more often than not they will be left out on the counter.
Putting them away has become a point of friction in our kitchen, so I have been thinking about designating a wall hook specifically for the kitchen scissors.
But that means those scissors need to be pleasing to look at if I'm going to intentionally display them instead of intentionally being lazy and leaving them out.
Can you be intentionally lazy? Hmm…
Either way, I have gone down the rabbit hole looking for pretty scissors. Let's see what I found.
---
These stainless steel scissors from Garrett Wade look like they mean business! Those chives don't stand a chance.
Plus, they have five-star reviews across the board from users.
(image: Garrett Wade)
---
A whole set of scissors! Why have one when you can have four?
I'm not wild about the two-toned handles, but I can see how the material they are made from is practical and comfortable to use. I really just liked the gold blades.
These are from Target and are $35 for the set.
(image: Target)
---
These Farberware scissors are only $8 and would look good casually left out on the counter in my kitchen.
Not everything can be casually left out and look good, especially not those socks someone left on the floor by the couch. Again.
(image: Farberware on Amazon)
---
The other scissors we use all the time are leftover school supply scissors from elementary school.
*sigh*
I can't be the only one cutting with teeny tiny scissors. Right?
At least they aren't the ones with the rounded tip. Those are worthless.
Here are some pretty scissor alternatives that might not be appropriate for the kitchen, but for other tasks.
---
Aren't these brass bird scissors from CB2 so darn pretty and elegant looking?
They look way more expensive than they are! Can you believe they are only $15?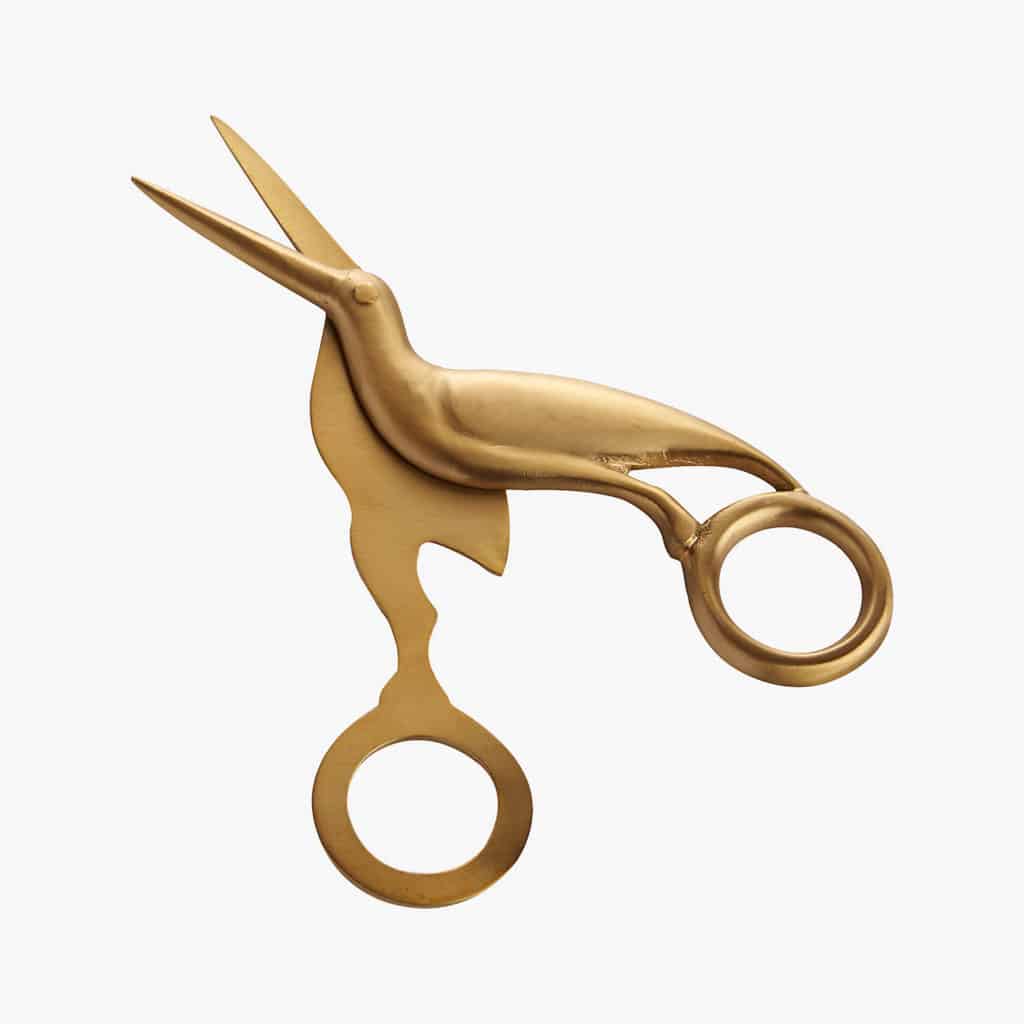 (image: CB2)
---
I've been a fan of Rifle Paper Co. for a long time. This collaboration with Target is so cool. Aren't these the happiest scissors you've ever seen?
Shh! I bought them for a friend.
(image: Target)
---
These gold and acrylic scissors from Bed Bath and Beyond are fun, don't you think?
They cost $20.99.
(image: Bed Bath and Beyond)
---
I have always thought twine and scissor stands are so cool-looking. In fact, I think one would look good in my house. However, I hardly ever use twine, so it seems like an unnecessary thing to have. Or is that being too practical?
There are a bunch of twine and scissor stands available from a number of shops, but I thought this one with the bird was pretty.
(image: Amazon)
---
I did not link any embroidery-specific scissors in this blog post, but those are the prettiest scissors in all the land, especially the vintage ones.
They just don't seem very practical for everyday use.
The only hitch in the giddyup for this plan of displaying pretty scissors is I don't have a great place right now to put a hook in my kitchen. And it seems like a slightly impractical reason to start a kitchen remodel. Although, I'm sure kitchen remodels have started for lesser whims. Ha!
Someday I will happily display my pretty scissors on a hook in a remodeled kitchen.
Until then I can still enjoy using pretty scissors for all of those everyday tasks and then leave them out on the counter. As one does.
---
Thank you for being here! I hope you visit often and stay as long as you'd like. Here are some other posts you might enjoy in this series. 
In Praise of the Ceramic Colander
*affiliate links in this blog post*