New Bench For The Sunporch
We have a new bench for the sunporch. Yes, it's a DIY bench because those are our favorite kind.
We do not have a shortage of benches in this house. Including the new bench for the sunporch, we now have six benches. All but one of them have been DIYed either fully or partially.
I guess we like benches.
Why did we need a bench for the sunporch in particular?
There should be an obvious answer to that question. However, the new bench is not for sitting. At least, not right now.
The bench is for the plants.
I needed an elevated surface to get some of the plants off the ground, but a table would be too high. A step stool would be too low and too narrow. A shelf would look weird.
The thing that is just right for this Goldilocks situation is a bench.
The design for this bench came from a step stool that we own. It was left here when we moved in, so I thought it was apropos to use it as inspiration. I like these subtle nods to the previous owners of our home. It's another thread of connection in this tapestry we call life.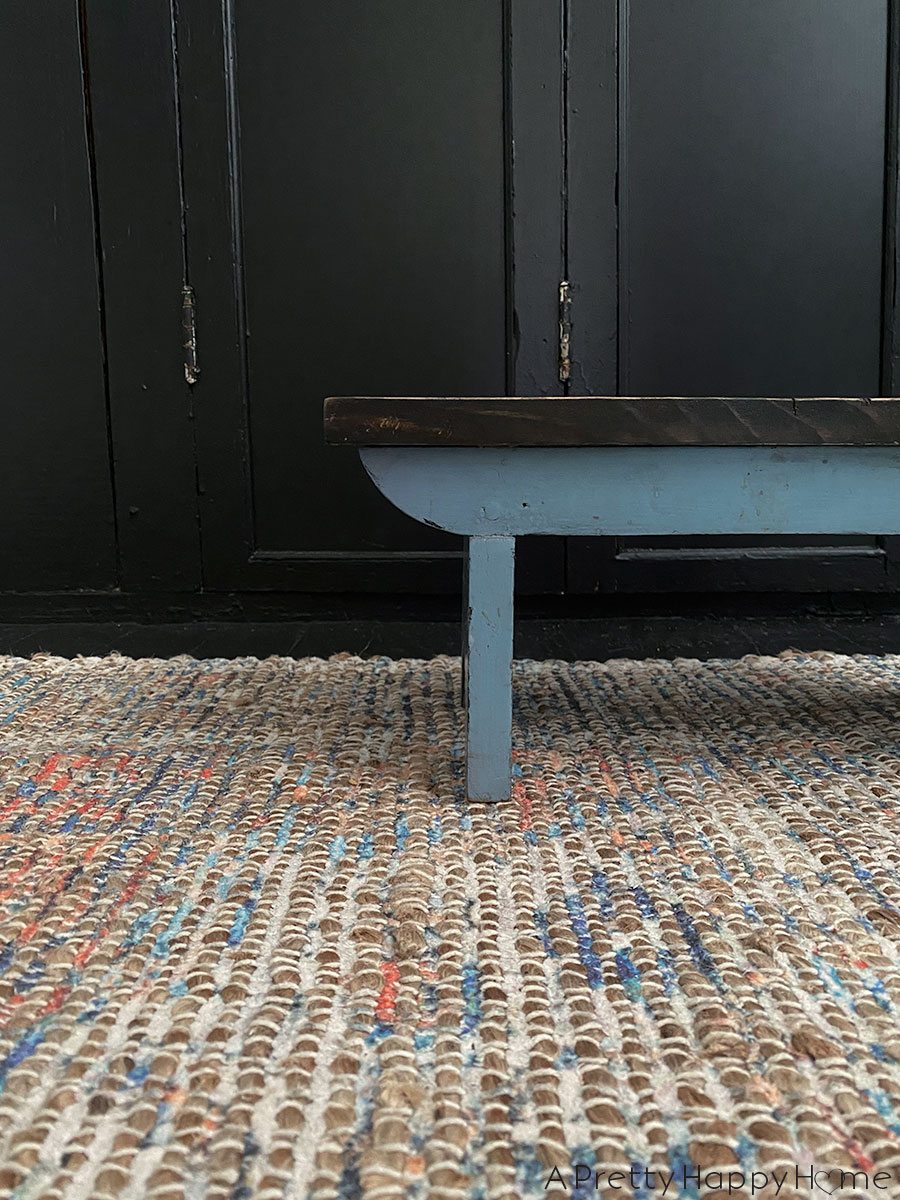 Of course, we had to supersize the dimensions of this stool into a bench.
We built the bench to fit the area where it would reside on the sunporch, so it is approximately 48 inches long, 18 inches tall, and 12 inches deep.
We have a lot of sophisticated wood shop tools at our disposal and do you know what we used to trace the curves and circle cutouts on this bench?
A bowl.
There's no need to make things harder than they need to be and we had the perfect-sized bowl for this job.
Sometimes I wonder if Handy Husband likes building furniture and other items for our home. Is it something that he just does because it makes me happy or does he REALLY enjoy it?
For instance, I make dinner for our family every night because I want them to eat nutritious food that tastes good but I don't particularly enjoy cooking. It's not my passion. I could think of one hundred other things I'd rather do with that hour every day but I also don't grumble about it. It's just something I do.
While Handy Husband was building this bench for the sunporch I overheard him talking on the phone to his friend.
Yes, Handy Husband talks on the actual phone to his actual friends. What a wild concept!
Anyway, Handy Husband told his friend how much fun he was having making this bench because he was using some woodworking techniques he hadn't had the opportunity to use in a while. I guess that answers my question!
In constructing this bench, Handy Husband didn't use any nails or screws. It's all held together with wooden dowels or pegs.
You can see in the below photo how it looks before the pegs are cut off flush with the top of the bench. There's some wood glue in those joints too.
I love how this particular pegged detail looks when it is finished.
You can see it in the below photo. I think it adds additional character to the furniture.
Now, let's discuss one other thing about this new bench for the sunporch.
We used scrap pine leftover from another project to build this bench. This is not the type of wood a professional furniture maker would use for a project.
Pine is a softwood. It also has knots and large variations in the wood grain. In the eyes of most people, there are far prettier types of wood to build furniture with.
Pine isn't our first choice for furniture either for all the above reasons. Can we sometimes get away with it? Yep, because context matters. We have a home that was built in the colonial era. It can handle a little bit of rustic imperfection from time to time.
Our sunporch is where I try to keep my outdoor potted plants alive during the winter.
Emphasis on the word try.
Even in the dead of winter, the sunporch can reach temperatures in the 70s Fahrenheit without the heat being turned on. All the windows out there really heat that porch up! The plants seem to like it and if I remember to water them and they don't suffer from disease or pests, they seem to thrive out there.
That's a lot of ifs. Ha!
The only thing I'm certain about at this point is how happy this new bench for the sunporch makes me. It's the perfect addition to this space and a functional piece of furniture that we can use elsewhere too.
---
How do you feel about benches? Do you have any in your home? Are they for sitting or for plants? I'd love to know! You can always comment on this blog post, email me here, or reach out via Instagram or Facebook.
---
Thanks for being here today. I'm so glad that you chose to spend part of your day with me. If you want to know about some of the other benches we've built or made over, here are the links:
DIY Charging Bench With Hidden Storage
How To Fix a Sagging Outdoor Bench
Deacon's Bench Makeover and a Tip for Disassembling a Bench