We've Added A Lot of Closet Shelves and So Should You
We've added a lot of closet shelves to our Colonial Farmhouse in the last two and a half years. In fact, we've added a significant number of shelves everywhere in this old house.
It has been AMAZING.
Zero regrets. Does anyone ever regret adding a shelf?
Now here is a fair warning. Today's post is going to contain many shelfies.
If you don't like closet shelves or pictures of shelves or thinking about shelves, this is not the post for you.
Oh, and these aren't Pinterest-worthy shelfies either.
These are closet shelves and regular shelves that make my life function better. Or give me the illusion that my life functions better.
Could go either way.
Let's look at some shelves.
---
Here's a BEFORE of our under-the-stairs closet.
It was starting to look like a Monica closet.
This under-the-stairs closet holds extra decor, piano books, tools, craft supplies, the answers to the universe, gift wrapping supplies, other things I'm not aware of, and the vacuum.
Can't forget the vacuum.
See what closet shelves (and some strategic purging) can do?
We also added closet shelves specifically for shoes in the closet nearest our front door.
I'd like to tell you that the people that I live with use these shoe shelves religiously, but that would be a lie.
It's mainly where I put the shoes that pile up by our entry bench.
That way when they inevitably ask me "Where are my shoes?" I can accurately reply, "Where they are supposed to go."
The optimist in me says that maybe someday they will learn. The pessimist in me says they can all go barefoot.
Please note that this particular set of shelves is a freestanding piece, meaning it isn't attached to the wall and we could take it with us when we go. We won't, but we could. (I feel powerful just saying that.)
The big news around here is that we just added closet shelves to my closet!
(I wanted to add more than one exclamation point to that last sentence because that's how excited I am about finally having closet shelves, but I refrained because I'm super chill. Super!!! Chill!!!!!!)
Not all of us have walk-in closets. In an old house, I feel lucky to have closets at all. My closet is approximately 78 inches wide and 25 inches deep. When we bought the house it had one hanging rod and a peg rail.
For months I laid in bed at night and mentally designed and redesigned this closet. Some people count sheep to fall asleep. I figure out how to optimize my closet space.
Ultimately, I decided two hanging rods and shelves on one side would be the best way to maximize the closet space.
The closet shelves have been a game-changer for the most obvious reason. I now have an ACTUAL PLACE to put shoes, hats, and off-season clothing besides lumping those items in baskets on the closet floor. Funny how that works.
My tip for keeping painted shelves looking nice is to not use them to apply at least two coats of polyurethane over the top of the paint. It's not full-proof, but this will help prevent the paint from getting scuffed and scratched.
We also added closet shelves in a spot that used to be a bathroom closet before we removed the closet doors.
Now it's just…a closet without a door? A closet nook?
It's a spot for towels.
The brass tubing we added above the shelves is my favorite part. It makes my towels feel so fancy.
The cabinet below the shelves is a laundry hamper that came with this house and happened to miraculously fit in that space with less than an inch to spare.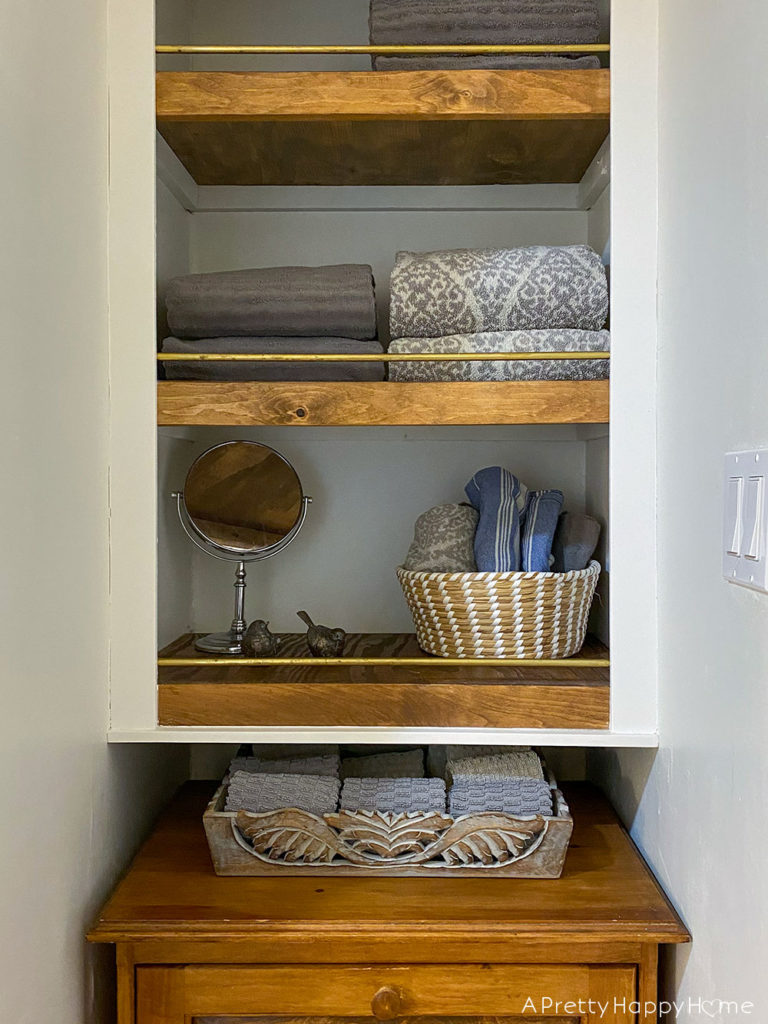 Let's move on to the non-closet shelf portion of this blog post.
We made a weird hallway more useful by visually anchoring the existing hallway cabinets with shelves underneath.
Here's how the weird hallway originally looked.
Yikes, right?
Admittedly, paint and wallpaper removal helped this weird hallway the most, but the addition of some shelves took it across the finish line. While the shelves themselves are stained, the shelf supports are painted the same color as the cabinetry to tie the entire wall together.
Not only did the shelves improve the visual look of this hallway, but it also became a practical place for shoes. This weird hallway (that's its official name) functions as a mudroom of sorts and in the summer we store pool towels and sunscreen on these shelves too.
I hate to pick favorites since I love all the shelves we've added to this house, but if I was forced to pick one my favorite shelves are the ones we added to our back porch.
I'm not sure back porch is even the right word for it, but that's what we call it. It's a completely enclosed part of our house and has an exterior door, but it isn't heated.
This is how the back porch area looked before we got our hands on it. What you can't tell is there are three doors in this tiny 3-ft x 4-ft space. This is the only useable wall and it is about 15 inches deep.
This wall looks like it has been well used over the years. There's evidence of a former window and a dog door. You can bet we opened up that dog door to look for old house treasure but didn't find anything. Whomp, whomp. 
We turned this eyesore on our back porch into a glorious wall of shelving for extra drinks.
I also store tap water here that we keep on hand for toilet flushing in the event the power goes out and our well doesn't work. Priorities.
These shelves stay organized because I feel like I have my own store to "shop" for a drink. I kid you not, this wall of shelves brings me immense joy. It also keeps our drinks downright frosty in the winter. Ha!
As an added bonus, you can't even tell unless we are out of drinks you really look that there used to be a window and a dog door on this wall. That's the magic of paint and a distraction.
By the way, the shelves and the floor are painted with the same black porch paint. However, the shelves have two coats of polyurethane to keep them from scratching. The floors get scratched and I touch them up periodically.
Here's the thing about all of these shelves. We didn't add them for looks or because the internet told us to. We added them to solve a specific problem in our house that the internet told us we had.
Kidding! They were real organizational problems specific to our family.
We carefully thought about what would be stored on each shelf so we knew what size and how many shelves would be needed.
We also built the shelves out of wood because that's appropriate for this home's style, but also because they are going to last forever.
I'm so happy we've added all of these closet shelves and other shelves to our home. If you're on the fence about adding shelving to make your home function better, do it!
The internet isn't telling you to do it. I am.
I'm pretty sure you won't regret it.
---
Shelf Resources:
Behr Porch Paint (I just asked the paint desk for regular black.)
*affiliate links in this blog post*
---
Thanks for being here today! I hope you picked up an idea or at least had a laugh. Here are some other posts you might enjoy.
Wine Rack Upcycled Into a Display Shelf