Five Corkboard Ideas To Try
I have not one not two, but five corkboard ideas for you to try today!
What can I say? I'm a giver.
Corkboards can give off distinct 9 to 5 office vibes (boring!), but with a little creativity, you can take a drab corkboard and make it pop!
Let's take a look at some ideas to get your creative juices flowing.
---
Corkboard Ideas: Add a Shelf.
Add a shelf or ledge to turn a basic corkboard into something unique.
This 2×3-ft corkboard cost $2 at the thrift store. Once the shelf or ledge piece on the bottom was added, it became a one-of-a-kind corkboard.
It's hard to tell in the photo, but this ledge is wide enough to hold a pen or a stack of notecards.
---
Corkboard Ideas: Make It Magnetic.
I know, I know. You can't make the cork itself magnetic. However, you can add something magnetic to the corkboard itself. This will give your corkboard dual functionality. Fancy.
The possibilities are endless with what you could create!
The below corkboard has a sheet metal map that is glued with extra strong adhesive to the cork. So far it has lasted 6 years or so without any problems. Learn more about this idea here.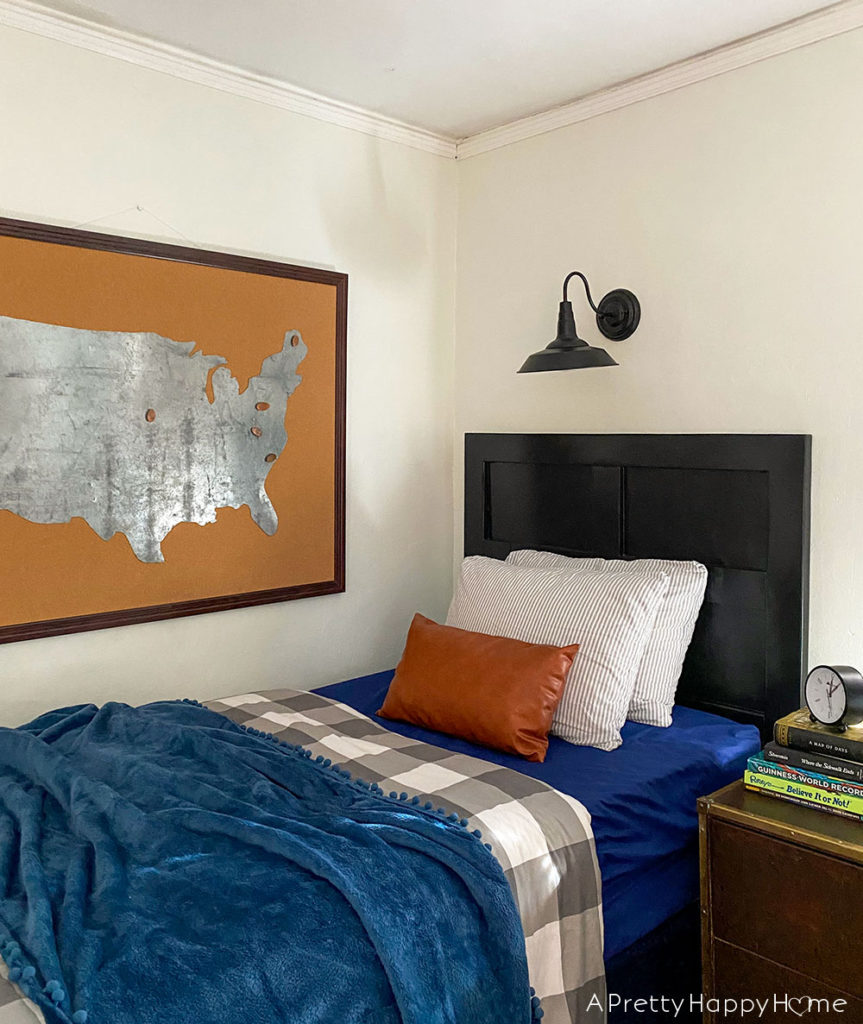 ---
Corkboard Ideas: Use Inside a ShadowBox
Line the back of a shadowbox with cork to display small collections like souvenir pins.
This cork is cut to size and glued to the back of the frame.
Keep in mind that if you're using something like souvenir pins, the pins themselves may be longer than the cork is thick. You may need to use extra thick cork or double it up to get the pins to stick the way you want. Learn more about this idea here.
---
Corkboard Ideas: Give It An Ornate Frame
So many corkboards give off bland office vibes.
A sure way to avoid that sad scenario is to frame the cork with either an ornate or brightly colored frame. Or both! No need to limit yourself here.
---
Corkboard Ideas: Add It To a Door
Do you have a door with a recessed panel?
Add cork to it to make it a display board!
The door in the below picture is not in use as an actual door, so it is just leaning against the wall. We have also hung it by its hinges horizontally on the wall when we've had the wall space.
This idea would also work on a door that was in use, but you'd have to be careful about things falling off the door.
It's hard to see the cork anymore on this door because so many race bibs and medals have been added to it. I swear it's there though! For the most part, the items on this corkboard are stapled to the cork instead of using push pins or thumbtacks, so they are less likely to fall off.
---
I've seen other corkboard ideas floating around the web that made me do a double-take. 
This idea to make a dartboard with a corkboard background is brilliant.
I'm always drawn to an entire corkboard wall. It adds a lot of warmth and texture to a space.
This vignette with a corkboard, shelf, and desk is awesome.
I also found this video about how recycled cork is turned into flooring to be interesting.
---
I hope these corkboard ideas got your creative gears turning!
If you have a corkboard in your home or office that makes you happy, I'd love to hear about it. You can always comment on this blog post (I have to approve it first before it appears), email me here, or reach out via Instagram or Facebook.
---
Thanks for being here today. I appreciate you. Here are some other blog posts you might enjoy.
Mountain-Themed Pool Ball Rack Art
In Praise of Pressed Flower Art