9 Pumpkin Crafts to Make This Fall
I hope it's not too soon in the year to publish this "9 Pumpkin Crafts to Make This Fall" post. I don't want anyone pumpkin spicing my lawn in protest because summer isn't over. Wait…maybe I do. Hmmm.
This is the point in the year where I'm not ready for summer to end because summer is awesome! But everything feels a little wilted, including yours truly, because it is so dang hot and I'm looking forward to the more manageable temperatures of autumn.
Please note I said I'm looking forward to autumn not winter. Winter can take a hike to get me more pumpkin spice.
Now back to the program!
I had fun making these crafts, so I hope you find some inspiration with these 9 pumpkin crafts.
---
Pumpkin Crafts #1: Junky, Up-cycled Pumpkin
Reuse and repurpose is all the rage now, isn't it? My junky pumpkin was made from a saw blade, piano wire, copper wire, scrap leather, and a fireplace tool.
Your junky pumpkin could be made from most anything! Use my idea as a springboard to craft a junky pumpkin of your own.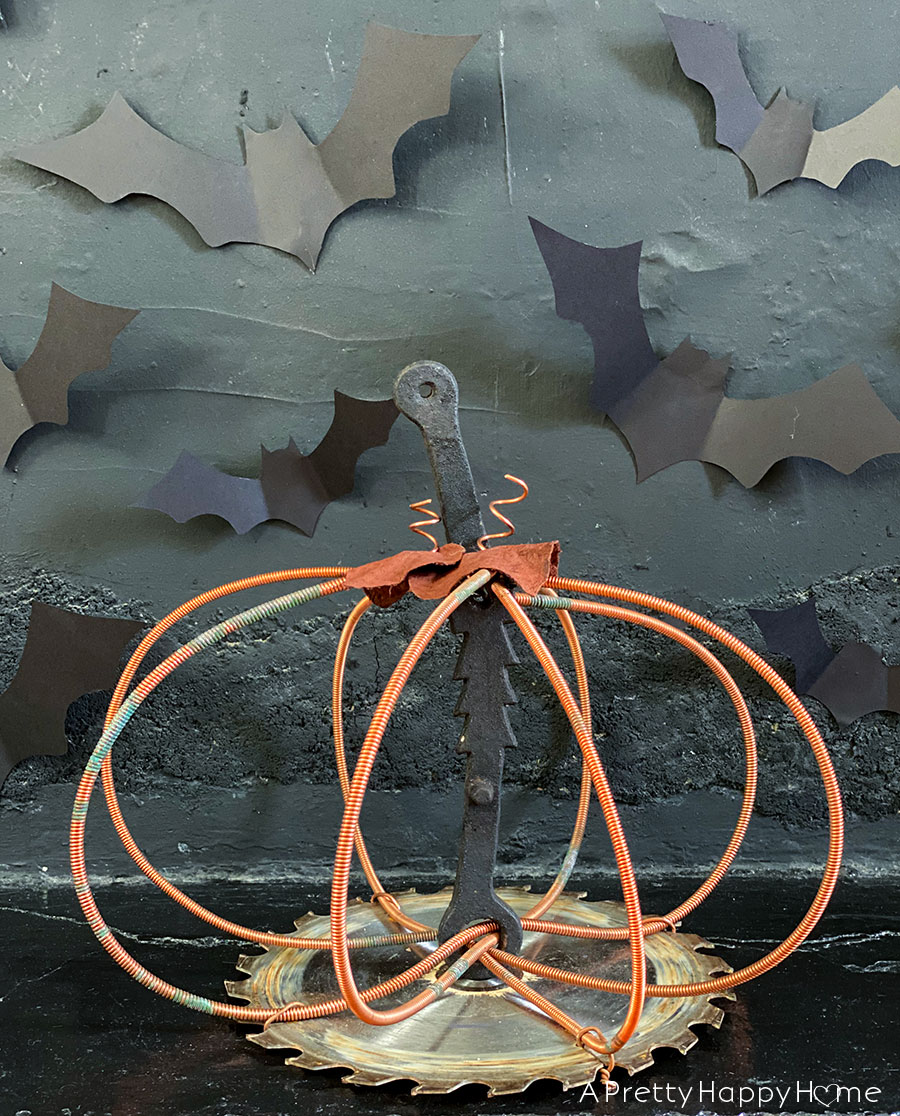 Directions for this junky piano wire pumpkin can be found here.
---
Pumpkin Crafts #2: Denim Pumpkins
The base for these denim pumpkins is one of those orange, styrofoam pumpkins from the Dollar Store.
I cut up a pair of old jeans to cover the Dollar Store pumpkins, but you could always buy a pair of thrift store jeans to make these pumpkins.
To make your stem more custom, either cut off the styrofoam stem and replace it with a stick or wrap the styrofoam stem with twine.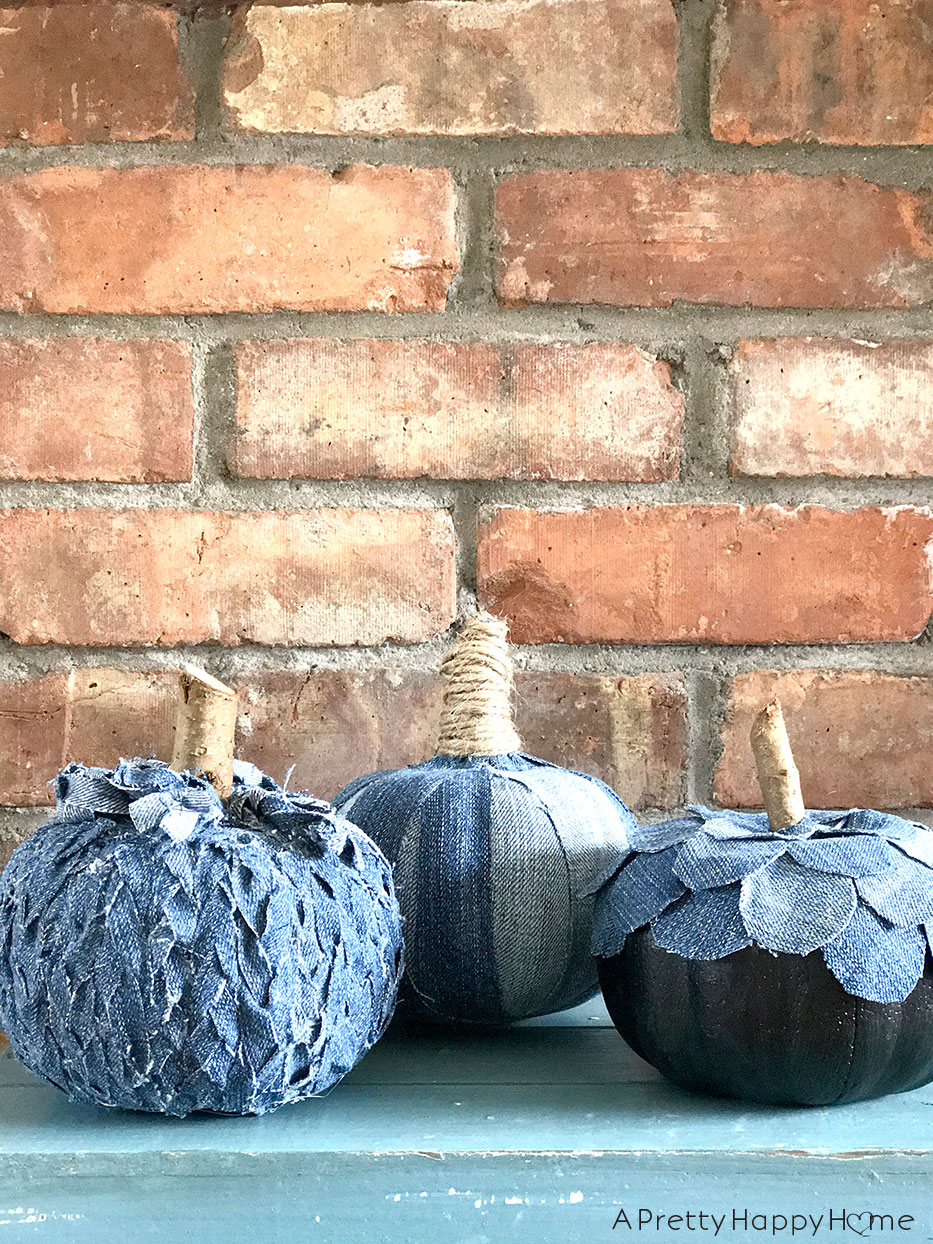 You can find the striped and flower petal denim pumpkin tutorial here.
You can find the braided denim pumpkin tutorial here.
---
Pumpkin Crafts #3: Real Pumpkin Centerpiece
This isn't really a craft, but it is the easiest centerpiece idea.
Just group a whole bunch of pumpkins and gourds in varying sizes in the center of your table with some black taper candles and TADA! instant autumn ambiance.
More pictures of this pumpkin centerpiece can be found here.
---
Pumpkin Crafts #4: Pumpkin Soup Tureen Centerpiece
Everyone is going to be selling pumpkin-shaped soup tureens or lidded bowls soon.
While I wish we were fancy those type of pretty dishes received a lot of use in my house for holding food, they don't.
Instead, I like to repurpose pretty bowls as vessels for flower arrangements.
More details on this centerpiece can be found here.
---
Pumpkin Crafts #5: Leather Pumpkin
I'll admit this leather pumpkin could be mistaken as a candied apple.
I'm winning either way because who doesn't love pumpkins or candied apples?
The base for this leather pumpkin was, once again, a Dollar Store styrofoam pumpkin. The faux leather was cut from a pair of old boots.
I like grouping this leather pumpkin with my denim pumpkins because the tones and textures work so well together.
Get the directions on how to make this leather pumpkin or candied apple here.
---
Pumpkin Crafts #6: Horseshoe Pumpkin
This horseshoe pumpkin is amazing and will last forever, but you do need to be able to use a welder to make it happen.
I usually keep my horseshoe pumpkins on the front porch and the rusty patina just gets better and better year after year.
Get the directions on how we made this horseshoe pumpkin here or here.
You can also buy horseshoe pumpkins on Etsy.
---
Pumpkin Crafts #7: Golf Ball Pumpkins
There could be any number of reasons why you end up with a bucket of old golf balls. There could be any number of ways you could put them to use.
I turned ours into the cutest little pumpkins.
I will say, those stems were fragile and I should have used a heavier duty glue than hot glue. I thought they would have made great place card settings if you had an autumn-themed wedding.
Get the directions on how to make golf ball pumpkins here.
---
Pumpkin Crafts #8: Book Pumpkin
I don't care if they are trendy right now or not, I still really like the look of book pumpkins.
It wasn't as easy to make as I thought it would be, so I wrote up a "what not to do" post on how to make these. If you can't learn from other folks' mishaps while cutting up a book, what good is this shared humanity?
If you want the real scoop on how NOT to make a book pumpkin, click here. Just do everything the opposite of me! The funniest part of this story was how I even procured a book I was willing to cut up.
If you don't want to risk it, but still want a book pumpkin, there are a bunch of shops on Etsy that sell them.
---
Pumpkin Crafts #9: Paper Pumpkins
I enjoyed these paper pumpkins for years!
They were fun to use on a bookshelf. I also used them grouped together in a bowl for a table centerpiece. Paper pumpkins would also make the cutest place cards for a dinner party.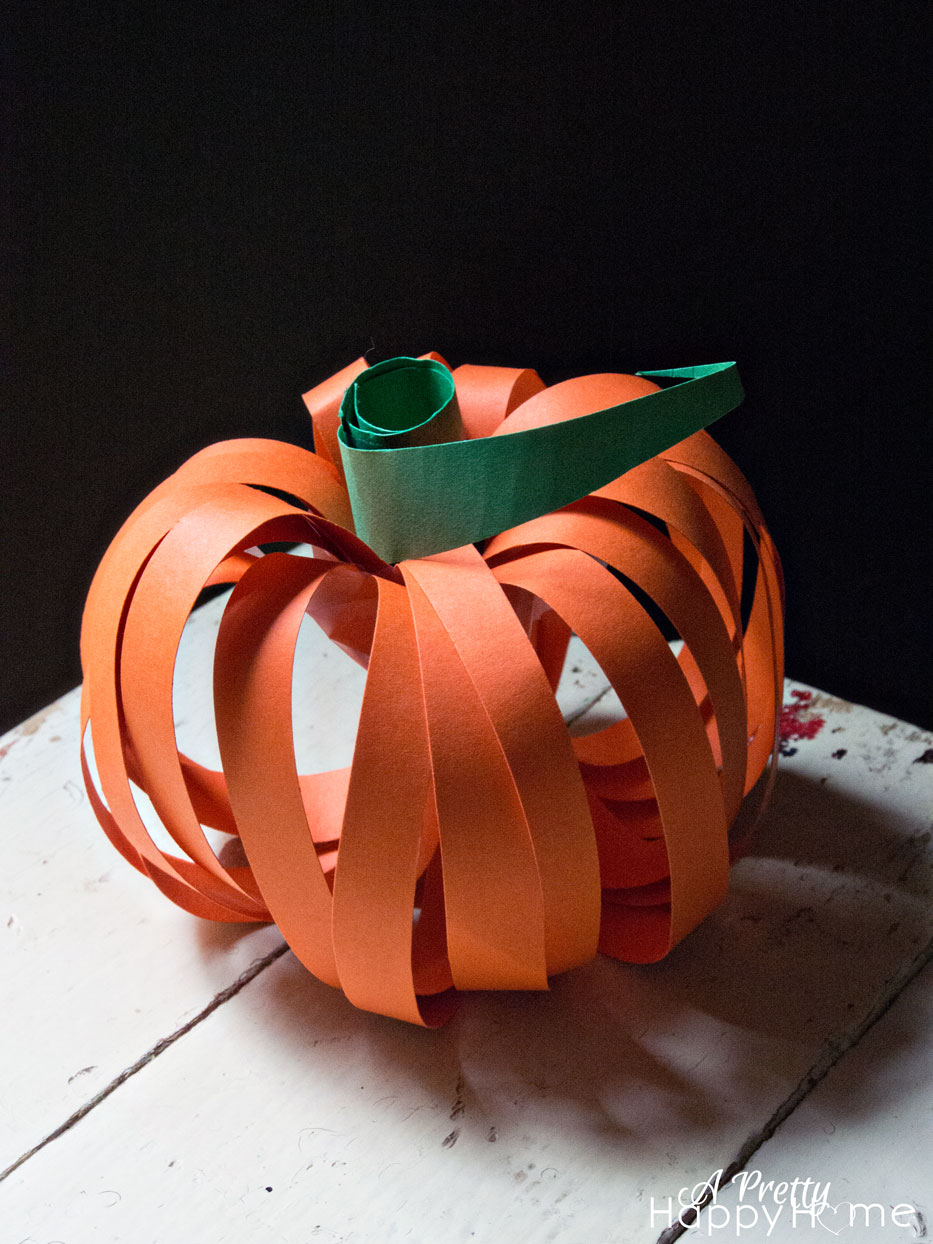 Get the directions on how to make paper pumpkins here.
---
I hope you enjoyed these pumpkins crafts! Maybe they will spark a creative idea for you!
If you make any pumpkin or fall-related crafts or decor, I'd love to see your creations! I'm forever inspired by all of the creative talent in the world.
Happy Crafting!
---
Thank you for being here! I enjoy sharing ideas with you. Here are some other posts you might enjoy.
Fall Coffee Table With Blue Accents
Antique Nail Caddy Fall Centerpiece
Travel: Jim Thorpe, Pennsylvania
*affiliate links in this blog post*