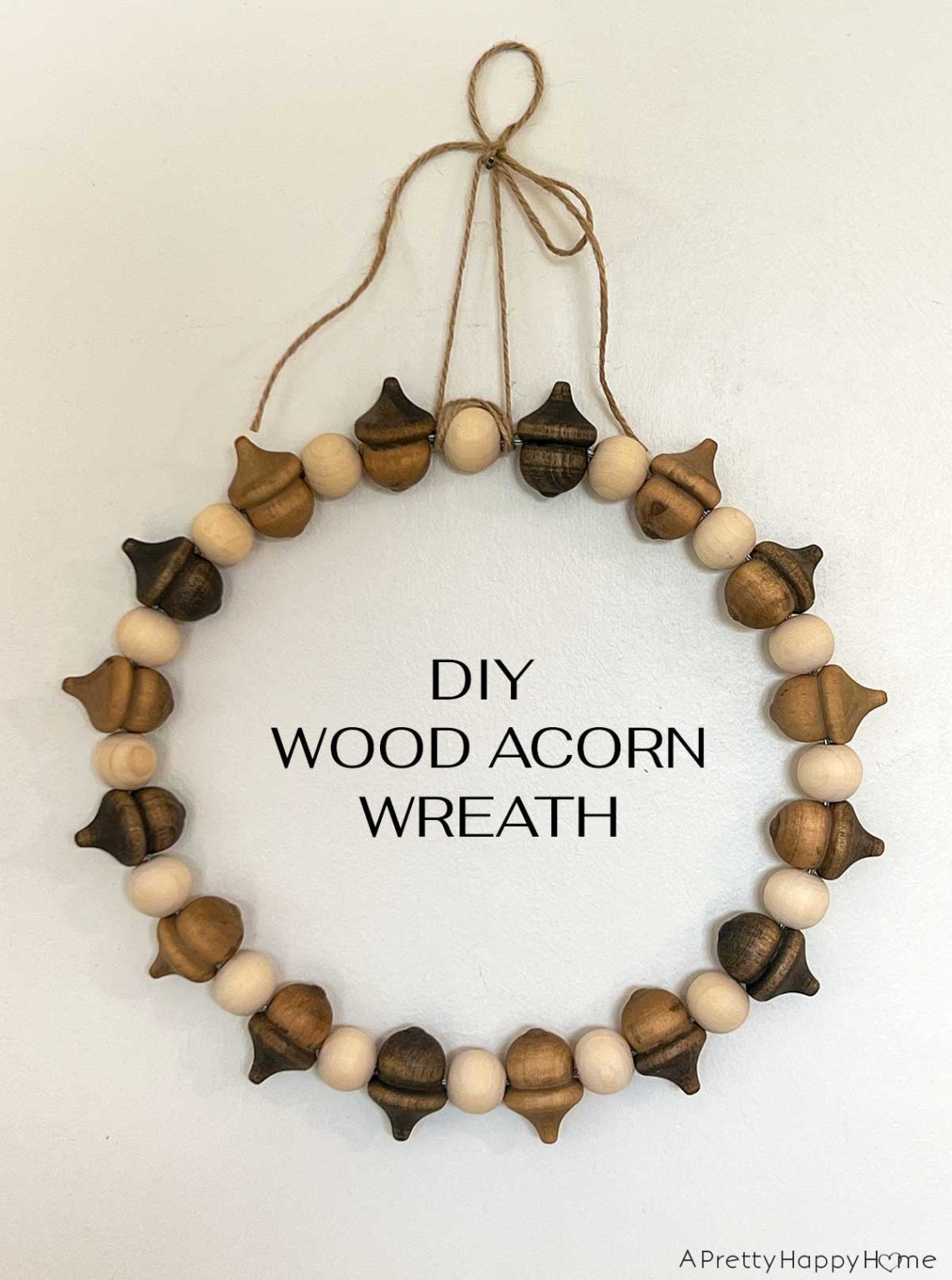 If fall is your favorite season, you are going to love this DIY Wood Acorn Wreath.
Bold words, I know.
This wreath might not have pumpkins or spice but it does have an underrated but ready for its moment item – acorns.
Yes, acorns.
Wood acorns to be precise.
If you didn't know wood acorns were a thing, this craft is going to blow open the door of possibility for you. I, for one, can't wait to see what you create.
But let's start with this Wood Acorn Wreath.
---
Materials Needed:
wood acorns (I used 16 acorns out of a package of 20.)
20 mm wood beads (I used 16 beads. These will fit on your wire.)
20 gauge multipurpose wire to make a wreath form (I used this one)
optional: wire hoop wreath form instead of using wire
twine or ribbon to hang your wreath
drill and 7/64-inch drill bit
wire cutters
stain or paint (optional)
This will make an approximately 10-inch diameter wreath. If you use more beads and acorns than I did, the size of your wreath with go up.
How To Make A Wood Acorn Wreath:
Step 1: Drill holes in your acorns. I drilled them right under the acorn cap. If you're using the same size and type of wire that I used, you'll need at least a 7/64-inch drill bit.
It is a little awkward to hold the acorns in place while you drill due to their wonky shape. I found it easiest to rest the acorns on their side on something round. Our table had round holes that worked for this purpose, but you could use a washer or some sort of small ring to nestle the acorns into while you drill.
It's really important that you drill as straight a line as possible (right under the cap) so that your acorns hang evenly on your wreath.
Step 2: If desired, stain or paint your beads and acorns. My acorns are stained different colors but I left the wood beads natural.
Step 3: Thread the beads and wood acorns on your wire in whatever pattern you choose. Tie off your wire to secure the beads on your wreath. You can probably figure out a cleaner way to tie off the wire than I did.
OPTIONAL: If you'd rather use a wire hoop wreath form, you'll need to cut the hoop to create an opening to put the beads on the hoop. A hack saw would probably work for this. You'll then need some heavy-duty tape to tape your wire hoop back together after you've positioned the beads on the hoop. The only thing I don't know about this method because I haven't tried it is how large of a hole you'd need to drill in the acorns to get it on the hoop. It can't be too large because the acorns could split. You'll also need to make sure that your wood beads can fit on the hoop.
Step 4: Attach a ribbon or twine to the wreath, hang, and enjoy!
---
I hung my wreath from a tiny nail in our laundry room. I love it there!
This space already has fall vibes with its color scheme and the wreath was the perfect addition.
How do you feel about the fall? What about making wreaths? Tell me everything. In addition, if you make this craft, please let me know. I'd love to see your creation. You can always comment on this blog post, email us here, or reach out via Instagram or Facebook.
Happy crafting!
---
P.S. This isn't my first rodeo when it comes to using wood acorns.
I've made a wood acorn garland. I'm not even a garland person but these wood acorns put a spell on me. Get the directions here.
I've also made wood acorn napkin rings. Wouldn't these be fun for Thanksgiving when we're pretending we are fancy for one day? Yes. The answer is yes.
Get the napkin ring directions here.
---
Thanks for indulging me with all the acorn-related projects. I think I've run out of ideas on that front, which is probably good since I'm out of acorns. Ha! Here are a few more blog posts you might enjoy.
Fall Wreath Using a Concrete Form Tube
Five Fall Decorating Tricks To Give Your Home Cozy Vibes
9 Pumpkin Crafts To Make This Fall
*affiliate links in this blog post*